Political standoff shifts from Twitter to Parle
Share - WeChat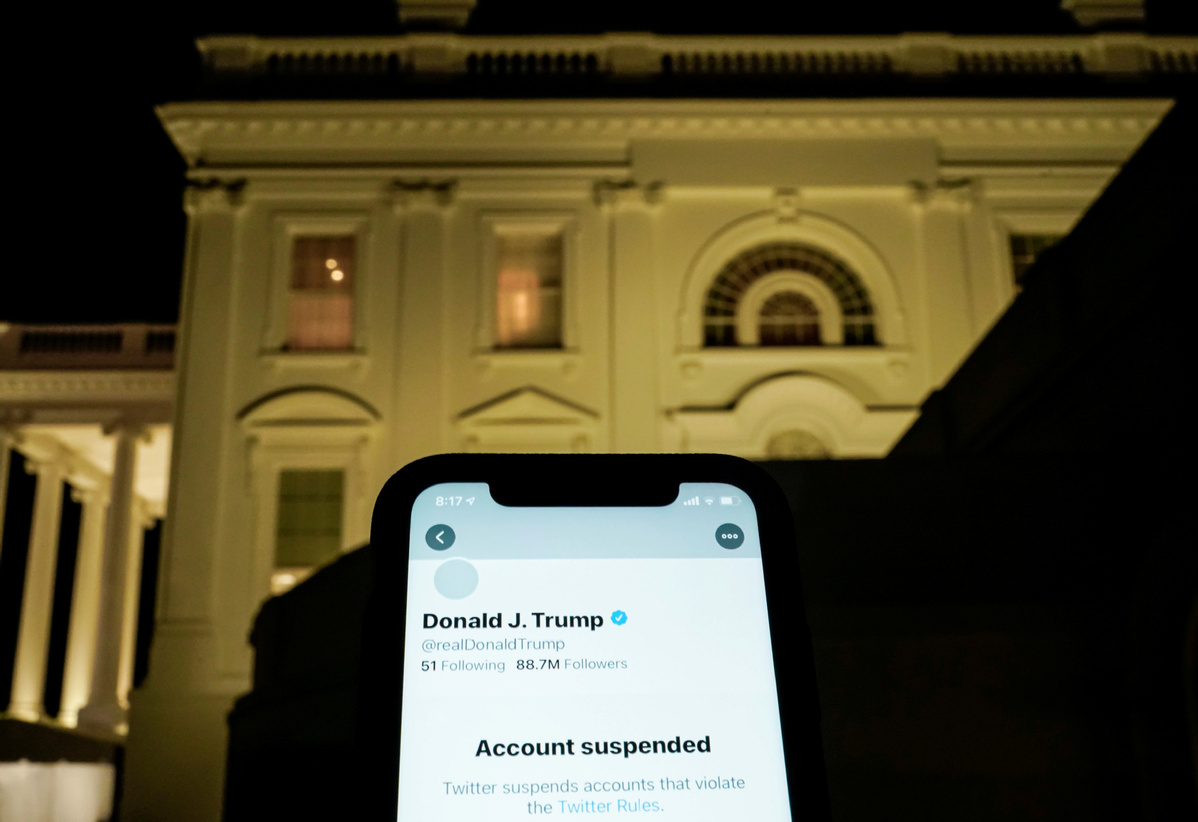 The political divide in the US was heightened over the weekend, with Big Tech companies moving to deplatform the social media site Parler, to where many supporters of President Donald Trump have gravitated after he was taken off Twitter.
Trump was suspended from most mainstream social media platforms, including Facebook and YouTube, following his supporters' siege on the US Capitol building Wednesday, which resulted in the deaths of five people and the disruption of the counting of the Electoral College vote to affirm Joe Biden as the next president.
Trump had 88.7 million followers on Twitter, and Parler, which touts itself as a "free expression with no violence and censorship" haven while its opponents say it allows extreme views, had been seen as a likely beneficiary of Trump's rerouted social media traffic.
Google and Apple earlier removed Parler from their app stores, while Amazon decided to take the domain off its web hosting service by midnight Pacific time Sunday.
Parler CEO John Matze called the moves "a coordinated attack by the tech giants to kill competition in the marketplace. We were too successful too fast," he said in a Saturday night post, saying it was possible Parler would be unavailable for up to a week "as we rebuild from scratch".
"Every vendor, from text-message services, to email providers, to our lawyers all ditched us too on the same day," Matze said Sunday on Fox New Channel's Sunday Morning Futureswith Maria Bartiromo. He said that while the company founded in 2018 is trying to get back online as quickly as possible, it's "having a lot of trouble, because every vendor we talk to says they won't work with us, because, if Apple doesn't approve and Google doesn't approve, they won't."
The vast power of Big Tech has been a recurrent rallying cry for conservatives who have called for the removal of the companies' Section 230 protection. Section 230, part of the federal Communications Decency Act of 1996, gives companies immunity from most liability over content that users post on their sites.
Big Tech CEOs frequently have been called to testify in Washington about their operations. While Republicans are mostly concerned over what they say are restrictions on conservative viewpoints and traffic, Democrats have argued that the companies don't do enough to regulate threats.
Both major US political parties are concerned that the companies are monopolistic, and some officials have called for their breakup.
The social media standoff promises to widen the gulf between the left and right in the US over the First Amendment and who gets to draw the line between what is free speech and what is incitement.
On Friday, Google removed Parler's smartphone app from its store, claiming the site allows postings that seek "to incite ongoing violence in the US".
Between Google's Android operating system for smartphones and Apple's iOS for iPhones, the two tech giants controlled more than 99 percent of smartphone software as of December, according to the Statcounter website. Android is on more than 72 percent of smartphones, with Apple around 27 percent.
On Saturday, Apple gave Parler 24 hours to address complaints it was being used to "plan and facilitate yet further illegal and dangerous activities".
Amazon told Parler, a small private company based in Nevada, that in the past few weeks, it found 98 examples of posts "that clearly encourage and incite violence" and said the platform "poses a very real risk to public safety".
GOP Congressman Devin Nunes of California on Sunday demanded that federal authorities investigate the tech companies for their "coordinated attack" on the Parler app.
Nunes said he has 3 million Parler followers and he's losing the ability to connect with them on the "very safe" social media platform.
"The effect of this is there is no longer a free and open social media company or site for any American to get on any longer. Because these big companies — Apple, Amazon, Google — they have just destroyed what was likely a billion-dollar company (Parler), and, poof, it's gone," Nunes told Bartiromo.
"It doesn't even matter if you're Republican or conservative, if you don't want to be regulated by left-wingers that are at Twitter and Facebook and Instagram, where you get shadow-banned and nobody gets to see you and they get to decide what's violent or not violent, it's preposterous," he continued.
Nunes claimed there was "clearly a violation of antitrust, civil rights, and the RICO statute", a reference to the Racketeer Influenced and Corrupt Organizations law, which was used by federal prosecutors to break up American organized crime syndicates beginning in the 1980s.
Ethan Zuckerman, a civic media professor at the University of Massachusetts-Amherst, expects a shift in online audiences, with an accelerated splintering of social media along ideological lines.
"Trump will pull a lot of audience wherever he goes," Zuckerman said.
The Associated Press contributed to this story.