Wang raring to Cash in Down Under
Share - WeChat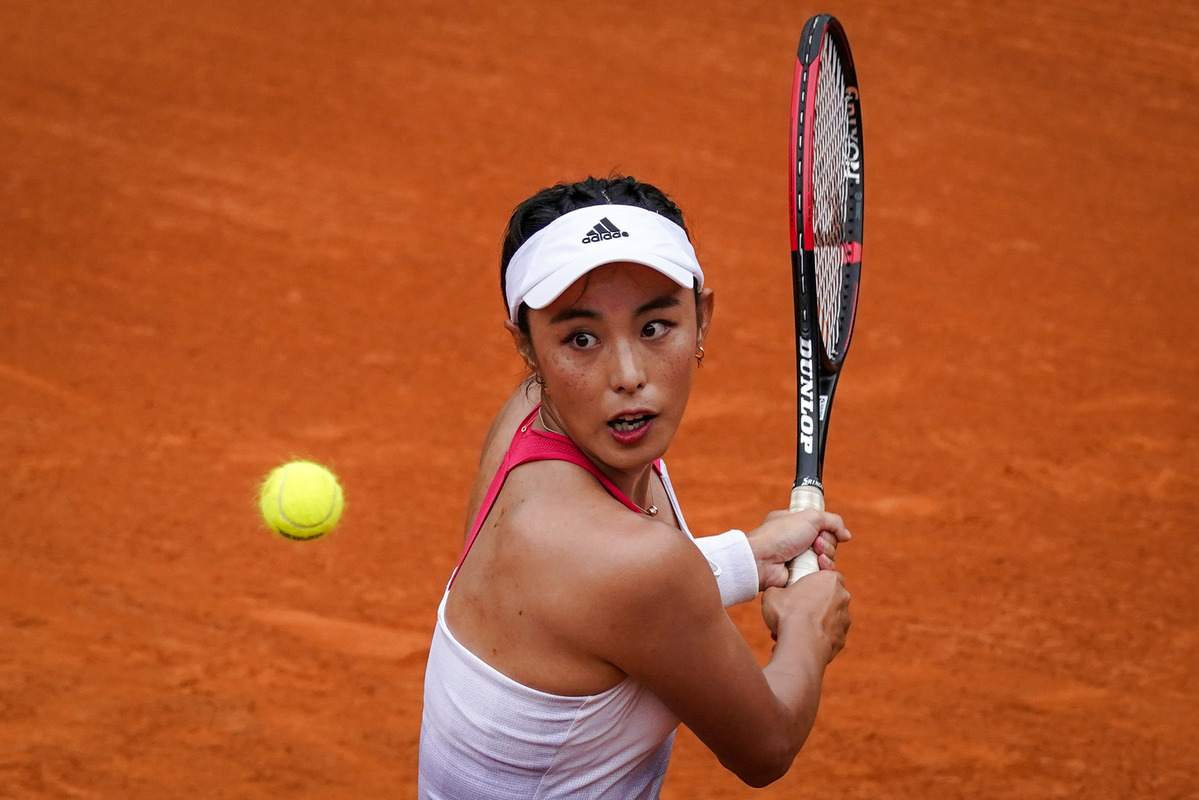 Legend Pat's expertise boosts Chinese star's confidence ahead of Aussie Open
With the legendary Pat Cash on board as her new coach, Wang Qiang expects to shake off the rust of her long hiatus from the court in time for the delayed Australian Open.
After nine months without playing any competitive matches amid the COVID-19 pandemic, Wang opened her 2021 campaign on Wednesday with a spirited first-round defeat to Daria Kasatkina in Abu Dhabi-a performance China's world No 34 rightly rated as "not bad".
"It was my first match after the long break. I haven't really practiced much over the past nine months until recently," Wang said after the 6-2, 3-6, 6-2 loss to Russia's former world No 10.
"Today's match was not bad, especially in the second set."
After a slow start, Wang picked up her game in the second set, with Australian great and former Wimbledon champion Cash watching courtside as she turned the tables with sharper footwork and more aggressive forehands.
Having been out-hit 10 winners to one in the opening set, Wang fired 11 winners to Kasatkina's eight in the second. The early rust was understandable for Wang. The Chinese No 1 did not play after the women's tour resumed last summer due to health concerns and travel issues amid the pandemic.
The last tour event Wang played was the 2020 Qatar Open in February, followed by her final match of the season on March 6 when she beat Sabina Sharipova 6-1, 6-3 in Team China's 2-1 Fed Cup win over Uzbekistan.
Now with one month before the Australian Open begins on Feb 8 amid strict COVID-19 countermeasures, Wang is hopeful Cash's input can help bring out her A-game in time for the year's first major on her coach's home soil.
"He is really a nice man, who always helps me on and off the court," Wang said of Cash-the 1987 Wimbledon singles champion-after working with him for a week in Abu Dhabi.
"I knew him through Peter (McNamara). He told me he is a good coach," added Wang, referring to her former mentor who died from cancer at the age of 64 in July 2019.
"When I had no coaches during the pandemic, I asked him if he would work with me. It's been very good so far. Me and my coach, we're off to an encouraging start."
After spending nine months off the tour healing a lower back injury while enjoying some quality time with family and friends, Wang said she is ready for whatever challenges she encounters at her Down Under-on and off the court.
"The quarantine or whatever, it's no big deal for me," said the 28-year-old Tianjin native.
"I am really looking forward to returning to Australia. It's been a while since my last Grand Slam appearance.
"I will do my best tuneup for the event and try to play well there."
According to the tournament's COVID-19 prevention protocols, all players are required to quarantine in Melbourne for 14 days before their opening matches and are allowed to train for a maximum of five hours per day-always with the same hitting partner-at the tournament site.
Players and their limited entourages will have to arrive in Melbourne on Jan 15 and 16 on chartered flights paid by Tennis Australia and are expected to stay in designated hotels to ensure their safety in the bio-secure bubble.
The Australian Open will be preceded by a warm-up WTA 500 tournament, also at Melbourne Park.
Traditionally a happy hunting ground for Chinese players, the Australian Open was the scene of one of Wang's career highlights last year-when she sent 23-time major winner Serena Williams packing in three sets in the third round.
Retired Chinese star Li Na won her second Grand Slam title at the 2014 edition, following compatriot Zheng Jie's run to the singles semifinals in 2010 and doubles victory with Yan Zi in 2006.
"Hopefully, I can do as well as I did in Melbourne and get used to the return and playing at a high level from there," said Wang, who reached a career-high ranking of No 12 in September 2019 following a quarterfinal run at the US Open.