How Belt and Road is blazing a trail through pandemic
Share - WeChat As the COVID-19 pandemic drags the world into recession and depression, the China-proposed Belt and Road Initiative has rekindled some hope.
In addition to concrete BRI projects, the Belt and Road has also played a vital role in facilitating global supply chains – especially for the crucial medical goods – and inspired digital solutions to fight against the pandemic around the world in the year.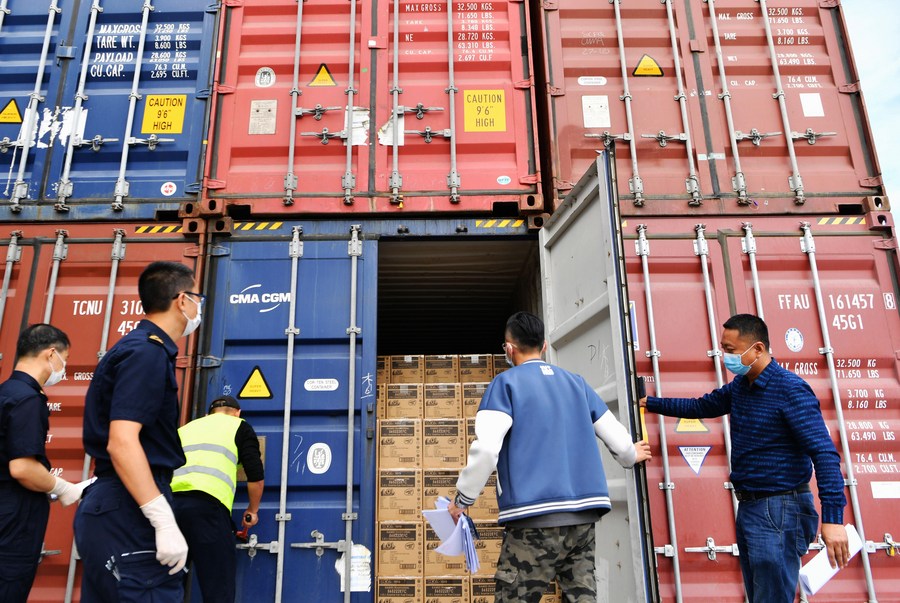 Health Silk Road
Since bringing its coronavirus outbreak under control, China has been sending medical supplies and equipment to other parts of the world to help fight COVID-19.
The Health Silk Road is an initiative linked to the Belt and Road Initiative. Corridors, ports and logistics hubs along the Belt and Road were used to provide medical support to partner countries.
On March 16, 2020, 300,000 face masks arrived from China at Liege Airport via the Air Silk Road. This was the first large shipment of personal protective equipment to Belgium since the start of the outbreak.
On March 21, about eight tons of medical supplies provided by the Chinese government to Greece arrived at Athens International Airport on an Air China flight.
Another batch of medical supplies arrived in Luxembourg one day later via the established Zhengzhou-Luxembourg route. Finland has also stated that in the spring and summer of this year, a total of 12 medical cargo flights arrived in Finland from China to help the country fight the virus.
On April 14, a large shipment of medical supplies – including a record 100 tons of medical cargo transported by Antonov An-225 Mriya, the world's largest airlift cargo aircraft – arrived in Poland from China.
Also on April 14, a China-Europe freight train loaded with much-needed medical and industrial supplies arrived in the western German city of Duisburg.
Back in Liege, the airport has become an anti-epidemic rescue center. Large volumes of medical supplies coming from China pass through the Liege hub and are transferred to 15 European countries.
One of the greatest beneficiaries of the Health Silk Road was Serbia. The Chinese medical team to Serbia arrived on March 21, and in the next two months toured across over 20,000 km to visit medical institutions, talk to their counterparts, share experience and recommend measures to contain the spread of the coronavirus.
Besides, in partnership with China's biotech company BGI Group, Serbia built two Fire Eye testing labs with a capacity of testing 3,000 samples per day.
Between January and November, China-Europe freight trips rose 51 percent year-on-year to 11,270, transporting 64,000 tons of anti-pandemic materials to European countries, including Italy, Germany, France, Spain, Poland and Hungary.
China has sent to Arab countries more than 1 million testing kits and over 18 million masks, and dispatched medical teams to eight Arab nations, with over 40 video meetings convened between the health experts from both sides.
China's relief efforts have also included a $20 million donation to the World Health Organization, sending doctors to Iran, building a Polymerase Chain Reaction laboratory in Iraq to increase the country's coronavirus testing capacity, donating test kits to the Philippines and sending protective equipment to Pakistan.
The aid has gone as far as Latin America, where China has had a significant presence through donations at a time when the region has been hit hard by the pandemic, sending medical supplies to many countries there.
Helmets with thermal imaging cameras that detect fevers in real time, masks and biosafety suits as well as nearly two tons of equipment have been donated to Argentina in June. It marks the second time that China has sent medical aid to the South American country since the coronavirus outbreak.
Chinese businessmen have donated ventilators, test kits, thermometers, 1.6 million masks and more than 230,000 medical supplies to Chile.
Colombia received an aid shipment from China on May 7 to tackle the coronavirus. The Chinese government delivered $1.5 million worth of medical supplies. The supplies included 30,000 nucleic acid tests, 680,000 masks, glasses, gloves, protective suits, infrared thermometers and respirators.
In March, Venezuela received a delegation of eight Chinese specialists to join efforts in the face of the coronavirus crisis. Along with the medical mission, 22 tons of medical equipment arrived, including 500,000 test kits, ventilators, protective suits, glasses, masks and gloves.
China has also donated medical supplies to Mexico, Peru, Bolivia, Brazil, Costa Rica, Panama, El Salvador and Cuba in critical times of the pandemic.
Figures from the Civil Aviation Administration of China show that China has provided anti-epidemic assistance to 47 countries and regions since the outbreak of COVID-19, delivering more than 1,700 tons of medical supplies. This could not have happened without the Air Silk Road.