Sounding bilateral note with 'music diplomacy'
Share - WeChat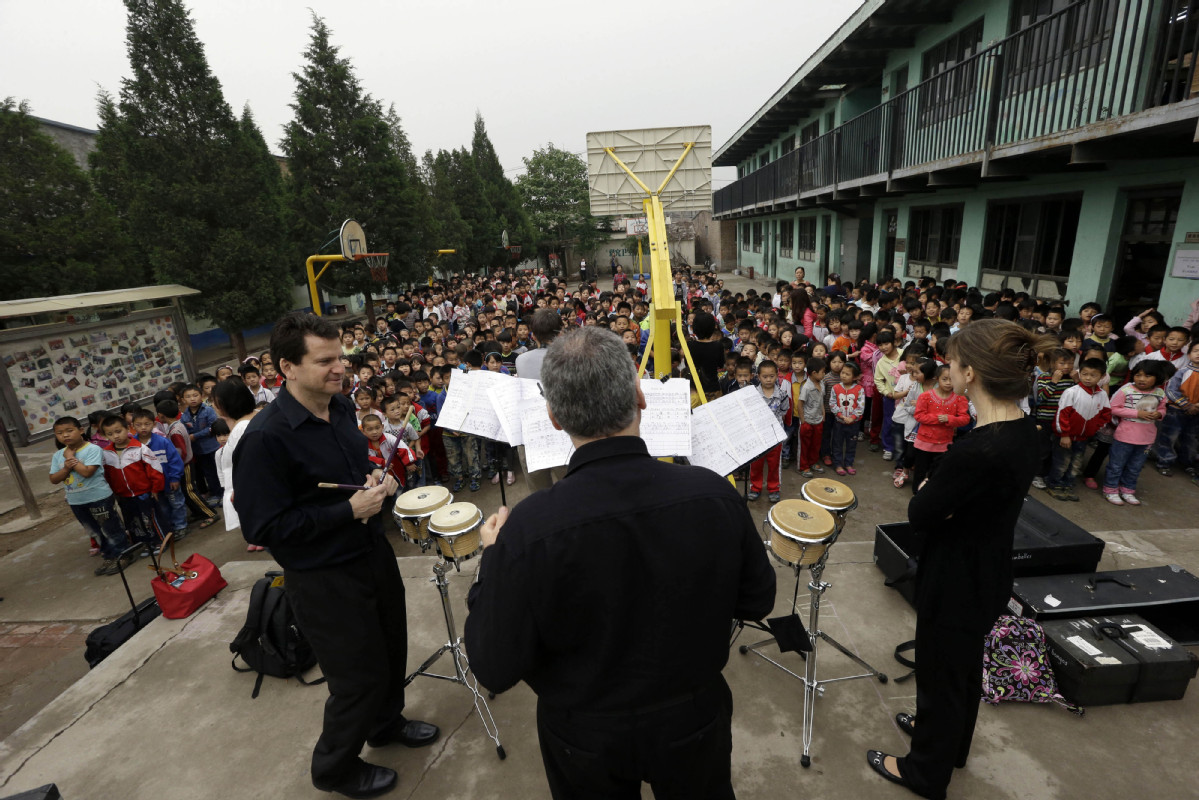 Like ping-pong diplomacy, music also helped open up US-China relations and can help build a cultural bridge between the two peoples, said experts.
The people-to-people relationship between the US and China began a year after US president Richard Nixon visited China, with the exchanges of delegations between the two countries, said Nicholas Platt, who accompanied Nixon on his historic trip to Beijing in 1972.
The president later secured an invitation to send the Philadelphia Orchestra to China in 1973 to help renew relations after decades of isolation.
"The orchestra was a big hit and became a household word (in China). The reason why it did was because they did things beyond just playing music," said Platt, who was then chief of the political section at the US Liaison Office in Beijing.
"I remember the first day that we were there: The orchestra members came out of the hotel, and they started throwing Frisbees around at each other. That fascinated the Chinese public. You could get a crowd of 5,000 people in about 10 seconds," he recalled at a recent webinar hosted by the Asia Society Northern California.
The Philadelphia Orchestra was the first American orchestra to perform in China. During the 10-day visit, it performed four times in Beijing and twice in Shanghai. But the historic visit seems like "a forgotten chapter in American history" to Jennifer Lin, co-director of Beethoven in Beijing, a new documentary that tells the tale of the tour.
"A lot of people know about ping-pong diplomacy; that is what really opened up China-US relations. But music diplomacy is really just as important and arguably more lasting," she said at the webinar.
The documentary starts in 1973 and ends in the present day with a performance of a Chinese composer in Philadelphia because "we want to show the evolution of the music world in China and also the evolution of the relationship", said Lin.
"It's very important for audiences here in the United States to understand what's happening in China and to hear the music from composers in China," she said. "This cultural bridge today is very much a two-way street."
Platt agreed on the "two-way street" relationship. He said he realized in 2010 that "the best thing to do was to play and to stay" instead of "come and play in a city and do a couple of concerts and then go away".
"It meant to use the orchestra's expertise to teach and to do concerts with other Chinese orchestras, go to conservatories and do pop-up concerts, which brought home to the Chinese that cultural exchange is a two-way street," he said.
"We found that there was a wonderful audience for classical music in China. But what we really found out was that the Chinese wanted to bring their own orchestras up to speed. And they wanted to find out what it took in order to go on tour internationally. So we worked to fulfill those hopes and provide that training," said Platt.
Since 1973, the Philadelphia Orchestra has been to China 12 times, more than any other American orchestra. It is now exploring performance opportunities in China for the fall of 2021, according to Ryan Fleur, executive director of the orchestra.
The partnership with China has "evolved" from just playing for Chinese audiences to making music with Chinese musicians over the past years, said Fleur. "The aspiring musicians" in China are amazing and their technical ability is "so astounding".
Every time he went back to China, Fleur said he watched how rapidly the organizations and the number of orchestras have developed since 2012. "The last number I had heard was somewhere between 65 and 80; it might be more than 100 now," he said.
The Philadelphia Orchestra also has started giving master classes to students from the Shanghai Conservatory of Music and from the China Conservatory of Music via Zoom.
"Originally our partnerships are always all very government centric, but now we're learning to connect directly with the people of China," said Fleur, adding that they are learning how to use WeChat to reach Chinese audiences.
"Music and culture is such a deep part of the upbringing of every Chinese citizen growing up," he said.