Land reform to boost rural development
Share - WeChat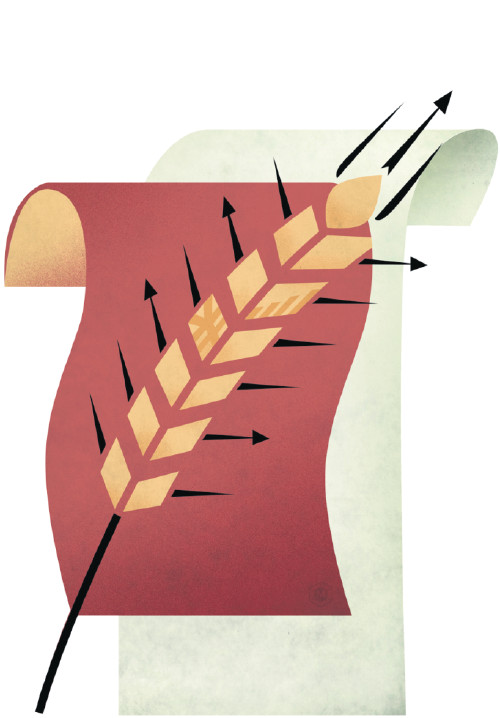 Market-oriented reform of the rural land allocation mechanism can facilitate not only rural but also overall development
To facilitate the free flow of the factors of production-land, labor and capital-China will deepen reform of the market-oriented land allocation system, according to a guideline released by the Communist Party of China Central Committee and the State Council, the country's Cabinet, in March this year.
Despite urbanization and industrialization for more than 40 years, rural areas still have surplus labor. China's urban residents accounted for about 60 percent of the total population last year, 15 percentage points lower than that of countries in the same development stage as China. According to estimation, the surplus labor force in China's rural areas is 210 million strong and could reach up to 434 million when calculated based on the urbanization rate of registered households, which stands at 44 percent.
Some believe the problem of shrinking labor force in China-as a result of the rapidly increasing aging population-can be offset by raising the education level and quality of workers. And while smart manufacturing and online platforms can fill the gap created by the lack of skilled workers, improving production rates will give rise to new drivers of growth. But it is difficult to significantly improve the quality of millions of rural workers aged 45 or above even with education and special training, as many of them would reach the retirement age by the time they master new technical skills.
Since it takes a long time to increase human capital, efforts should be made to stabilize the declining growth rate of the working age population in the next 15 years. China still faces the problems of a high labor-to-land ratio, relatively low levels of bulk production, and many arable lands lying idle or being poorly cultivated. In sum, China has about 260 million mu (0.173 million square kilometers) of surplus arable land.
The total area of surplus rural homesteads in China could be up to 95 million mu and surplus construction land about 75 million mu. And about 150 million mu of other construction land in rural areas has been used mostly by enterprises that have developed in townships and counties since 1978.
The problem of such surplus land can be addressed only through market-oriented allocation of land resources. To address such urgent problems and promote the long-term development of rural areas, reforms need to be launched in the following ways.
The government should take measures to ensure local economies absorb the surplus labor force, increase rural residents' incomes and help expand their demand for consumer products. The government should also reform the rural land allocation system.
There is also a need to launch reforms to develop land assets as credit guarantees for debt expansion, in order to minimize the risks caused by broken debt chains, and boost proactive fiscal and financial policies for the sound growth of the national economy.
The average annual decline in China's input into the labor forces can exceed 1 percent in the next 15 years, which in turn may cause its GDP growth to decline by 0.5 percent a year. Since improvement in resource allocation can increase the GDP growth rate up to 0.7 percent, the net growth is more likely to be 0.2 percent.
The employment of surplus rural workers, combined with market-oriented land allocation reforms, can contribute 60-70 percent to the growth of China's economy over the next 15 years.
While upholding the public ownership of production factors and maintaining the state-owned and collective ownership of land, the government needs to steadily advance market-oriented land reforms, so as to prompt more and more rural residents to seek jobs in urban areas and develop their own businesses, and maximize the use of idle land, homesteads and other construction land in rural areas.
While the government needs to limit the sale of land for residential purposes and prevent real estate speculation in rural areas, it should help transform rural land from agricultural resources into farmers' assets.
The use of land can be further expanded for farmers so they can mortgage their land, or attract investment using their land as asset, sell their plots to the villages after having settled down in cities, or start their own businesses and promote employment and help increase rural residents' consumption capacity to promote medium-to-high-speed economic growth for the next 15 years.
The author is former deputy dean of the International Strategy Research Institute of the National Academy of Governance. The author contributed this article to China Watch, a think tank powered by China Daily. The views do not necessarily reflect those of China Daily.
Most Viewed in 24 Hours
China Views