2 GOP governors take different approach to virus
Share - WeChat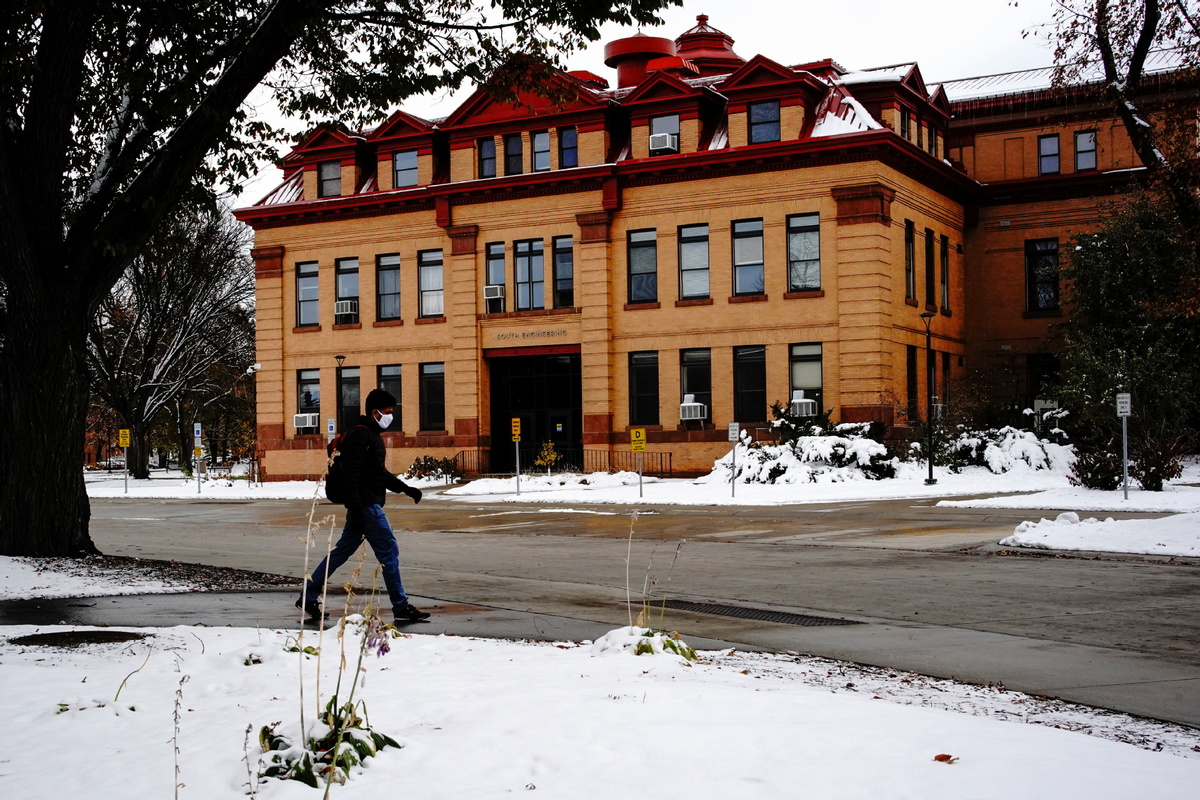 In North Dakota, Republican Governor Doug Burgum has ordered a statewide mask mandate until Dec 13 to stem a coronavirus outbreak that is battering the state.
In South Dakota, despite pleas from doctors and healthcare companies for a mask mandate to stem a raging virus outbreak, Governor Kristi Noem, also a Republican, has repeatedly questioned the effectiveness of masks. "I'm opposed to a statewide mask mandate," she has said. She has said the best thing people can do to stop the spread of the coronavirus is wash their hands.
Noem is among a number of Republican governors in the Midwest and Northern Plains who have largely taken a hands-off approach to the COVID-19 pandemic.
North Dakota and South Dakota, with a combined population of just more than 1.5 million, have the highest number of cases per capita in the country. North Dakota was recently found to have the highest COVID-19 death rate per capita in the world.
North Dakota's statewide death toll from the virus was 902 as of Friday, according to the state's health department. Statewide, there were 8,226 active coronavirus cases, a drop of 2,000 since the beginning of last week. More than 1 out of every 1,000 residents has now died. One in every 97 people in North Dakota tested positive in the past week.
South Dakota on Friday reported 39 deaths from COVID-19, pushing the state to record more deaths in November than all other months of the pandemic combined. The state's tally of COVID-19 deaths stands at 888.
The total number of deaths has more than doubled since November began, with 463 reported this month. The state currently has a death rate of about 100.7 deaths per 100,000 people, the 11th highest per capita, according to Johns Hopkins.
Burgum, who just won re-election, had been adhering to what he called a "light touch of government" and encouraged people to voluntarily wear face coverings. He also declined to enforce limits on social gatherings and business occupancies.
Health care professionals and community leaders had been pleading with Burgum for months to impose face-mask wearing and other restrictions. Last month, on a tour of Bismarck, the state capital, Dr Deborah Birx, the White House coronavirus coordinator, described the state's mask use and COVID-19 protocols as the worst she had seen anywhere in the country.
On Nov 14, Burgum relented.
"Our situation has changed, and we must change with it," he said. Doctors and nurses "need our help, and they need it now".
Burgum's mandate requires residents to wear face coverings at indoor businesses and indoor public settings, as well as outdoor public settings where physical distancing isn't possible. Failure to comply with the mandate is an infraction, with a penalty of up to $1,000, though it's not clear how the order will be enforced.
He also has imposed several business restrictions to contain the spread of the coronavirus that has stressed the state's hospital capacity.
The number of COVID-19 cases is straining the state's hospitals. Late last month, the Defense Department sent 60 Air Force nurses — 20 ICU nurses and 40 medical surgical nurses — to help the state's hospitals in the ongoing fight against the virus.
Last week Burgum issued an order allowing infected but asymptomatic nurses to continue to treat COVID-19 patients. That infuriated nurses.
"It's just wrong for many reasons," said Sherri Miller, a nurse in Bismarck who is the executive director of the North Dakota Nurses Association. "How does it work when a COVID-positive nurse is coming to work and needs to eat and drink and their colleagues need to eat and drink and so forth? And share elevators."
In South Dakota, the largest group representing doctors has said it strongly supports a mask mandate, and several South Dakota cities now require masks to be worn in stores and public buildings.
But Noem hasn't changed her position. She has said those who don't wear masks are making a "personal decision" and deserve respect. She also said she doesn't believe she has the power to issue a mask mandate.
In August, Noem welcomed 500,000 people to the annual motorcycle rally in the town of Sturgis despite public health warnings. It has since been blamed by the Centers for Disease Control and Prevention for spreading coronavirus cases across the Midwest.
"Our people thought: 'We don't need to do all those recommendations that the medical association had given because we're so far apart. We're not going to be like New York or Italy or Spain,'" said Dr Benjamin Aaker, an emergency physician and the president of the South Dakota State Medical Association.
They did not realize, Aaker said, that they were still mixing at grocery stores and churches and bars. "It just took us longer and now we've caught up to it, and now we've surpassed that, and now we're top of the nation in terms of infection rate and death rate."