France's Macron unveils gradual easing of lockdown, expecting 'new stage'
Share - WeChat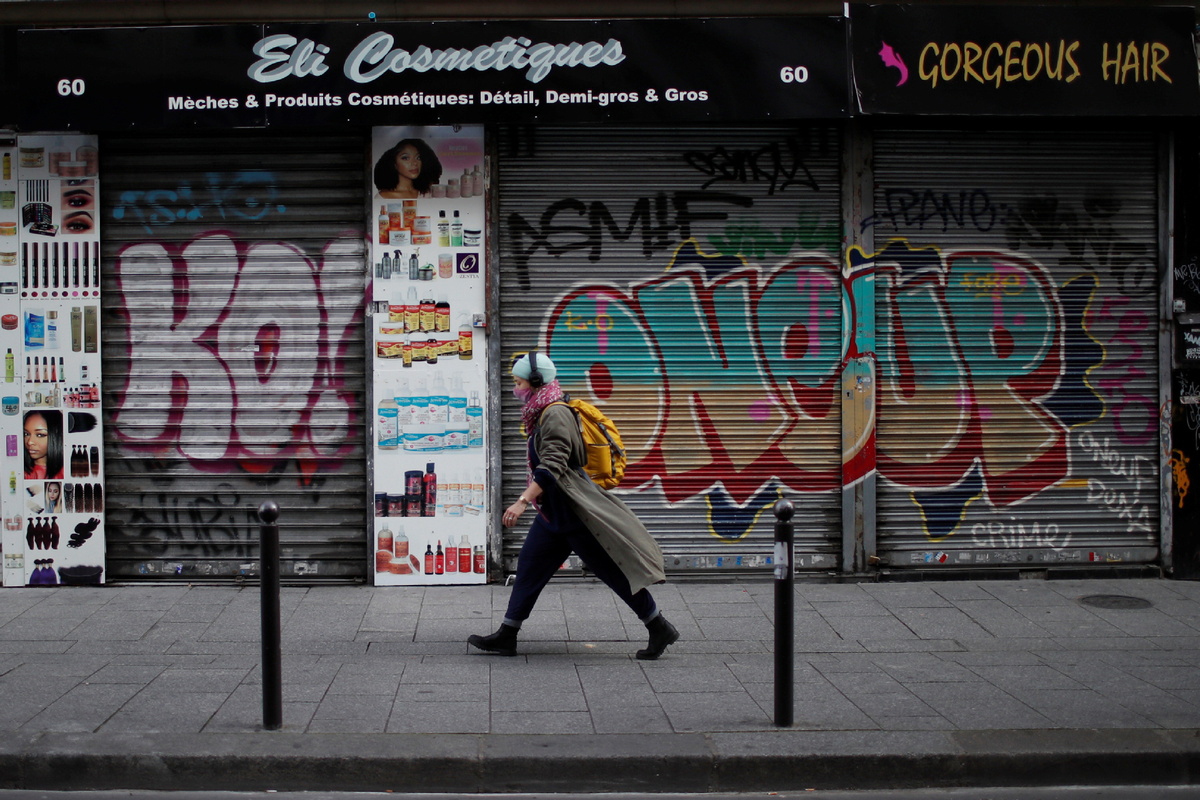 PARIS - French people will enjoy more freedom in outdoor exercises starting Saturday, and the nationwide coronavirus lockdown could be lifted on Dec 15 if health conditions are met, President Emmanuel Macron announced Tuesday in a TV address.
"A new page will open on Saturday, Nov 28," said Macron. Starting Saturday, outdoor exercises will be allowed for up to three hours a day, and people can go up to 20 km from their homes. Currently, people can only go out for exercise for one hour and in a radius of one km.
Starting Saturday, non-essential shops will also be allowed to reopen until 9 pm and under strict health conditions, and indoor religious services with 30 worshippers will be also allowed, according to Macron.
Though the COVID-19 pandemic has been easing in France, "it is necessary to continue to work at home, and to give up unnecessary travel," said Macron, adding that "the virus remains very present."
If the situation improves further and the number of COVID-19 infections is brought down to below 5,000 per day, the lockdown could be lifted on Dec 15, with cinemas, theaters and museums allowed to reopen under strict health protocols, he said.
But a 9 pm to 7 am curfew will still apply to the whole country except on Dec 24 and 31, said the president. Restaurants, bars, cafes and gyms would have to stay shut until Jan 20 to avoid the virus resurgence, he added.
Since September, coronavirus infections in France had spiraled to levels much higher than in the first wave of the pandemic, dragging the country into its second nationwide lockdown on Oct 30.
"Our efforts have paid off. We have succeeded in slowing the circulation of the virus. We have achieved these results together. Together we have saved lives," Macron said.
Also on Tuesday, France reported 9,155 new infections in a 24-hour span, taking the total number of cases to 2,153,815. Coronavirus-related deaths topped 50,000, after 551 patients died in hospitals and 454 others in nursing homes in 24 hours, health authority data showed.
A total of 4,289 patients were put on ventilators, 165 fewer than Monday's 4,454, consolidating a decline recorded since Nov 14.
Macron warned that "the return to normal is not for tomorrow...We must continue our efforts".
"We still have several weeks ahead of us to meet our target to control the epidemic and stabilize the number of infections around 5,000 per day and between 2,500 and 3,000 patients in resuscitation beds," he said.
He added the government and parliament will have to discuss how to make isolation of infected people mandatory. "If we want to avoid a new confinement, we must be more restrictive concerning the conditions of isolation."
Macron also said that France would begin a coronavirus vaccination program by late December or early January, starting with the elderly and vulnerable people, after authorization from health authorities.
"Vaccination must be done in a clear, transparent way, by sharing at each stage all the information that we know as well as that we do not know," he said, adding that the vaccination would not be compulsory.
"We must do everything to avoid a third wave, do everything to avoid a third lockdown," Macron said.
As the world is struggling to contain the pandemic, countries including France, China, Russia, the United Kingdom and the United States are racing to find a vaccine.
According to the website of the World Health Organization, as of Nov 12, there were 212 COVID-19 candidate vaccines being developed worldwide, and 48 of them were in clinical trials.