Anti-epidemic projects honored at World Internet Conference
Share - WeChat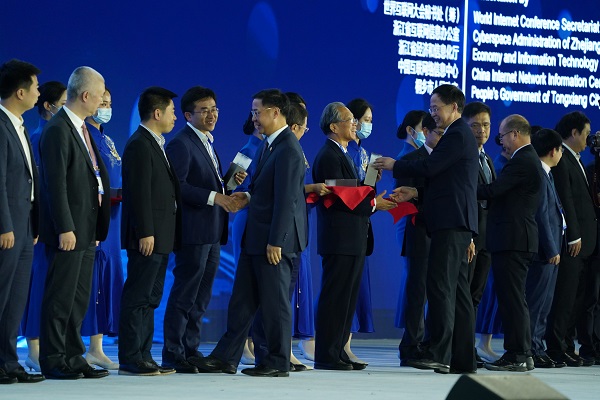 The 2020 Release Ceremony for World Leading Internet Scientific and Technological Achievements took place on Monday as an important part of this year's World Internet Conference, which is being held in Wuzhen, East China's Zhejiang province.
Five projects that made great contributions to the fight against the novel coronavirus epidemic have been praised as the one achievement announced at the ceremony.
Tencent Meeting has provided online meeting technical support and professional and reliable meeting guarantees for many large-scale important events, including the online meeting exchange platform for the 75th anniversary of the United Nations Global Dialogue. It also has provided a video connection between academician Zhong Nanshan and doctors around the world, sharing China's anti-epidemic experience.
The epidemic prevention, control and work resumption platform of China Electronics Technology Group can provide epidemic risk early warning services for governments, communities, enterprises, institutions and individuals, offering corresponding solutions and implementation methods for epidemic detection, prevention and control and emergency response. It also formed a mechanism integrating data collection, monitoring, exchange, convergence and feedback, playing a very positive role in dealing with the epidemic.
The coronavirus warning system of enterprise application software provider SAP is based on open source and decentralized technology. SAP is the largest enterprise application software provider in the world, and the most valuable technology company in Europe. The system has now become an essential tool in Germany and other European countries to conduct normal epidemic prevention and control.
The novel coronavirus national science and technology resource service system of the Institute of Microbiology, China Academy of Sciences, has provided important support for global epidemic prevention and control, and scientific research by publishing China's COVID-19 data. It also has supported Chinese scientists to publish relevant research results in international high-level journals and promoted precise prevention and control based on scientific data, as well as helped resume work and production through high-quality reference databases and high-level data analysis capabilities.
The last one is Meituan autonomous delivery. Meituan used unmanned vehicles to deliver daily necessities in communities and at hotels and restaurants, contributing to epidemic prevention and control with technology.