Train's ski-gear ban triggers avalanche of disapproval
Share - WeChat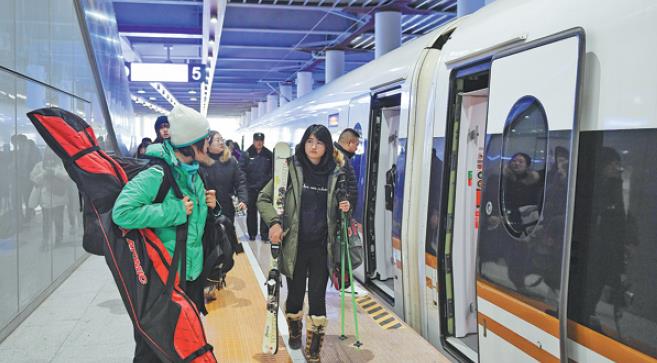 Skiers in Beijing planning a bullet-train ride to a nearby resort cluster now have to think again.
A new regulation banning large carry-on ski equipment on the high-speed railway linking Beijing and Zhangjiakou's Chongli district in Hebei province has irked users of the service, with calls growing for a more flexible policy to be adopted.
Starting from Tuesday, skis or snowboards measuring over 130 centimeters (about 51 inches) have been prohibited on the train, with passengers now required to pay extra fees-almost equal to the ticket price-for delivering their oversized gear on another train.
The high-speed railway line, which began operation last December, had previously permitted passengers to bring adult-size skis and snowboards on board for free.
The line has cut travel time between Beijing and Chongli, the capital's co-host for the 2022 Winter Olympics, from three hours by car to just 55 minutes. The rail link has attracted an increasing number of passengers to visit the mountainous region in Hebei, which boasts abundant snowfall in winter.
The 130-cm limit rules out taking a huge array of adult-sized ski equipment on the train, prompting passengers to reconsider their travel options due to the extra cost and inconvenience.
"Now we have to spend more time booking the delivery and waiting for our gear, and the whole trip costs almost twice as much as the ticket. It's unacceptable for most of us," Billy Bai, a regular skier, who first reported the new regulation on social media last week, said in a CCTV interview aired on Monday.
"Hopefully, the operator and relevant transport authorities can consider a different policy on this particular train, which was built specifically to facilitate the development of the ski industry."
Although designed to accommodate the increasing number of resort visitors from Beijing, the train's limited luggage capacity had resulted in ski bags being packed precariously into overhead racks, blocking aisles and taking up seats, thereby posing safety risks, according to the railway operator.
"With the winter approaching, the excessive stack of ski equipment has jeopardized the safety and experiences of the majority of passengers," China Railway Beijing Group said in a statement.
Although lockers were installed between carriages to store oversized luggage, each train can only carry 20 sets of skis or snowboards per trip, way short of the demand for an average of 100-plus sets of equipment during peak season, according to the operator.
The ski equipment delivery provided by China Railway Express costs 68 yuan ($10) for self-pickup next-day arrival and 128 yuan for same-day door-to-door shipment; The ticket price ranges from 79 to 282 yuan depending on the seat class.
With China promoting an ambitious national plan to involve 300 million people in winter sports leading up to the 2022 Olympics, industry experts reckon the transport and accommodation sectors should adopt preferential policies to encourage consumption.
"The operation of the Beijing-Zhangjiakou high-speed railway is a big boost for winter sports participation in the region. However, it's more important to raise the overall awareness of providing better services than just upgrading the facilities," said Li Xiaoming, chairman of Beijing Skiing Association.
"From the perspective of a regular skier, the cost (of equipment shipment) should be further lowered for the train to better serve resort-bound passengers."
Echoing Li's suggestions, Bai also called for cheaper delivery while urging the railway operator to modify carriages for bigger luggage capacity.
Li Hongchang, a professor of integrated transportation at Beijing Jiaotong University, suggested that the train operator could also offer special carriages for passengers with oversized ski bags at a slightly more expensive ticket price.
"Then you could transport the skiers and snowboarders together with their gear while avoiding inconveniences for other passengers," Li said in an interview with Beijing Communication Radio.