Zhang's steady steps to success
Share - WeChat Star spiker hopes years of dedication can yield more glory for Team China at next year's Tokyo Olympics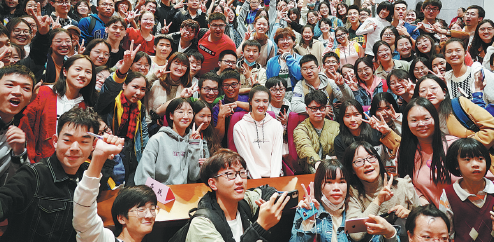 Zhang Changning stood behind the baseline, spinning a ball in her right hand before unleashing a rocket-like serve-a trademark technique over 15 years in the making.
"I always think about the direction and target point of my serve while spinning the ball," Zhang explained during a recent interview with Xinhua in Nanjing.
The 25-year-old has displayed a similar methodical approach to her career, setting one goal after another to level up step by step.
Zhang was born into a volleyball-playing family in 1995. Her father and elder brother were both national team players, affording her access to the elite level of the game at a young age.
In 2014, she was offered a trial with the women's national team by legendary head coach Lang Ping. Her excitement at the development, however, soon gave way to the humbling realization that there was a "huge gap" between her and the senior players.
"At that time, I learned what my weaknesses were and then clearly set a new goal, which was to keep on going and stand firm," she said.
Zhang initially failed to nail down a place in the squad, but after impressing with China's B team at the Asian Games in South Korea, earned her first official call-up to the senior ranks. "This was the start of my dream," she said.
In 2015, Hui Ruoqi retired due to illness, and Zhang was promoted to a leading role in the team. That same year, she helped China win the World Cup after a 12-year wait, and became the first under-20 spiker to win a world championship.
More glory followed with gold at the 2016 Rio Olympic Games, which Zhang credits as one of the most formative experiences of her career to date.
"In fact, everyone played badly in that final game, but I think it was a valuable experience that taught us how to cope in adversity and play to our strengths, to which nothing can compare," she said.