'Volcano community' discovers bedrock of success
Share - WeChat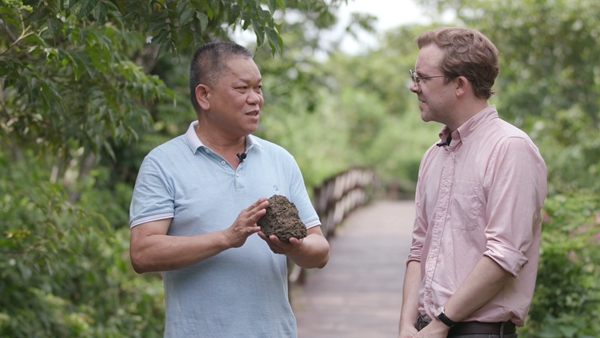 Chen Ruimei tap, tap, taps a nail with pinpoint accuracy into one of the many porous holes that make the surface of a volcanic rock about the size of my own head. The nail skewers a sprig of dendrobium-a type of orchid which has many commercial uses from tea, traditional Chinese medicine and even wine.
Volcanic rock, you say? You don't just find that lying on the ground. Well, in Shicha village in South China's Hainan province, you do. Shicha is located at the foot of an inactive volcano on the island that dominates the landscape. You can't walk a single meter without encountering volcanic rock-strewn about the landscape from massive eruptions millennia ago. It's used everywhere; houses are built out of it, and the volcano itself is a major tourist attraction, drawing in tourists to climb its slopes and spend, spend, spend in the local economy.
It's even used in the planting of dendrobium on an industrial scale. Chen, a worker at a dendrobium cultivation base in Shicha, used to have to leave the village in order to find work, but today she happily taps dendrobium sprigs into volcanic rock under the shade of tropical branches.
The notion of utilizing the local volcanic rock for industrious purposes stems from President Xi Jinping's introduction of targeted poverty alleviation in 2013. The idea being that for each individual circumstance of poverty, there must be a unique and individual solution.
"After they started planting dendrobium, I came back to my hometown," Chen says."My salary is much higher than before. Also, this is much closer to my family, so I can better care for the young and old at home."
Much of Shicha's success in raising its fortunes in the past seven years is related to the volcano. Streams of tourists climb its slopes everyday year round to gaze upon the views and the crater itself. Locals like Huang Mei are primed to slake visitors' thirst and provide a bed after a day on the volcano, opening idyllic and comfortable homestays.