Pudong drives Shanghai toward financial glory
Share - WeChat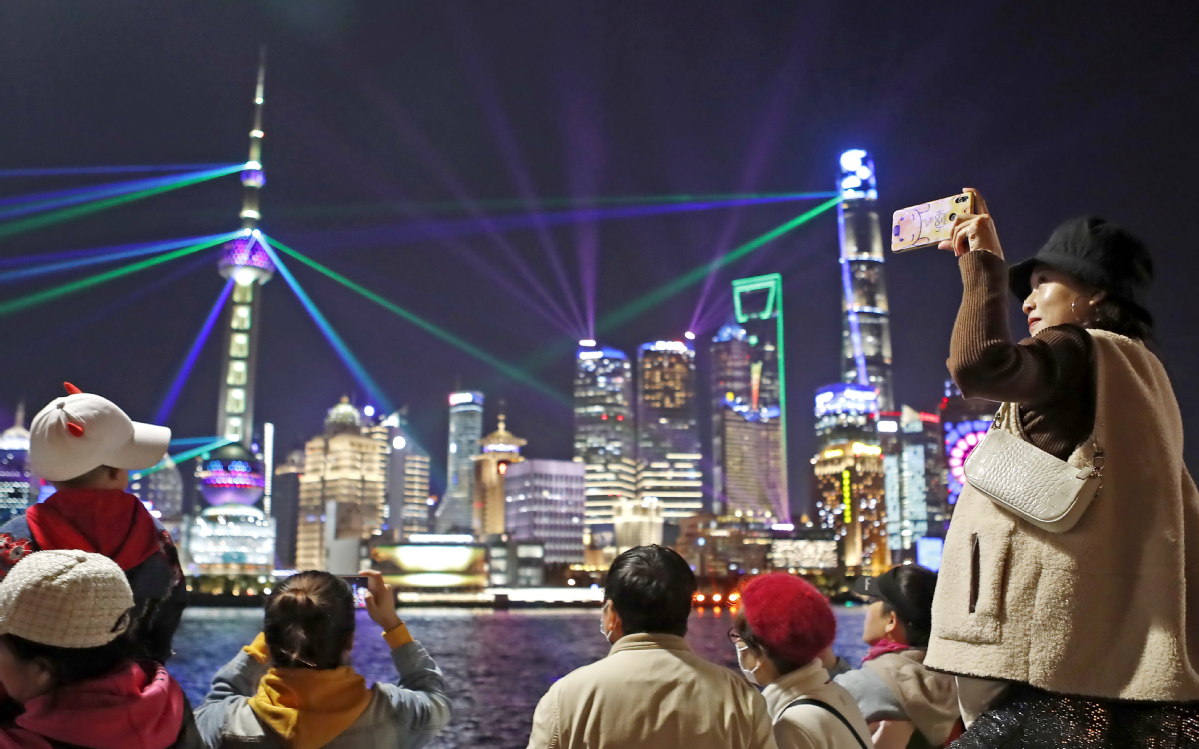 A pro-innovation regulatory environment has made Shanghai's Pudong New Area a magnet for international financial giants and strongly backs the city's ambition to build a global financial hub, experts said.
For instance, in January, Allianz (China) Insurance Holding Co Ltd, owned by German financial giant Allianz Group, opened for business in Pudong, becoming China's first wholly foreign-invested insurance holding company.
"When we proposed to set up …the holding company, there were neither precedents nor policies that allow the establishment of such groups," said Chen Liang, its vice-manager. "We wouldn't have been able to make it happen without a regulatory environment friendly to innovation in Pudong."
A lot of regulatory breakthroughs enabled the company's establishment, he said.
Among other things, institutional innovations for financial opening-up helped Pudong to emerge as home of 97 units from international asset managers. The Pudong New Area now has China's densest concentration of legal entities of foreign banks and insurers, official data showed.
This year, Pudong has seen the opening of JPMorgan Securities (China) Co Ltd, the country's first newly established securities firm with foreign majority ownership, as well as the approval for setting up the nation's first wholly foreign-owned mutual fund manager, invested by BlackRock.
In the first half of this year, the output of Pudong's financial sector reached 202.2 billion yuan ($30.6 billion), up 7.5 percent year-on-year and taking up 58.2 percent of Shanghai's financial output, official data showed.
Zhu Xian, vice-president of the New Development Bank, the multilateral development bank established by the BRICS economies (Brazil, Russia, India, China and South Africa), said Shanghai has made great headway in building a global financial center.
It is a process that will gather pace as the city further opens such sectors as insurance, wealth management and investment banking, he said.
The NDB is the first international financial institution to set up its headquarters in Pudong. The bank has taken advantage of the area's cluster of financial institutions in issuing renminbi-denominated bonds, Zhu said.
Shanghai has overtaken Tokyo as the world's third-ranked financial center. It is behind only New York and London in the latest Global Financial Centres Index, published in September jointly by Z/Yen, a UK think tank, and the China Development Institute, a Shenzhen-based research body.
Cui Wei, executive vice-president of the China Foreign Exchange Trade System, said the complete financial market system in Pudong is another key factor that has helped Shanghai climb on the ladder of global financial hubs, as it has enabled foreign institutions to build renminbi-denominated asset portfolios in a "one-stop way".
There are 13 exchanges or financial infrastructure providers in Pudong, offering services for the transaction of stocks, bonds, futures, insurances, trusts, and foreign exchanges.
For instance, the STAR Market of the Shanghai Stock Exchange is rapidly building global influence. In the January-September period, it saw $27.5 billion raised from 113 initial public offerings. Both figures are the highest among all major stock markets across the world, according to the SSE.
Despite Pudong's progress so far toward the goal of transforming Shanghai's financial character, greater convertibility of the renminbi and further efforts to build a rules-based business environment are still needed, experts said.
Zhang Hong, director of Pudong's financial work bureau, said the area will continue to pilot financial reforms and innovations, further elevating the convertibility of the renminbi while keeping risks contained.