Multilateralism will prevail, Xi tells SCO event
Share - WeChat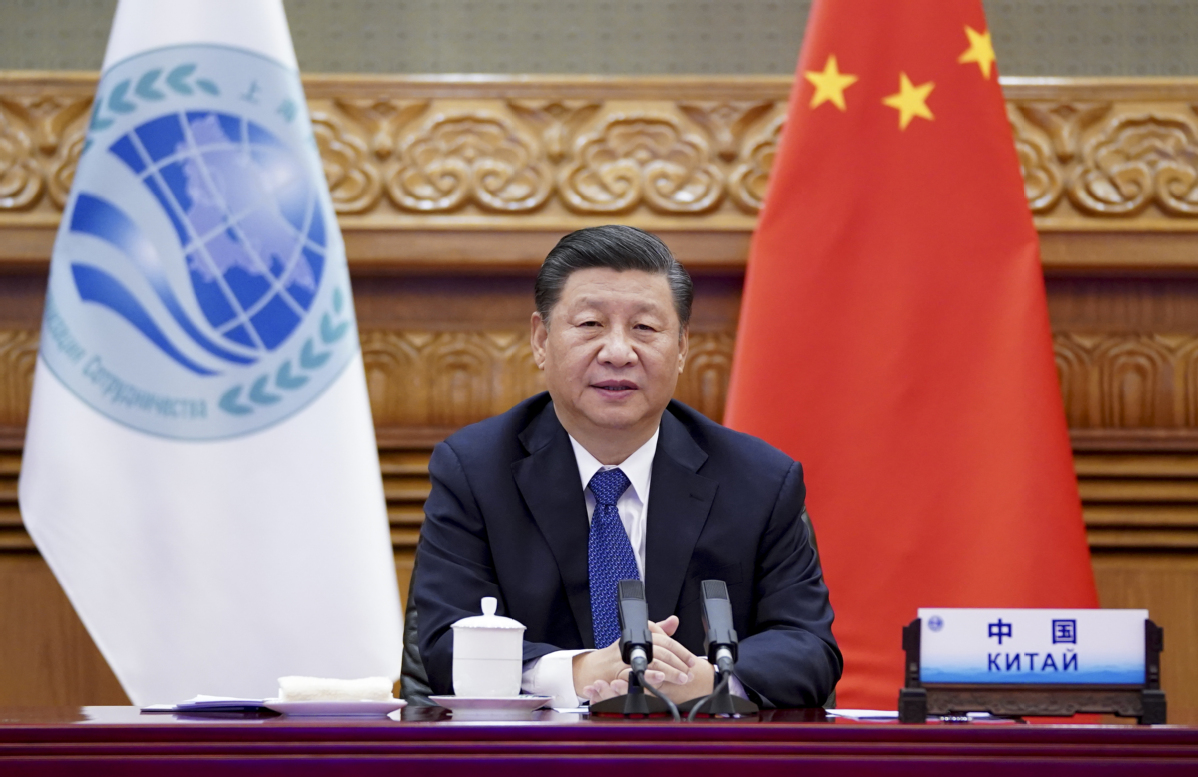 Nations urged to strengthen joint efforts in prevention, control of pandemic
China is calling on Shanghai Cooperation Organization member countries to set up hotlines among their centers for disease control and prevention, and it is willing to actively consider the COVID-19 vaccine needs of SCO countries, President Xi Jinping said.
Xi made the remarks when addressing the 20th Meeting of the Council of Heads of State of the Shanghai Cooperation Organization via video on Tuesday.
He called on the countries to strengthen joint efforts in the prevention and control of COVID-19, support each other, and deepen communication and cooperation in epidemic monitoring, scientific research and the prevention and treatment of the disease.
Tuesday's meeting, hosted by Russia this year, is the first multilateral summit attended by Xi following the recent Fifth Plenary Session of the 19th Central Committee of the Communist Party of China.
Observers noted that the gathering is being held at a time when countries are faced with demanding tasks such as combating the COVID-19 pandemic, revitalizing their economies, offsetting global economic headwinds and fending off unilateralist political and security challenges.
History proves the benefits of good-neighborly friendship and mutually beneficial cooperation, said Xi, adding that multilateralism will prevail over unilateralism.
Mankind lives in the same global village, and the interests and destinies of all countries are closely interlinked, he added.
People across the world have a stronger yearning for a better life, Xi said, adding that the trend toward peace, development, cooperation and mutual benefit is unstoppable.
Xi also voiced firm opposition to interference by external forces in the domestic affairs of SCO member states under any pretext.
He stressed the need to firmly support relevant countries in steadily advancing major domestic political agendas according to law and safeguarding political security and social stability.
Xi called on countries to take practical actions to fulfill multilateralism, improve global governance and champion international order.
All parties should adhere to the principle of extensive consultation, joint contribution and shared benefits, and advocate that global affairs be discussed by all countries, the governance system be built jointly, and the fruits of development be shared by the people of all countries, he said.
Speaking on China's opening-up, Xi said China's advance cannot be possible without the world, and the world's prosperity needs China.
China is speeding up the formation of a new development pattern, which sees the domestic market as the mainstay and the domestic and international markets complementing each other, and the country seeks to build a new economic system of openness at a higher level, he said.
All parties are welcome to grasp the new opportunities brought by China's development and proactively intensify cooperation with the country, he added.
Talking about the SCO, Xi said that the grouping should carry forward its Shanghai Spirit, strengthen unity and cooperation, make greater contributions to the stability and growth of countries in the region, and work to promote the building of a community with a shared future for mankind.
Xi stressed that common development is real development, and quality development requires sustainable development.
Countries should take the opportunity to strengthen cooperation in areas such as the digital economy, e-commerce, artificial intelligence and smart cities, and next year the southwestern city of Chongqing will host a China-SCO digital economy industry forum in order to build cooperation on innovation, he said.
Xi noted that there is neither superiority nor inferiority among cultures. It is necessary to promote mutual learning among cultures and enhance neighborly friendship among countries, he said.
China will host an SCO forum on grassroots-level friendship next year and will offer opportunities for youth exchanges over the next three years in order to boost mutual friendship, Xi added.
Tuesday's meeting adopted a number of statements covering issues such as the joint battle against COVID-19, the 75th anniversary of the World War II victory, safeguarding international information security, the digital economy, and cracking down on the spread of terrorism, separatism and extremism in cyberspace.