Success in sight for the luxury sector
Share - WeChat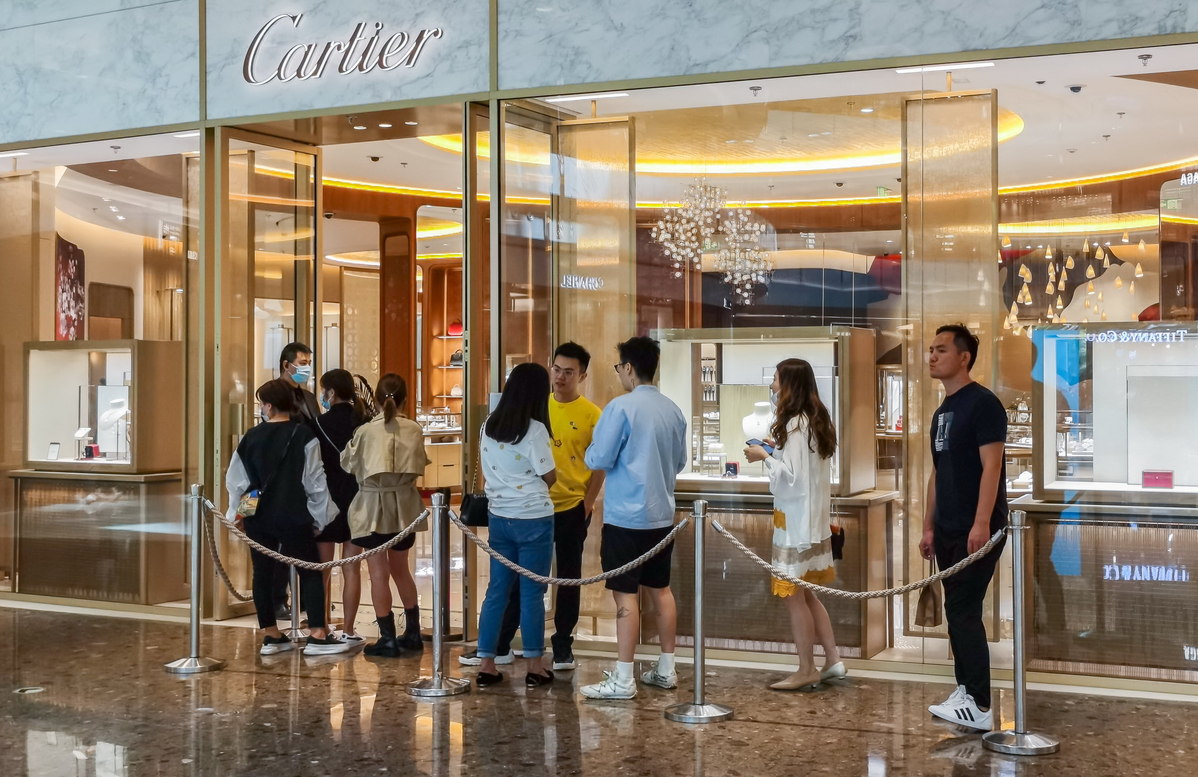 The quick recovery and strong resilience of the Chinese consumer market despite the COVID-19 epidemic have helped boost luxury brands' bullish outlook on their future performance in the country, experts said.
Swiss luxury major Richemont, which made its CIIE debut this year, signed an agreement with e-commerce giant Alibaba Group Holding Ltd on Friday to jointly invest $11 billion in online luxury retailer Farfetch Ltd and its new Chinese marketplace. The group, which has over 20 international brands, including Dunhill and IWC, is showcasing 11 of them at this year's CIIE.
According to Jenny Gu, CEO for Richemont China, the CIIE participation is a "milestone "for the company to demonstrate its strategic vision and confidence in the Chinese economy.
The luxury firm said for the six-month period that ended on Sept 30 this year, its sales rose by 78 percent on a yearly basis at actual rates. The growth in China helped mitigate the 6 percent decline in Asia-Pacific sales and 44 percent decline in European sales during the period. The company said China has overtaken the United States to become the group's largest market.
Apart from showcasing its craftsmanship, French luxury goods conglomerate Cartier under Richemont is showcasing two documentaries in collaboration with the Imperial Palace. According to Guillaume Alix, CEO of Cartier China, the brand has been benefiting from the dialogue with China for so many years in terms of culture, sources of inspiration and clients.
It is the second consecutive year for Paris-headquartered luxury group Kering to participate in the CIIE. The Swiss luxury watch brand Ulysse Nardin under Kering launched for the first time the CIIE limited edition watch this year. According to Cai Jinqing, president of Kering in China, the CIIE offers an important opportunity for Kering to expand cooperation with business partners and stakeholders in China.
"China is a key market for the global luxury industry and Kering has been successfully operating in the country for over four decades. Chinese consumers' expectations for luxury industry has been evolving rapidly thanks to the country's ongoing development and economic growth," she said.
Global market research firm BCG said in a survey in September that Chinese consumers' demand for luxury goods will increase by 30 percent on a yearly basis this year, compared with a worldwide sales slump of 45 percent.
International think tank Economist Intelligence Unit said in its China consumer report that China's recovery from COVID-19 pandemic before other major economies will support consumer confidence. Unable to travel overseas, Chinese consumers have increased their spending at home, which benefits luxury brands. Luxury companies are thus suggested to increase stock and selection at Chinese stores as continued repatriation of luxury spending to China can be highly expected till 2021, it said.