Global carmakers showcase latest models at trade expo
Share - WeChat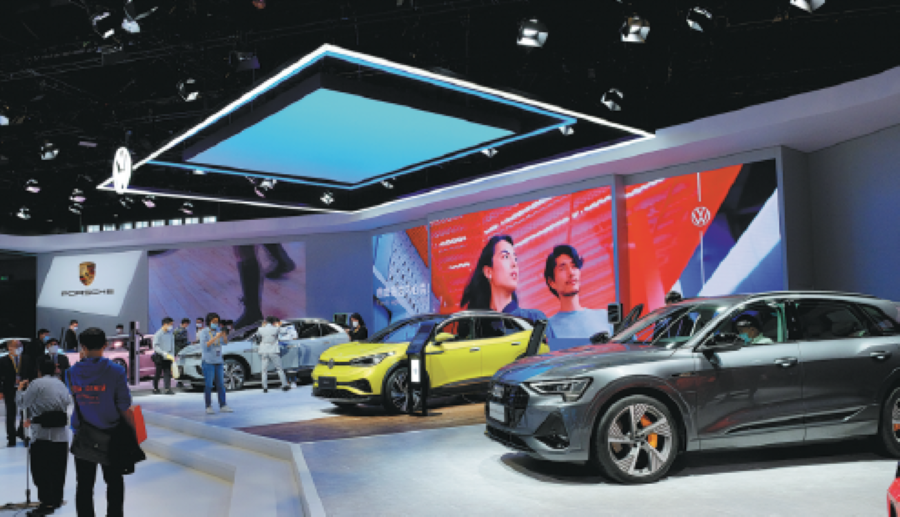 Carmakers from around the globe are showcasing their latest models and technologies at the ongoing China International Import Expo, demonstrating their confidence in the further potential of the world's largest automotive market.
In the first three quarters of the year, more than 17.11 million vehicles were sold in the country, despite the coronavirus pandemic, according to the statistics from the China Association of Automobile Manufacturers.
General Motors, the largest carmaker in the United States, is presenting the latest-generation of its iconic Chevrolet Corvette Stingray and its full-size SUVs under its GMC, Cadillac and Chevrolet marques.
Julian Blissett, president of GM China, said GM is committed to introducing the best products, technologies and services into China to seize new growth opportunities and benefit customers and partners.
The Corvette Stingray, Chevrolet's most powerful coupe, sports a 6.2-liter engine and can accelerate from zero to 100 kilometers per hour in three seconds.
The Cadillac Escalade ESV is another highlight of GM's booth at the CIIE. Due to its Super Cruise system, the giant SUV can now change lanes automatically on expressways in the United States.
It also features the industry's first curved OLED interior display, which has twice the pixel density of a 4K TV. This leading-edge technology enables bold imagery, perfect blacks and the largest color range available in the automotive arena.
German premium carmaker BMW is attending the CIIE for the third time. It is presenting seven imported models including the i8 Roadster and the 7 Series sedan.
Jochen Goller, president and CEO of BMW Region China, said BMW sees the CIIE as the symbol of China's continuous opening-up, and this year's event is particularly significant because of the pandemic.
"China was the first country to successfully fight the pandemic among major global economies. Thanks to that, our business in China is also recovering quickly," Goller said.
Statistics show that BMW's 2020 sales in the first three quarters were 6.4 percent more than the same period of 2019, which Goller said was a "very hard-earned result in this very unusual year".
"We are confident in the long-term prospect of the Chinese market and will continue to invest in the country," Goller said.
German carmaker Daimler has brought a comprehensive lineup of models including the Mercedes-Maybach Pullman, Mercedes-Benz G-Glass SUV and the Mercedes-Benz Arocs truck to Shanghai.
Hubertus Troska, a Daimler AG board member responsible for China, said: "We are happy to see that this year's CIIE is taking place as scheduled. It's a strong sign for both China's continuous recovery from COVID-19 and its further opening-up to global companies like Daimler.