No choice but to reimpose measures amid rising pandemic, says Johnson
Share - WeChat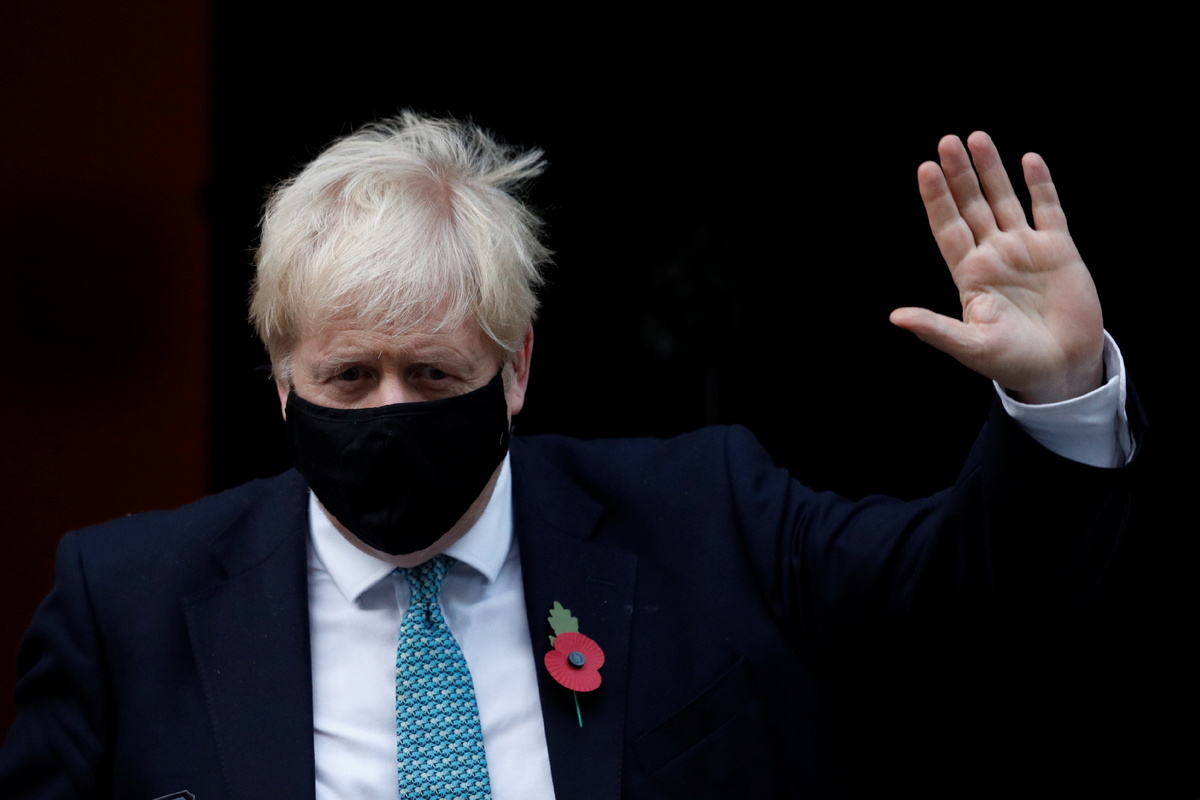 British Prime Minister Boris Johnson has told Parliament there is "no alternative" to imposing a second lockdown across England for the next four weeks in a bid to control the spread of the novel coronavirus, despite having said just six weeks ago that such a move would be "disastrous" for the economy.
Sunday's figures showed that an additional 23,254 people had tested positive for coronavirus across the United Kingdom, with another 162 deaths.
The new lockdown, which comes into force from Thursday until Dec 2, was hastily announced on Saturday night after details were leaked to the newspapers, only for Cabinet Office Minister Michael Gove to then say the following day that measures may need to be in place for longer, a claim denied by senior government officials.
"Models of our scientists suggest that unless we act now, we could see deaths over the winter that are twice as bad or more compared with the first wave," Johnson said. "Faced with these latest figures, there is no alternative but to take further action at a national level.
"I know some in the House believe we should have reached this decision earlier, but I believe it was right to try every possible option to get this virus under control at a local level, with strong local action and strong local leadership."
Johnson had been due to speak at the annual conference of the Confederation of British Industry, or CBI, on Monday, but pulled out at the last minute.
"It is absolutely normal, in the history of the CBI, for the prime minister of the day to address the annual conference," CBI president Lord Bilimoria told the BBC. "To my knowledge this has only not happened once in history. He is not going to be addressing us this morning.
"However, we are hopeful that at some stage he will engage with us."
Under the new regulations, pubs, bars, restaurants and non-essential retail outlets will shut for the next four weeks, but schools, colleges and nurseries will stay open.
It is expected that several members of Johnson's own Conservative Party will oppose the new measures, although the Labour Party will vote in favor of them, meaning the rebellion will only be symbolic.
One former Conservative minister, Desmond Swayne, said there would need to be a "huge amount of persuasion for me to vote for this disastrous course of action", and another, Esther McVey, said the "'lockdown cure' is causing more harm than COVID".
The Daily Telegraph newspaper reports that when ministers met to agree the terms of the new lockdown at the weekend, it was done so without economic data being presented, and Chancellor Rishi Sunak told colleagues that "this is a health decision not an economic one".
He also warned that a second lockdown could present major challenges to public spending plans, adding that "the spending review is going to get hard".
Dublin-based budget airline RyanAir has become the latest aviation company to feel the effects of the pandemic after suffering an 80 percent drop in business following the first lockdown.
It had just 17.1 million passengers in the six months to September, compared to 85.7 million in the same period a year ago, meaning a profit of more than 1 billion euros ($1.164 billion) for the period last year had turned into a loss of 196 million euros.
With all but essential travel banned under the revised lockdown, business will be hit even harder, but RyanAir chief Michael O'Leary told the BBC passengers with existing reservations will not be given refunds.
"If a flight is operating then no, we will not be offering refunds," he said. "But what customers can avail of is our change facility and we've waived the change fee so if they have booking in November they can change it and move it to December or January if needs be."
Economic forecast group EY Item Club has revealed that business borrowing from banks this year is likely to be up five-fold on 2019's figure, as companies seek to stave off slumps in sales-related income.
Net borrowing from banks between January and August this year was 43.2 billion pounds, compared to just 8.8 billion for the same period in 2019.
"Financial services firms entered the pandemic in a position of capital strength and have supported the economy and business to unprecedented levels since March," said Omar Ali, UK financial services managing partner at EY. "However, rising unemployment and the ongoing challenges faced by small businesses mean the outlook for the sector is testing."