Burgers going meatless amid a green push
Share - WeChat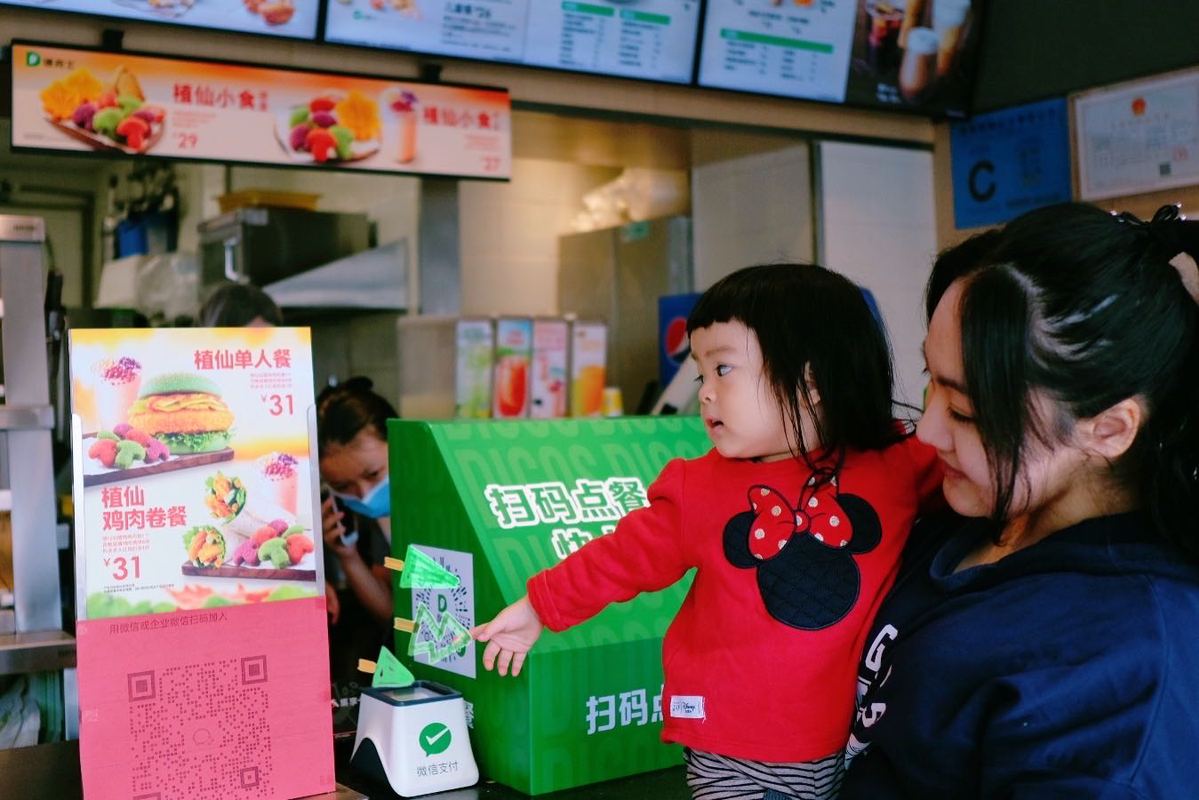 Animal-free alternatives to be more affordable, tastier on menus nationwide as Chinese consumers seek healthier choices
Many foodies believe the key to effectively popularizing plant-based meats among Chinese consumers depends on just two things-price and taste.
Starfield Food Science and Technology, a fast-rising plant-based meat producer and catering operator based in Shenzhen, Guangdong province, has recently launched a new attempt to tackle the two tasks by working with domestic fast food chain Dicos.
The two rolled out their first plant-based chicken burgers and nuggets at Dicos' 2,600 stores across the country to tap greener and healthier food demand in smaller cities.
Affordable prices for the burgers and nuggets are the chief selling point of the meatless products.
Dicos' "green" burger is priced at 20 yuan ($2.98), and just 15 yuan for members, almost half the price of its equivalent meatless products available at other top restaurant chains, according to Starfield.
While consumers in mature markets have gained more understanding of pricey plant-based foods, it is not the same case in China, said Li Chen, deputy director for food and beverages at research firm Mintel.
Despite the fact that younger Chinese diners increasingly pay heed to healthy diets and environmental consciousness, Li said the majority of Chinese consumers have often been confused or question why plant-based meats are pricier than real meat products. This has prevented many from opting for meatless products. Lowering prices could be key to accessing more Chinese consumers, she said.
Having been empowered by leading food science and manufacturing technology, Starfield said their goal is to provide tasty, healthy and affordable plant-based meat products.
As one of the few domestic plant-based producers with its own research and development capacities and manufacturing base, Starfield has been able to reduce costs for end products.
Tastes, textures and aromas of such products are equally vital in China for winning consumer loyalty. Starfield said that based on molecular sensory science technology, authentic meaty tastes can be replicated in plants to simulate original savoriness.
And more realistic textures can be achieved via soy protein techniques.
Dicos is among a rising number of Chinese large fast-food chains, larger restaurants, cafes and tea shops jumping aboard the global consumption bandwagon by using imitation meat to advocate sustainability and appeal to healthier food demand.
The global plant-based meat market was estimated at $12.1 billion in 2019 and is set to reach $27.9 billion by 2025, with an annual growth rate of 15 percent, according to research firm MarketsandMarkets.
Mintel said the COVID-19 pandemic has led to changes in Chinese perceptions of meat consumption.
Wang Shouwei, director of the China Meat Research Center, said the national standard for plant-based meats is evolving. A Chinese Academy of Engineering research program is looking into cultivating meat from plants. The plant-based protein meat market reached an estimated $910 million in sales in China in 2018, Mintel said.
Investments have continued to pour into plant-based meat producers.