Boomtime for housekeeping service providers
Share - WeChat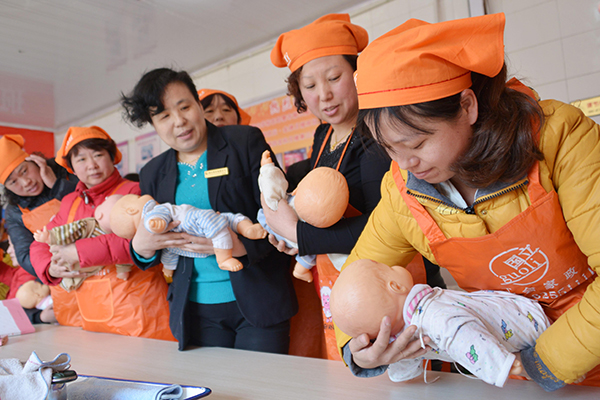 As part of public health protocols in China, most office buildings, commercial areas and residential zones require temperature monitoring and health code checks before entering facilities.
The regular management requirements have fueled market demand for security guards, and the position has witnessed the highest hiring demand in the housekeeping sector of late, the report said.
Chinese consumers have also become more concerned about their health conditions because of the pandemic. Some families have adopted the practice of buying purified water, or using multiple courses of filtration, while many water companies have indicated higher recruitment demand for water delivery staff, the report said.
In addition, following the government's relaxation allowing married couples to have up to second children in 2016, a growing number of newborns have been second children, and young Chinese families have shown increasingly higher demand for nannies and babysitters.
"As the contagion increasingly comes under control in China, people are showing more confidence in hiring domestic helpers and have placed an increasing number of business orders with housekeeping firms. There could be a short-term shortage of domestic helpers, which fuels higher recruiting demand," Zhao of LeadLeo said.
"Despite a large number of available domestic helpers, there is still a lack of highly qualified employees with professional skills and titles, such as senior postpartum nannies and babysitters. Strengthening the training of professional skills and ethics among domestic helpers is a growing field in the sector," Zhao said.
Fei Yuhong, 50, has been a domestic helper for eight years, and is now a senior professional nanny working for an employer in Jinan, Shandong province, where she helps look after a 2-year-old toddler.
Since the initial outbreak of the contagion, Fei has been paying particular attention to the safety and nutrition of the baby. She plans healthy meals a day ahead of time.
During the outbreak period, Fei sterilized the baby's clothes on a daily basis. She also cleaned the home twice a day. When she takes out the trash, she always wears masks and shoe covers. When she returns, she disinfects her hands and the doorknobs in the home.
"The job requires me to be highly attentive and not slack off. I would like to do my best so that my employer is satisfied. In this case, I enjoy job security," Fei said.
"I didn't go back to my hometown in Liaoning province for the Spring Festival holiday. I have been working at different places and have been unable to go home for quite a while, and I'm concerned about my college student son and my family," she said.
Last year, there were about 740,000 housekeeping service providers nationwide. The total assets of related companies exceeded 430 billion yuan, said the Ministry of Commerce.
Over the past few years, a number of online-to-offline or O2O homemaking service providers, such as 58 Daojia, Yunjiazheng and Ayibang, have emerged as leaders in the sector. Although large-scale housekeeping companies only accounted for 25 percent of the sector's total, their sales revenue made up more than 60 percent of the total, indicating that they are more competitive in the market, LeadLeo said.
"The O2O business model has made it more convenient for both consumers and companies. Consumers can get comprehensive information online and quickly select the most suitable housekeeping services they like. For homemaking service providers, they can take more accurate marketing strategies and maintain customers by collecting data preferences," Zhao said.