VW's first dedicated EV plant starts production in Shanghai
Share - WeChat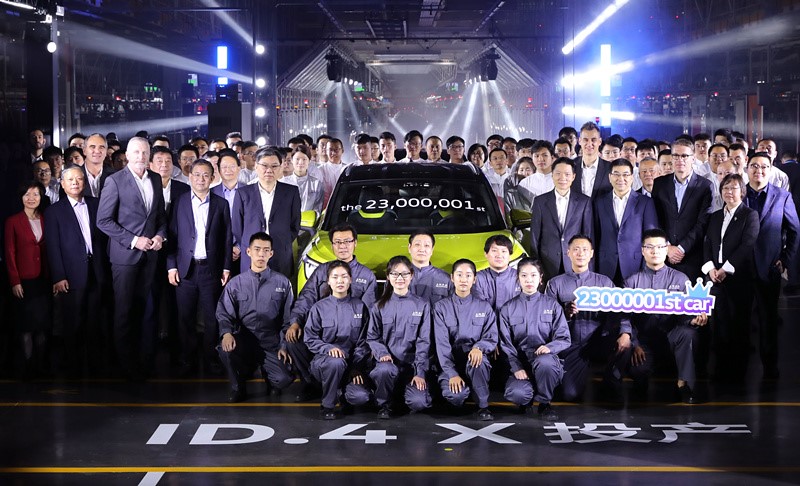 A lemon yellow electric Volkswagen-branded SUV rolled off from the production line in Shanghai on Tuesday, marking the start of production at the German carmaker's first plant specially built for its electric car-only MEB platform.
The model, called ID.4X, which has a driving range of 550 km on one charge, is the first electric vehicle its joint venture SAIC Volkswagen is producing at the 17-billion-yuan ($2.53 billion) plant.
SAIC Volkswagen said the plant, with a designed capacity to produce 300,000 vehicles a year, will also produce the Volkswagen ID.3 and electric vehicles of other brands within the Volkswagen Group.
The plant, which took two years to build, is a sign of Volkswagen's new energy ambition in China's booming new energy vehicle market, which is also the largest worldwide.
Statistics from the China Association of Automobile Manufacturers show that China sold 138,000 new energy vehicles in September, soaring 67.7 percent year-on-year, despite the coronavirus pandemic.
Volkswagen, which has a roughly 20 percent market share in China's passenger vehicle market, has set a goal to sell 1.5 million new energy vehicles a year in the country by 2025.
The carmaker said it will produce 15 different new energy vehicle models locally by 2025, with 35 percent of them fully electric, as part of its strategy of electrification and digitization in China.
Late in September, Volkswagen Group China CEO Stephan Woellenstein said it is planning to invest a total of roughly 15 billion euros with its joint ventures in e-mobility between 2020 and 2024.
The figure comes on top of the 33 billion euro investment plan already announced by the group for developing e-mobility around the globe.
SAIC Volkswagen is Volkswagen's first Chinese joint venture. It has produced 23 million vehicles since its establishment in 1984.