Kung fu master helps students kick the blues
Share - WeChat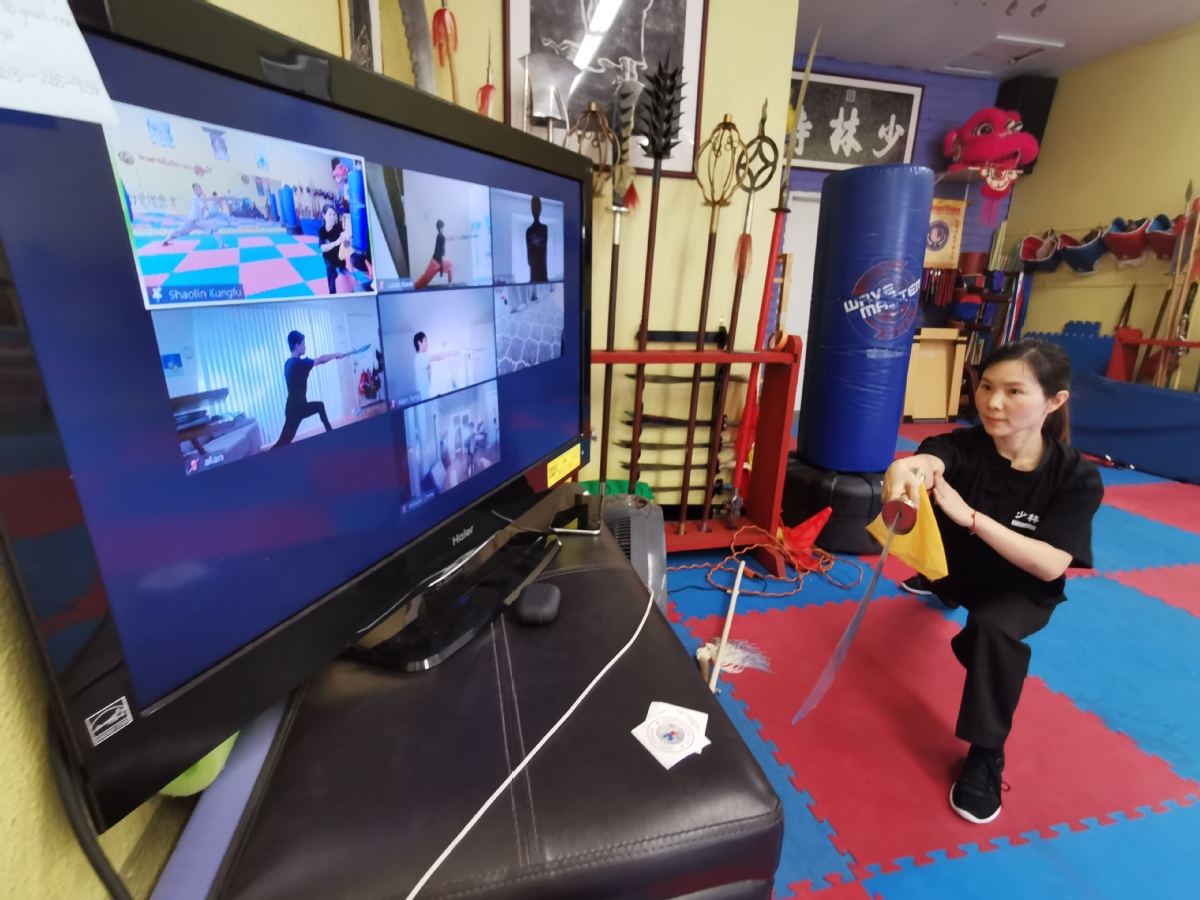 Editor's note: This news column showcases stories from around the world that bring a touch of positivity to the fight against the deadly coronavirus.
Lu Xiaohong, a kung fu master in the San Francisco Bay Area, could never have imagined just how much she is cheering up people in a pandemic with her teaching of the Chinese martial art.
Offering free online lessons every Wednesday since early April, the 40-year-old aims to empower her students-more than 3,000 so far and coming from all backgrounds-by not only helping them improve their physiques but instilling in them the wisdom of kung fu. After 30 years of practice, Lu has much knowledge to impart via the one-hour lessons on the Zoom platform.
One of the tenets Lu has taught her students is: "Endurance is one of the most difficult disciplines, but it is to the one who endures that the final victory comes."
And, with the coronavirus pandemic still raging in the United States, she tells them: "A strong will plus optimism will eventually overpower panic, loss and frustrations. We will win."
In mid-March, California announced a stay-at-home order to curb the spread of the novel coronavirus, which led to the temporary closure of the martial arts studio where Lu teaches.
"I told my students at our last in-person gathering that we have to pause for a while," she said. "We thought this shutdown was not going to be long."
With no timetable for a reopening in California, many students sought advice from Lu on how to stay upbeat and fit.
"I knew it was the time to give back to the community," Lu said. "The first idea coming into my mind was to teach martial arts online."
After she shared the Zoom link through social media platforms, Lu said she was "thrilled to see how quickly the slots filled up".
"I felt there is a need for an outlet, a channel that everyone could utilize to alleviate anxiety and resume strength," she said.
A national martial arts champion in China in the categories of long fist and staff, with her first award in 2001, Lu moved to the US two years ago.
She hoped her expertise could help bolster cross-cultural, people-to-people exchanges.
Settling down in Silicon Valley in 2018, she accepted an offer to work as a leading coach at a martial arts studio. Soon after, kung fu lovers in the Bay Area created a word-of-mouth buzz about "a new female master from China "who knows how to teach.
"My students are made up of a mix of races, cultures and backgrounds," said Lu. "You hear them talking with distinctive accents-Latino, Indian, Chinese, African American, Korean and Japanese. They're a very diverse group."
Lu considers each student a unique individual who will benefit from the balanced approach and the discipline required of martial arts-the external training of the hands, eyes, posture and stance, as well as the internal training of the spirit, the mind and inner peace.
Skanda, 7, had been a student of Lu's for two years. A shy boy at first, he tried to avoid Lu's gaze and couldn't perform the basic movements. To ignite his enthusiasm, Lu "played video clips starring Bruce Lee and Jackie Chan, and told students anecdotes associated with the two iconic masters".
"Of course, I emphasize why self-confidence and self-challenging can transform a person," Lu said.
It worked. Skanda gradually opened up after four to five classes-he kicks, punches, sweeps and jumps. He talks loudly and clearly.
"One day, he told me that he wanted to be a kung fu master," Lu said. "His parents reported that the boy spends hours and hours practicing routines."
Beginning of the journey
Lu wouldn't have embarked on her long, arduous martial arts journey without her father's resolve. Born in a small town in Shandong province in East China, Lu was often sick as a child. To improve her health, her father sent her to a martial arts training center when she turned six.
"The daily routine was like I needed to get up at 5:30 am, finish two hours of morning drills before I could have breakfast," she said. "Day in, day out, it's not uncommon that I had bruises, injuries, blisters often."
There were many times she wanted to quit. "It was too much for a kid," she said.
However, her father would borrow philosophy from martial arts to inspire Lu to continue. "For example, 'the last leg of a journey marks the halfway point', so 'to persevere means victory'."
Those efforts yielded fruit.