China preparing to host 'biggest and best' Asian Cup
Share - WeChat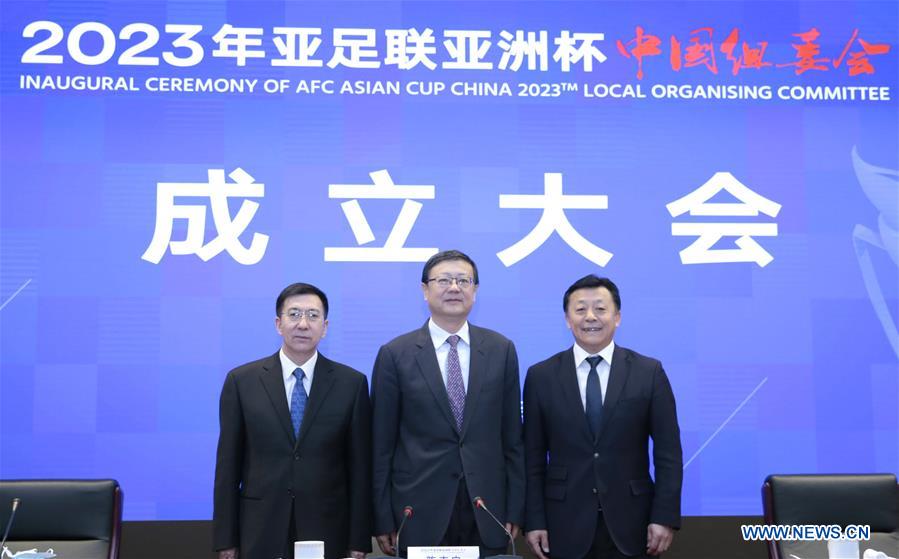 The 2023 AFC Asian Cup will be the "biggest and best" edition of the continental showpiece, organizers have vowed.
On Thursday, details of the tournament were confirmed to media at a ceremony in Beijing to establish the local organizing committee.
Beijing, Tianjin, Shanghai, Chongqing, Chengdu, Xi'an, Dalian, Qingdao, Xiamen and Suzhou will host the 18th edition of the Asian Football Confederation tournament, which will be staged in June and July 2023 and will feature teams from 24 countries and regions.
The organizing committee also announced that, apart from group-stage matches, Beijing will also host the opening and closing ceremonies, as well as the final.
China is treating the tournament as another steppingstone to potentially hosting a FIFA World Cup, possibly as early as 2030 or 2034.
Chen Jining, mayor of Beijing, said on Thursday that, as one of the 10 host cities, the capital plans to level up its development as an international communication center.
The mayor added that Beijing will maintain a high standard in facilitating the preparations and venue construction for the Asian Cup, and that attention to detail will be paramount in order to ensure the best possible service.
Additionally, Beijing views the tournament as a chance to boost soccer development in the capital. Based on the city's experience of preparing for the 2022 Beijing Winter Olympics, organizers are confident the preparation process will run smoothly.
Du Zhaocai, a vice-minister of the General Administration of Sport of China, considers the 2023 Asian Cup as a good platform to showcase China's achievements. The event is also a great chance to promote Chinese cities to the world, boost local economies and social development and facilitate soccer growth across the nation.
Organizers are aiming to build Asia's flagship national team tournament into a world-class sporting gala and a festival of soccer that will be celebrated by the whole nation.
"All the preparatory work is on track despite the COVID-19 pandemic and the AFC Asian Cup China 2023 will leave an immense legacy for the country to host higher-level international soccer events in the future," Du added.
During Thursday's ceremony, AFC president Shaikh Salman bin Ebrahim Al Khalifa extended his congratulations to local organizers via a video message.
"I must thank everyone for their outstanding work so far in preparing for what we all agree will be the biggest and best AFC Asian Cup," he said.
"There are 10 fantastic modern cities in each corner of China. Each will have a new or renovated football stadium which will showcase the very best in Asian football. It will also demonstrate to the world China's ability to stage world-class events.
"The AFC will support you on this exciting journey and will assist you wherever we can. We know you will deliver a wonderful AFC Asian Cup in China in 2023."
Team China has enjoyed a glorious past in the Asian Cup, finishing as a runner-up twice, in 1984 in Singapore and in 2004 at Beijing's Workers' Stadium.
However, with the rapid development of soccer across Asia, China has fallen behind its continental rivals in recent years.
The Chinese squad was knocked out of 2019 Asian Cup in the United Arab Emirates after a 3-0 quarterfinal defeat to Iran, which resulted in the resignation of China's World Cup-winning Italian head coach, Marcello Lippi.
Lippi was succeeded in the job by former China international Li Tie in January.
Since then, Li has been endeavoring to build a younger squad while also integrating a number of naturalized stars into his setup, including Brazil-born Aloisio, known in Chinese as Luo Guofu, Brazil-born Ai Kesen (aka Elkeson) and England-born Li Ke (aka Nico Yennaris).
"I really want to thank the efforts of all the players and staff around us. We are making progress step by step now," said Li after a national training camp earlier this month.