Restoration of Aerzhai Grottoes achieves great progress
Share - WeChat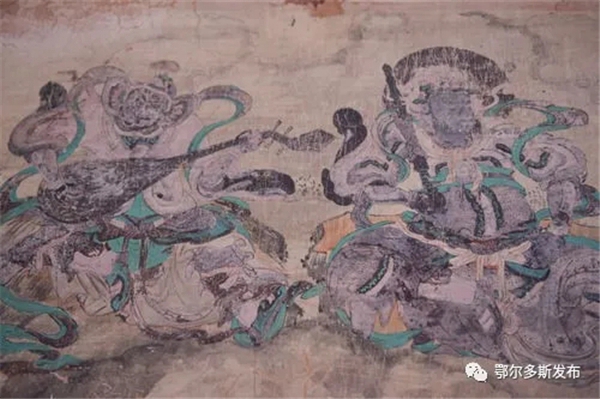 Ten caves with murals have been restored as part of the restoration work of the Aerzhai Grottoes, according to information released by the Aerzhai Grottoes Research Institute on Oct 8. The fixed area reportedly covers 250.63 square meters.
Aerzhai Grottoes is located in Otog Banner of Ordos city, in North China's Inner Mongolia autonomous region.
It has a reputation as the "Grassland Dunhuang". Dunhuang, in Northwest China's Gansu province, is home to the World Heritage Site Mogao Caves, a complex of hundreds of Buddhist grottoes with murals and statues from the fourth to 14th centuries.
Aerzhai Grottoes is composed of 65 caves and 22 relief stone towers, of which 41 caves are well preserved. The painted murals in the caves show scenes of yurts, riding and shooting, hunting and funeral customs.
It is the only grottoes site in China's grassland area and a treasure trove of Buddhist art integrating architecture, cliff carvings, murals and sculptures.
"This restoration project is mainly for mural repairs for such problems as surface pollution and paints cracking and curling," said the director of Aerzhai Grottoes Research Institute.
"In addition to the 10 caves that have been repaired, three caves will be repaired next year," the director added.
Sun Junyong, the person in charge of the restoration of the grottoes, said that to preserve the original materials of the Aerzhai Grottoes, experts also used digital photography and other methods to collect and store electronic data on the site.
The murals at the Aerzhai Grottoes were mainly painted in the Western Xia Dynasty (1038-1227) and the Yuan Dynasty (1271-1368). Due to the area's harsh natural conditions, the murals are in danger of disappearing; the restoration work's goal is to delay this and hopefully achieve long-term preservation.