China's new flower haven
Share - WeChat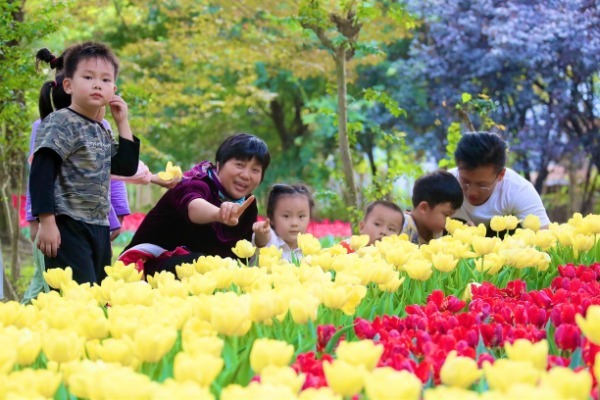 To celebrate the National Day holiday, the Chongming government and Orient International Shanghai Flower Development Co put up a spectacle that would normally be possible only in spring-a mega showcase of 1.8 million colorful tulips covering 6 hectares.
As tulips normally bloom in spring, the organizers had to subject the flowers to a special cold treatment that made it possible for them to bloom in autumn.
The feat can be considered a reflection of the island's expertise in growing flowers and the reason why it was chosen as the host venue for the 10th China Flower Expo, which will take place on the island from May 21 to July 2 next year.
"The China Flower Expo poses a great opportunity for us," said Party chief of Chongming district Li Zheng, during the opening ceremony of the tulip show.
"We will leverage Chongming's good environment resources and step up efforts to attract more investment for our modern flower industry," he says.
Formed by silt from the Yangtze River, Chongming became a part of Shanghai in 1958, till today it still bears a stark contrast to the megacity located just across the river. As its industrial development has been relatively slow, the island boasts a natural environment that many in downtown Shanghai find enviable.
Today, Chongming boasts a forest coverage rate of 26 percent, the largest among all districts of Shanghai. It has also a natural wetland coverage of 38 percent and clean water resources.
The island's pristine natural environment has in recent years been heralded as its greatest advantage. In 2016, Shanghai announced that it would transform Chongming into a "world-class ecological island" by 2035 by focusing on the development of the eco-agriculture, cultural and creative, and leisure and tourism sectors.
The district's collaboration with Orient International (Holding) Co, whose subsidiary co-organized the tulip show, is just one of the many examples of the island's blueprint coming to life.