Office coffee options become common perk of the job
Share - WeChat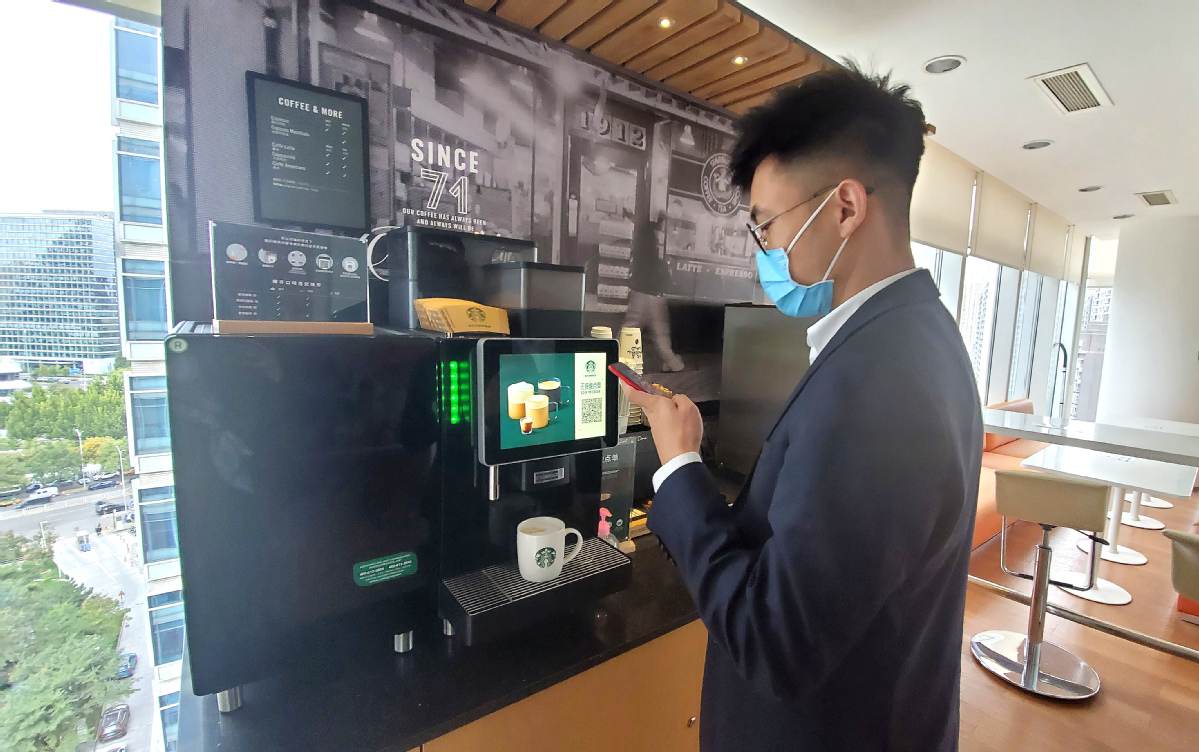 Caffeinated beverage consumption during working hours growing steadily as more consumers still prefer social distancing
Wang Jun has fallen into a cozy routine at a multinational company in Beijing.
The 27-year-old buys Starbucks coffee at her office vending machine every working day. The price is almost half that of the branded store downstairs and the wait time is next to nothing, so it's a no-brainer.
To get a good cup of coffee at one's office is even more valuable in the pandemic-related era, Wang said.
"We are busy at work and have no time to buy coffee at the store downstairs. And coffee deliveries can no longer reach our office due to the preventive measures taken by the office building," she said.
The We Proudly Serve Starbucks service, operated by Nestle Professional, provides maintenance on a daily basis, which means constant refills of fresh beans and milk when supplies run low.
"My colleagues have expressed high levels of satisfaction with the coffee services thanks to the coffee's affordability, convenience and quality," Wang said.
Wang is among a rising number of office workers at multinational firms or leading IT companies that have seen automated coffee-brewing machines installed in their workplaces as part of workplace benefits for employees.
"Coffee and tea consumption during working hours has grown steadily since the outbreak of the pandemic, fueled by social distancing restrictions," said Jason Yu, general manager of Kantar Worldpanel China.
"Coffee vending machines offer more choice and convenience to employees," Yu said.
Coffee drinking is considered an integral part of office culture in many workplaces in China and many offices have been providing instant coffee as refreshments.
But consumption survey updates have encouraged employers to hire better catering services to attract and keep top talent, he added.
The market has seen the blossoming of office coffee businesses, including Nescafe Office cafe as well as freshly brewed coffee-making machines such as Costa Express and We Proudly Serve Starbucks.
Nestle Professional, the food service business of global food and beverage giant Nestle SA, has been providing consumption services outside of homes or via business channels including caterers, restaurants, cinemas and offices to capture the rapid growth generated from consumer demand.
Nestle Professional kicked off its Nescafe Office cafe business last March in China to address changing demands of consumers, and has discovered that more people are choosing to purchase coffee within their office spaces, according to Nestle.
The Switzerland-based company acquired the perpetual rights from Starbucks in 2018 to market Starbucks consumer packaged goods and food service products globally, outside of the company's coffee shops.