Office coffee options become common perk of the job
Share - WeChat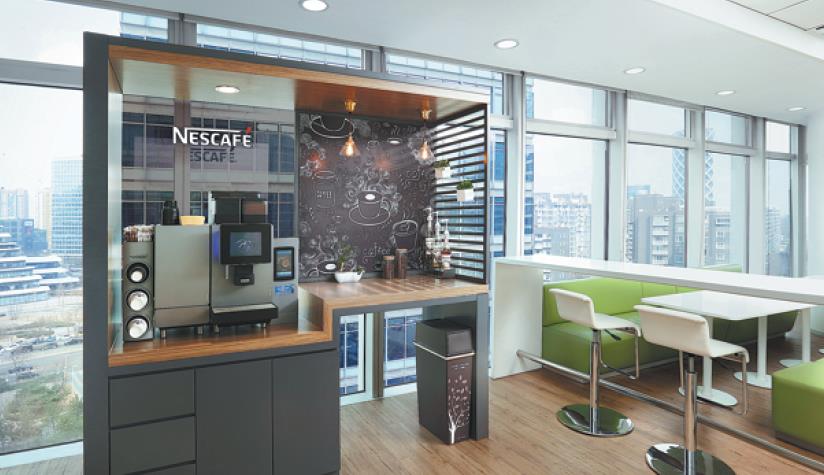 Nestle CFO Francois Xavier Roger said earlier last month that they are very happy with this acquisition. "It was not $3 billion in size when we bought it, it was $2 billion," said the CFO."But last year we added another $300 million in sales, which is very good. This year we are very happy. We are growing at a strong double-digit level for Starbucks."
In China, the We Proudly Serve Starbucks coffee program that brings a range of coffee beverages to workplaces or catered locations was launched last year and has now entered many companies across the country, Nestle said.
Coffee has been the engine of Nestle's business growth in recent years. As a major global coffee producer, Nestle owns three major coffee brands: Nescafe, Nespresso and Starbucks' packaged coffee business. The coffee category is showing a rapid growth trend in China.
Adrian Ho, senior vice-president of Nestle's coffee business in China, said coffee is a high growth category for Nestle and the coffee consumption market in China has great potential to continue to grow.
The per capita annual coffee consumption volume is only eight cups in China, while the figure is 400 cups in Japan and 700 cups in France. "The penetration of coffee consumption is still quite low. We have seen strong growth opportunities in lower-tier cities, online sales and among younger consumers,"Ho said.
Costa Coffee's vending machine business-Costa Coffee Express-signed a collaboration agreement in September with COFCO Coca-Cola to further expand its coffee vending machine network in China "to better cover the daily demand for coffee at work".
Costa Coffee has more than 10,000 vending machines outside of China and it entered the Chinese market last August.
In March, Costa Coffee rolled out its ready-to-drink coffee products and expanded its distribution through COFCO Coca-Cola's network in supermarkets, convenience stores and vending machines. In six months its RTD products are available in more than 10,000 retail outlets.
Zhou Liewen, general manger of Costa China, said China is the most significant global market for Costa and they continue to see immense potential in the Chinese coffee market.
"With the increasingly diversified coffee consumption categories and ways to drink coffee, consumption occasions keep expanding," Zhou said.
"We will continue to invest in China and grow more rapidly through our Costa Coffee Express business."
Currently, the freshly-brewed coffee vending machines, which require monthly payments from employers, allow employees to purchase each cup of coffee backed by subsidies from employers.
However, the model still requires time to gain traction as consumers must first cultivate a strong coffee consumption habit and culture to develop a large enough network to boost profits, said Kantar's Yu. The vending machine business has faced major challenges from prosperous delivery services of coffee and tea chains.
According to the report "On-Premises Coffee Consumption in China" commissioned by research firm Mintel, the country's on-site coffee market value was thought to have hit 42.6 billion yuan ($6.33 billion) in 2019 and will likely see an annual growth rate of 15.6 percent from 2020 and 2024.
Starbucks has enjoyed a steady outlet expansion and had 4,700 stores in the country as of September. The Seattle-based company is on track to open 500 new stores this fiscal year in China despite the ongoing headwinds from COVID-19. In April, Starbucks announced a strategic partnership with investment firm Sequoia Capital China to further digitalize its retail experiences and optimize operations. A month earlier, the company unveiled plans to build a Coffee Innovation Park in China to extend its global roasting network.
The race has been further escalated as Canadian coffee chain Tim Hortons' China unit plans to open 20 new stores in Beijing by the end of this year as part of its efforts to have 1,500 stores over the next nine years in China.
More players have entered the market and have taken different positions, such as focusing on affordability or specialty coffees. Meanwhile, in order to encourage more purchases, businesses are working to develop more consumption occasions including meals, leisure events and energy boost needs.
Offices have been the primary battlefields for coffee players, said Li Chen, deputy director for food and beverages at Mintel.
Yet a segmented market offers more opportunities. The volume of coffee consumed at places of work has been on the rise, Li said.
As the coffee drinking market matures, the sector has been enriched in recent years with multiple retail products including instant coffee, RTD coffee, convenience store-brewed coffee and branded vending machines, she added.
"With flexible working models widely adopted, thanks to the pandemic, workplace coffee consumption has also been extended to homes, creating more coffee consumption opportunities and better quality," Li said.