China a pillar of development strategy for Mercedes-Benz
Share - WeChat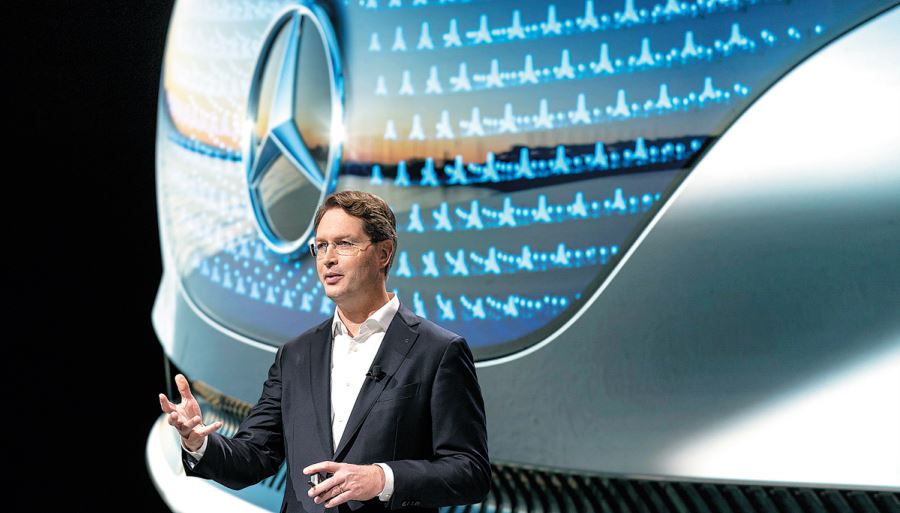 Daimler and Mercedes-Benz CEO Ola Kaellenius has said that China-its single largest market where it has gained healthy year-on-year growth despite the COVID-19 pandemic-is a "central pillar" in its strategy for development.
Kaellenius, also chairman of the board of management of Daimler AG and Mercedes-Benz AG, told China Daily in an exclusive interview that looking into its strategy in the next 10 years, he believes the importance of the Chinese market will continue to grow.
"We view China as a central pillar in the strategy of developing Mercedes-Benz further, whatever our product strategy, brand strategy and our business performance. That is why we are growing in China," he said.
Kaellenius made the remarks after he revealed to investors the company's new strategy on Oct 6 that targets leadership in electric drive and car software, and pursues profitable growth in the luxury segment.
Affected by the lasting pandemic, which shut down Mercedes-Benz production for about two months, the company sold 10.2 percent less passenger cars in the first nine months worldwide. However, sales volume in China grow 8.3 percent against the global curve.
The market's potential is yet to be discovered for Mercedes.
Citing figures from consulting firm BCG, Kaellenius believes the luxury segment is where growth is and the number of wealthy individuals-with private investable wealth above $250,000-in China will grow, surpassing that in Western Europe, from 7 million in 2019 to 20 million by 2030.
His strategy therefore sets to enhance the brand's luxury status by measures including a key acceleration development plan of sub-brands AMG, Maybach, G and EQ, all of which are top-end luxury or performance brands favored by Chinese customers.
Kaellenius added China is more than just a market for Mercedes-Benz. It keeps investing in China as it has been building production networks and opening plants in Beijing that gives more growth potential.
"We also have a significant R&D footprint in China, for China. But not just the R&D team in China interwoven teams we have in Germany and other parts of the world, it's also a hub for innovation that leads to supply partnerships."
The company has signed two strategic partnerships this summer with leading Chinese battery company CATL and up-and-coming company Farasis for co-R&D, supply and to lower the cost of the battery cell technology.
"In all dimensions as a market, as a production up, and also as a source for innovation, R&D and supply base, China is growing in importance for us," he said.
Sustainable growth
Kaellenius, a 51-year-old Swede, took over the helm of the German marque last year when he initiated his "Ambition 2039" plan, that features sustainable growth. The initiative will gradually phase out the internal combustion engines Mercedes-Benz pioneered over the past 130 years to become carbon-neural in the next 19 years.
Meanwhile, the task requiring heavy investments in electric technology seems even more challenging with the COVID-19 pandemic this year overshadowing the company's margins outlook.
Its net profit fell to 2.7 billion euros ($3.17 billion) for 2019, almost 5 billion euros less than the previous year in the wake of the legacy diesel issue and investments in electric technology.
Yet Kaellenius is determined on the course of sustainability and presented his roadmap and how to finance the change on the strategy update.
"This is a problem that humankind has to solve," he said, adding most nations have signed up to Paris Agreement on climate, which sets binding emission reduction responsibility, and China has also announced late last month at the United Nations to target going carbon neutral by 2060.
"We have decided to take an active position. Why shouldn't we be the architect of the solution?" Kaellenius said this attitude and this mental switch are what Ambition 2039 stands for.
"So, we are shifting our focus, shifting our R&D budgets and resources toward this. You will still have the great Mercedes experience regardless of which propulsion you will have," Kaellenius said, adding it may be a high-tech combustion engine that is also being electrified for many years.
According to the strategic plan, Mercedes-Benz will reduce the number of internal combustion engine variants by 40 percent by 2025, and 70 percent by 2030. The timeframe coincides with China's plan to reach CO2 emission peak in 2030 and from then emit less.
Mercedes-Benz has announced four all-new electric vehicles based on its upcoming large-car Electric Vehicle Architecture. Traditional performance cars like AMG and G will also go electric. And from 2025, more electric models will be added to the portfolio on the second electric platform designed for compact and medium-sized cars.
Also, it will invest in technologies and concepts to accelerate electric range and efficiency, reduce charging time and cost.
"It is not just about the product, but a holistic approach, and we are turning our production CO2 neutral," Kaellenius said, adding the company will inspire and motive its suppliers to follow suit.
"We also think that it is the smartest business move. If you have a paradigm shift in society towards the new low CO2 and eventually CO2 neutral world, I don't think it's the best business move to wait. I think it's also for our investors, the best bet to try to be somebody that shapes the future."