Virus cases increase worldwide
Share - WeChat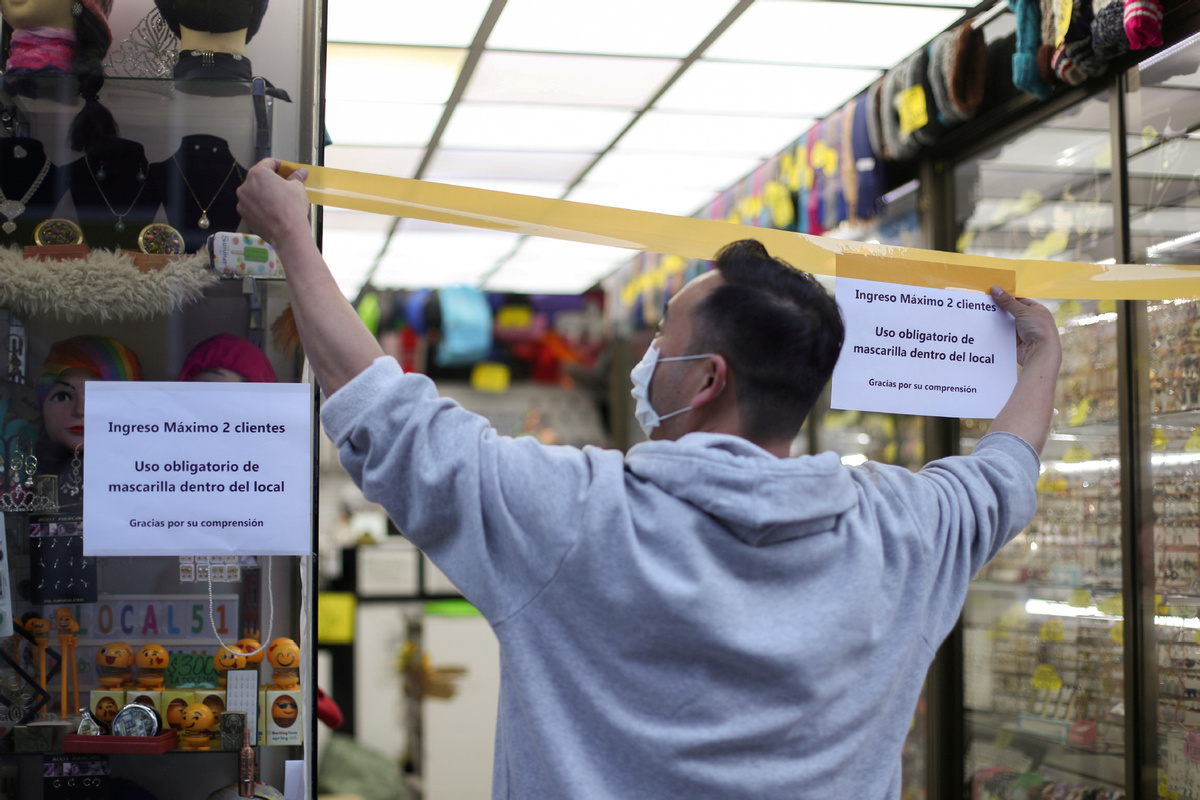 Surge in infections prompts Europe to tighten up steps against COVID-19
Four more cities in France have passed into the maximum coronavirus alert zone and must implement stricter restrictions from Saturday morning, French Health Minister Olivier Veran said on Thursday.
"The health situation continues, unfortunately, to deteriorate. There are in France, every day, more and more people infected," said Veran at a news conference, specifying that 116 out of 100,000 people are now carriers of the virus at the national level.
Lille, Grenoble, Lyon and Saint-Etienne passed into the maximum alert zone, he said. Marseille and the overseas territory of Guadeloupe were already on maximum alert from Sept 28 and Paris from early this week.
Zones under maximum alert must have bars, pools and gyms closed. Restaurants, cinemas and museums can stay open provided they strictly apply health protocols.
Attendance in public events is cut from 5,000 to 1,000 and gatherings of more than 10 people are prohibited in public spaces such as beaches and parks.
The health minister also called on caregivers to join the health reserve in order to deal with the rising numbers of coronavirus infections.
French Minister of the Economy, Finance and the Recovery Bruno Le Maire announced the "solidarity fund" set up since the outbreak of the epidemic would be expanded and some 75,000 additional companies could benefit from this expansion to survive the coronavirus health crisis.
Earlier on Thursday, the regional health agency of Ile-de-France, the greater Paris region, started the "reinforced white plan" to brace for "a large influx of patients".
Under the plan, nonessential operations will be postponed, temporary workers will be increased and staff on reserve or on leave will be recalled if necessary.
A further 18,129 people have tested positive for COVID-19 in a 24-hour span in France, the Public Health Agency said on Thursday in its daily update.
It was the second consecutive day that France's daily number of COVID-19 cases topped 18,000, following Wednesday's record daily tally of 18,746. As of Thursday, France's cumulative number of COVID-19 cases rose to 671,638.
Tougher restrictions
In Britain, another 17,540 people have tested positive for COVID-19, bringing the total number of coronavirus cases in the country to 561,815, according to official figures released on Thursday. The coronavirus-related deaths rose by 77 to 42,592, the data showed.
Pressure is mounting on British Prime Minister Boris Johnson to consider tighter restriction measures as the country continues to see a sharp rise in COVID-19 cases.
British Communities Secretary Robert Jenrick said on Thursday the government was "currently considering what steps to take".
New measures are expected to be announced "in the coming days", which could see pubs and restaurants close in the worst-affected areas of England, the BBC said.
The already-weakened hospitality sector could face another blow after reports the government is considering enforcing the temporary closure of venues across parts of Northern England to contain the spread of the novel coronavirus.
After a long period of closure, many venues are already subject to a 10 pm curfew, depriving them of a large portion of business. But with infection rates rising in cities such as Newcastle, Liverpool and Manchester, more restrictions could be on the way.
In Scotland, First Minister Nicola Sturgeon announced a "short, sharp" package of measures limiting pub openings, saying that without them, the virus could be "out of control" by the end of the month.
Globally, there are more than 36.5 million confirmed coronavirus cases and more than 1.06 million deaths as of Friday, according to a tally kept by the Johns Hopkins University in the United States.
Russia's daily coronavirus cases surged to an all-time high on Friday, with authorities reporting 12,126 new infections, pushing the overall total to more than 1.2 million. Officials said 201 people had perished in the latest 24-hour period, taking the official death toll to 22,257.
In India, the total coronavirus cases rose by 70,496 in the latest 24-hour period to more than 6.9 million on Friday morning, data from the health ministry showed.
Brazil, with more than 5 million confirmed cases, is the third worst hit by the pandemic after the US and India. Other South American countries are also experiencing rising cases, including Chile and Colombia.
Julian Shea in London, Xinhua and agencies contributed to this story.