China's Golden Week holiday a driver for domestic growth, global recovery amid COVID-19
Share - WeChat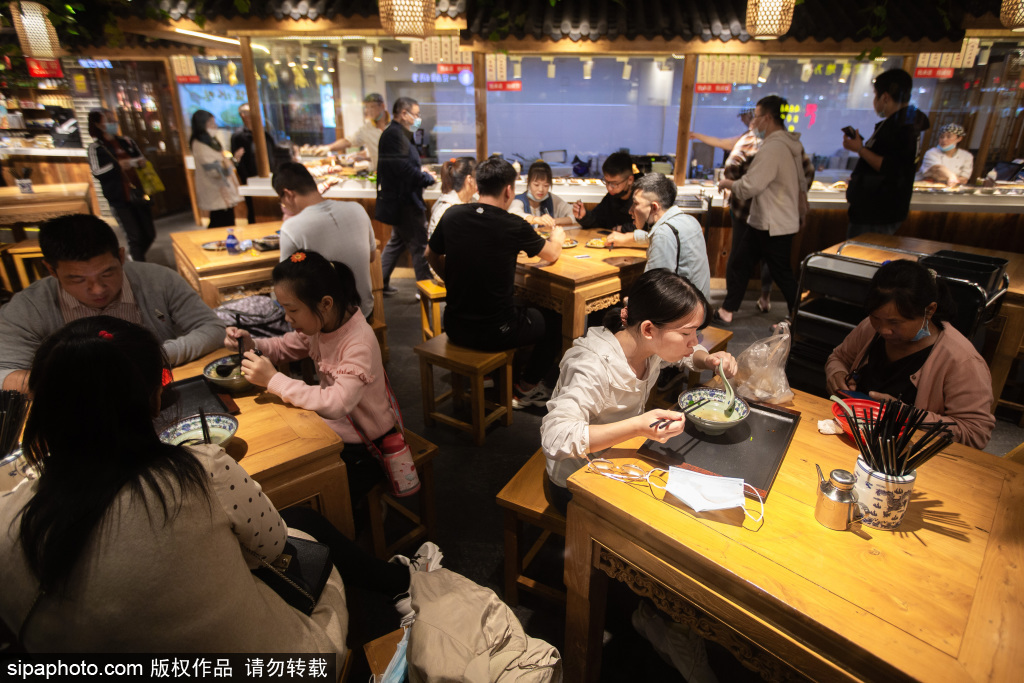 BEIJING -- China's National Day holiday, or the Golden Week holiday, this year has emerged from the shadow of COVID-19 as more than 600 million tourists made domestic trips, showing China's strong rebound from the pandemic, which will give global economic recovery a leg up.
Train tickets were sold out, hotel reservations hard to make, and highways crawling with vehicles: millions of Chinese people could finally enjoy a weeklong holiday without worrying about quarantines, tests and other restrictions on their movements.
China's successful containment of the virus reassures the people that it is safe to travel domestically in the long-awaited holiday, which provides plenty of opportunities for their pent-up demand to be met. The Golden Week is sure to help boost consumer confidence and facilitate economic recovery.
Booming tourism
The annual public holiday is traditionally a prime time for entertainment, travel and spending. According to statistics released by the Ministry of Culture and Tourism, a total of 637 million visits were received in tourist attractions across the country, representing 79 percent of last year's number, and tourism revenue amounted to 466.56 billion yuan ($69 billion), regaining 69.9 percent of that earned last year.
Wuhan, the heroic city once hard hit by coronavirus, has re-showed its appeal to visitors who thronged famous scenic spots in the city, especially the Yellow Crane Tower. The historic building launched night tours for the first time since its opening to the public in 1985 after reconstruction. The landmark topped the "country's hottest scenic spots" rankings by a large online travel agency Trip.com Group, with the number of visitors who made reservations reaching the daily limit of 25,000 in the week.
Notably, Wuhan this year stood among the top 10 tourist destinations and sources in the Golden Week, according to data from Fliggy, a popular online travel platform.
In Beijing, chilly drizzle did not drench the enthusiasm of more than 90,000 people, who gathered at Tian'anmen Square in the early morning of Oct 1 to watch flag-raising ceremony to celebrate the 71st National Day. The crowd burst into cheers when the Five-starred Red Flag was hoisted to the top of the flagpole amid the national anthem.
"In any year, the outlay of the weeklong holiday is a closely watched barometer of the country's economic health," The New York Times reported, noting that this year's holiday offered "the clearest measure yet of China's recovery from the pandemic."
Economic rebound
China's consumption has started to recover as its total volume of retail sales re-achieved positive growth this August, said Nicholas Lardy, a senior fellow at the Peterson Institute for International Economics, a Washington DC-based think tank, adding that retail sales are expected to speed up recovery due to stimulus by "revenge spending" in the Golden Week.
Gu Qingyang, an associate professor at the Lee Kuan Yew School of Public Policy at the National University of Singapore, noted that holiday consumption will help boost the service sector and promote more balanced development in other industries, such as transportation, tourism and catering, which bore the brunt of the epidemic.
In a recent written interview with Xinhua, Ding Jia, general manager of Germany's tour operator Kaytrip in China, said that the Chinese government has taken efficient and powerful control measures against the epidemic, ensuring the safety of people's travel and boosting their confidence.
The current round of long holidays is believed to lead a new wave of holiday spending boom, thus adding strong impetus to China's economic recovery, Ding added.
"China's success in containing the coronavirus and reviving economic activity has been notable," said R. N. Bhaskar, consulting editor of Asia Converge and guest faculty at several institutes in India and overseas, noting that a recent official report on manufacturing showed the Chinese economy is recovering better than expected.
With the epidemic largely under control in China, the Golden Week holiday is putting on display the country's confidence in its economic rebound and its public health measures, Bloomberg said.
Growth driver
The massive consumption potential during the Golden Week will not only expedite the recovery of China's domestic economy, but also promote imports and investment from other countries, as the flourishing "holiday economy" gives a strong boost to global trade.
Four offshore duty-free shops in Hainan, an island in southern China, were busy receiving "big spenders" in the Golden Week, with their retail sales surging by 167 percent, according to statistics from the Ministry of Commerce.
Inside a duty-free shopping mall in the resort city of Sanya, Shao Kehui, a tourist from East China's Zhejiang province, lined up for more than 20 minutes before entering the Gucci store for a handbag worth about 14,000 yuan (about $2,082).
"Due to the pandemic, we cannot go abroad, but it's a good choice to travel in Hainan and enjoy duty-free shopping here," said Shao.
Tommy Wu, a senior economist at Oxford Economics, said that "holiday economy" will undoubtedly stimulate China's domestic consumption, benefiting home and international brands and hotel groups.
Many economies are still struggling to recover from the pandemic, while China's huge demand indicates the need for substantial imports, contributing to global economic recovery, Wu added.
Mikhail Morozov, deputy editor-in-chief of Russia's Trud newspaper, said that China's economy will remain a major growth driver for the global economy, noting that countries across the world will speed up economic recovery if they "hoist their sails catching China's wind."