Nights shine with spectacular shows of unmanned aerial vehicles
Share - WeChat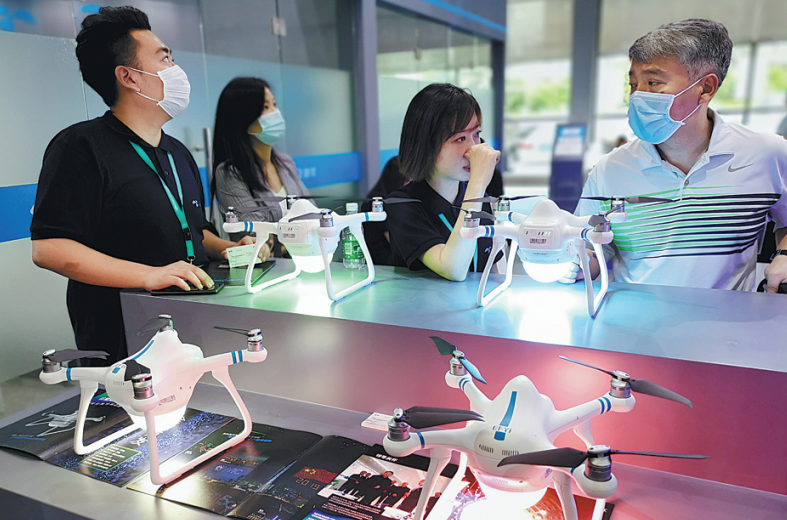 A flying eagle with outspread wings, Chinese characters, a dancing ballerina or even a QR code-performances of unmanned aerial vehicles or UAVs, also known as drones, using the night sky as a stage have been gaining traction.
"A dozen shows have been booked during the National Day Golden Week and we have to transport our drones directly to several venues," said Qi Juntong, founder of Tianjin-based drone maker Efy Technology.
He estimated the output value of drones used in exhibitions and shows would reach up to 60 billion yuan ($8.57 billion) in the coming years as drone formation shows grow in popularity at scenic spots, amusement parks and anniversary celebrations in cites both large and small.
Gazing skyward at swarms of high-tech gadgets, many audience members may wonder how many drone operators are behind the splendid shows. The answer is surprisingly often just one person, but the technology behind the entertainment spectacle is extremely complicated.
"Even with a performance featuring several hundred or even thousands of drones, we only need one person to operate the whole affair," Qi said.
Many people first got to know about unmanned drones from aerial photography applications, but Qi said the technological requirements of cluster performance drones are actually much higher.
Cluster drones' positions need to be calculated precisely to the level of centimeters, while photo-shooting drones can survive meter-level position errors, he added.
Moreover, this type of drone needs to sense, communicate and coordinate with others-another challenge compared to single UAV control.
In addition to high-precision positioning technology, he said the visual extravaganzas also rely on artificial intelligence to design the safest and fastest routes to change patterns.
He recalled that one show required hundreds of drones to "write" 10 different "banners" of Chinese characters in the sky, and there are only a few seconds to change position between each banner.
"We have to simulate the routes again and again on the computer to ensure each show's success," he said.
In September, Efy launched its latest cluster performance drone, Agile Bee II, at the Drone World Congress in Shenzhen. The drone can fly as fast as 10 meters per second and power endurance is up to 38 minutes.
Qi said the model could withstand and, more importantly, hold its position in strong winds of up to 10 meters per second-a new technological breakthrough considering its small size.
However, fourth-generation communications can no longer meet demand from the industry's intelligent networks and cluster development, leading to many problems such as traffic delay congestion, poor network stability and real-time control failures for long-distance projects.
The technology advancement of 5G expedited the wide application of drone cluster performance, Qi said. The firm has put on nine 5G-powered shows since last year together with China Mobile.
Their products are now empowered by at least three types of network channels to guarantee stable communication. The entrepreneur said one of their shows last year reportedly attracted tens of thousands audience spectators, generating substantial electromagnetic interference, but their drones remained unaffected.