Coming home to Yangshuo
Share - WeChat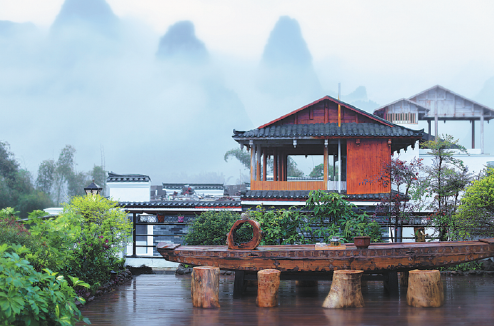 Orchard owners in Yangshuo county of Guilin city, Guangxi Zhuang autonomous region, have little to worry about harvesting their yield when it starts raining fruits on their premises. They are employing people from around the world to do it for free. In fact, Yangshuo is opening many a door to tourists to stay with them, enjoy their hospitality and share the fruits of their labor.
"Wonderful getaway experience. The staff at the hotel made everything easy and doable including but not limited to picking up to and from Guilin train station, fabulously comfortable rooms, great restaurant and menu, bike rentals, and a raft drifting down the river. We only had a long weekend, wish it had been longer. Am already looking forward ... when I can visit again."
That's how Karen B, a tourist from Greater Adelaide in Australia, describes her stay at Tea Cozy on TripAdvisor.
The "hotel" she is referring to is actually a homestay in Yangshuo, which now has around 1,000 homestays.
"Living in a homestay puts me closer to local customs and practices. The homestays in Yangshuo, with the leisure activities they organize, ranging from handicraft to painting, slow paced life," says another tourist, from Beijing, who calls herself Sandee.
The homestays in Yangshuo amid beautiful landscape, and the cultural events they organize appeal to tourists who have specific needs these days, says Cheng Bing, a professor of tourism studies with Guilin Tourism University. "The charm lies in the integration of the landscape and culture," says Cheng.
As one of China's early tourist destinations to open up to the world in the early 1980s, Yangshuo got its first homestay in the mid-1980s near Gongnong Bridge on the Yulong River. It has now grown into an industry employing 10,000 people in the county of 300,000.
Wu Jianyuan, a 30-year-old from Jiwodu village in Yangshuo, returned to her hometown to work as a front desk manager at a homestay after gaining experience working in hotels in Guangdong and Jiangsu provinces. "The payment is better here. Life and work are stable, and Yangshuo is not only a beautiful place, but my home too," she says. Wu is one of many migrant workers from Yangshuo who returned to work in her hometown. It is estimated that more than 80,000 people owe their living to the tourism industry in this county.
The tourism industry is rebounding quickly as the novel coronavirus has largely been brought under control in China. The booking rate at homestays in Yangshuo, particularly the highend ones, has almost returned to the pre-pandemic level.