US accusations 'baseless, unfair'
Share - WeChat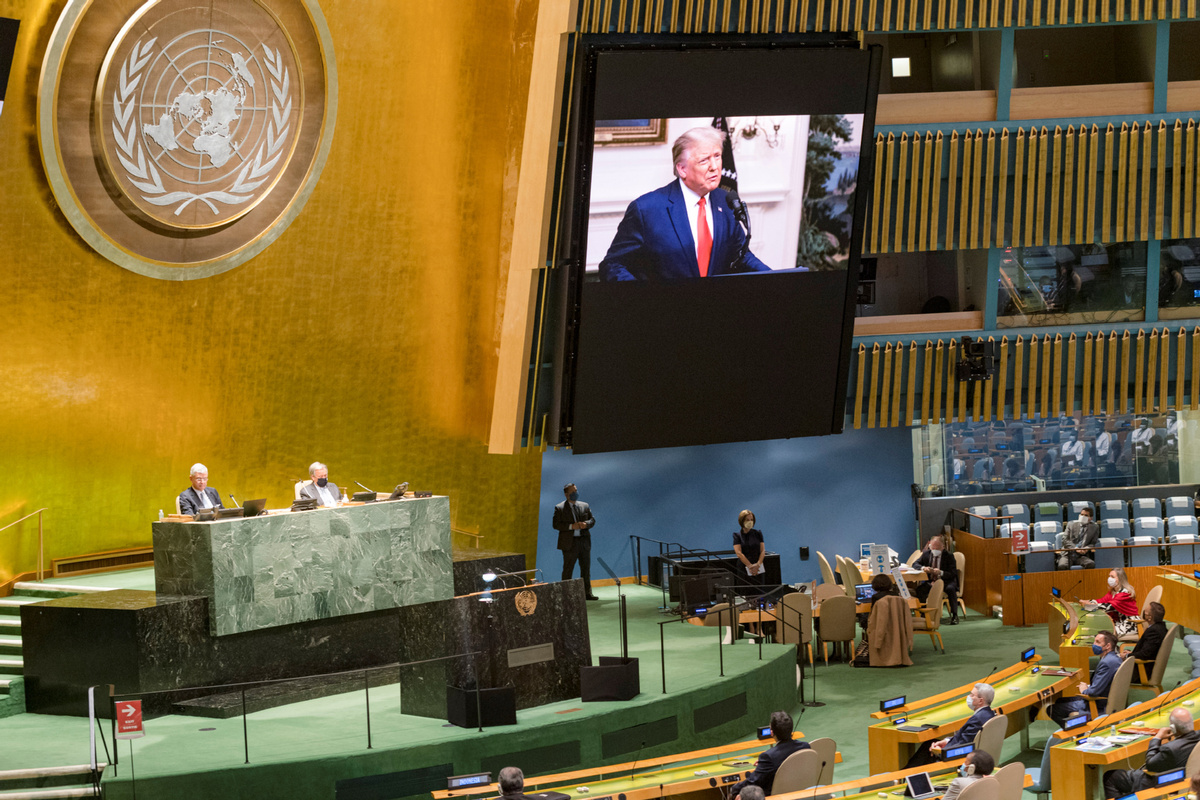 Washington's assertions against China at UN are politically motivated, experts say
The United States' accusations against China on COVID-19 at the United Nations gatherings were baseless and politically motivated to shift blame, stir up election bubbles and contain China's rise, foreign policy analysts have said.
They said US President Donald Trump is dodging personal blame for his responsibility for the US' failure in face of the pandemic while using discriminatory language about the virus and accusing China at the general debate of the United Nations General Assembly.
Such accusations against China were groundless and unfair, the experts said.
Nasreen Agha, assistant professor of international relations at Quaid-i-Azam University in Islamabad, said the US turns out to be one of the hardest hit countries by COVID-19 is "not because of what has been alleged by some in the US of a Chinese 'cover-up'".
"Instead, it is because of the White House's delayed response when there were warning signs" from China and the World Health Organization, the UN agency from which the White House pulled out.
Failed badly
"Trump is himself to be blamed for more than 200,000 deaths of Americans at the hands of COVID-19. He badly failed to devise a strategy to counter COVID-19," an Islamabad-based European diplomat said on condition of anonymity.
He said a majority of Americans have turned against Trump for failing to protect the world's most powerful nation with its most advanced medical facilities. "His assertion against China will pick up pace in the weeks to come only to get political support. This is just a blame game.
"As a matter of fact, he is trying to hide his failures by hurling accusations against China."
Contrary to Trump's accusations, Zafar Mirza, Pakistan's former special assistant to prime minister on health, said China had immediately informed the WHO after it detected the virus. Hence, Trump's accusations are false and unfair.
"To the best of my knowledge, China informed the WHO about the novel coronavirus in a timely fashion. It had undertaken exemplary measures to contain the virus. I believe Trump's allegations against China are baseless and politically motivated," he said.
Tasneem Aslam, Pakistan's former senior diplomat, who also served as foreign secretary for European Affairs, said: "Whatever the cause, China has behaved with great responsibility both in controlling the virus within its borders and in helping countries contain the virus by providing critical equipment. This fact has been acknowledged by the WHO as well.
"The US accusations, therefore, have little credibility."
However, politicians in the US usually try to win votes by "Chinabashing", and this practice increases greatly before the US elections.
"Considering that Trump has been personally blamed for a failed policy and an abysmal response to COVID-19 domestically, his morbid behavior becomes very clear so close to the US presidential elections," said Aamir Ghauri, an Islamabad-based foreign policy expert and founder and director of the South Asia Future Forum. "He doesn't want his voters to see or know his failure. Hence, blaming China is very natural. It's all politics."
"It's an election year in the US.China-bashing helps, so all is fair in politics," said Abdul Basit, a Pakistani diplomat who served as high commissioner of Pakistan to India and Pakistan's ambassador to Germany.
Rising influence
Another reason for the US president's assertion against China is China's rising influence in almost every field, ranging from economics to mobile apps and tourism, which is making the US worried.
"Since the US now openly identifies China as its main competitor in global politics, Trump's incessant accusations are very understandable," Ghauri said. "But we need to see his remarks more closely."
Research has revealed China has emerged as a heavyweight during the last decade, following the vision of the Communist Party of China.
A report from the Kiel Institute for the World Economy, a German research group, estimates China's lending to the developing world at more than $520 billion. According to the institute's report, the US would be unable to match the scale of China's investment, making China a bigger lender than the World Bank or the International Monetary Fund.
"China's rise and global spending has given Trump sleepless nights. His statements against China are baseless. He's just trying to score points by 'China-bashing' ahead of general elections in the US," said Sohail Bhatti, an Islamabad-based foreign policy expert.
The author is a freelance journalist for China Daily.