China's green development experience worth learning from, Solheim says
Share - WeChat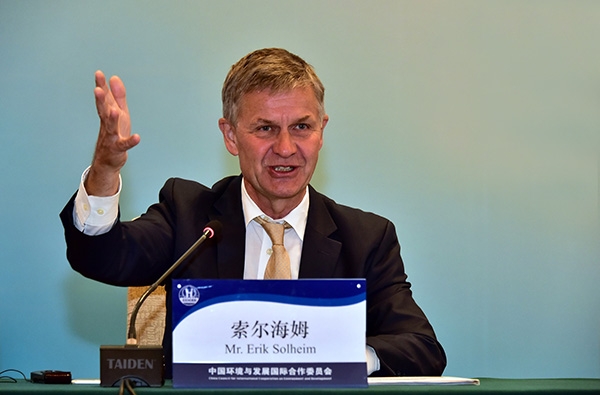 Erik Solheim, former undersecretary-general of the United Nations and executive director of the UN Environment Program, said the concept of "lucid waters and lush mountains are invaluable assets" is now inspiring China and should inspire the entire world in a video speech.
Solheim discussed the great opportunities in going green, such as creating jobs and prosperity and creating a better future for mankind, at the latest Vision China event, which was held as a part of the 10th Lanzhou Yellow River Cultural Tourism Festival on Friday.
Solheim visited Zhejiang province a few years back and saw pollutants dying the river milky white.
Children were not allowed to swim, and there were only factories, no people.
Now all this has changed thanks to green development measures, and thousands upon thousands of tourists are coming to enjoy the beauty of nature and the great cultural heritage of China, promoting local economic development.
Solheim believes the river chief system can inspire the rest of the world as to how to get the cleanup of rivers right.
China is the biggest solar and wind nation around the globe, he added, with much environmental experience to share with the world, such as the greening of deserts in Gansu province.
The great green cities and areas such as Shenzhen, Hangzhou, Suzhou and Xiong'an New Area will begin new experiences, he added.
The Belt and Road Initiative is a fantastic new opportunity for multilateralism but needs to be taken in a greener direction, he said.
"Those countries involved in the initiative see it as an opportunity for shared prosperity and for poorer nations to come out of poverty," he said.
"That's why I'm so engaged with the China Council for Environment and Development, and also with a global coalition for green Belt and Road," Solheim said. "And I invite all of you to cooperate with us to see how Belt and Road can be a vehicle for ecological civilization, which the planet so much needs."
He recalled his visit to Gansu to see the province's beautiful landforms and the life of its people.
"I'm sure you will be able to turn the Yellow River into China's pride and joy," he said. "And together, we will create through Belt and Road and so many other mechanisms a shared global ecological civilization."