Xie Zhenye crowned in men's 200m at Chinese National Athletics Championships
Share - WeChat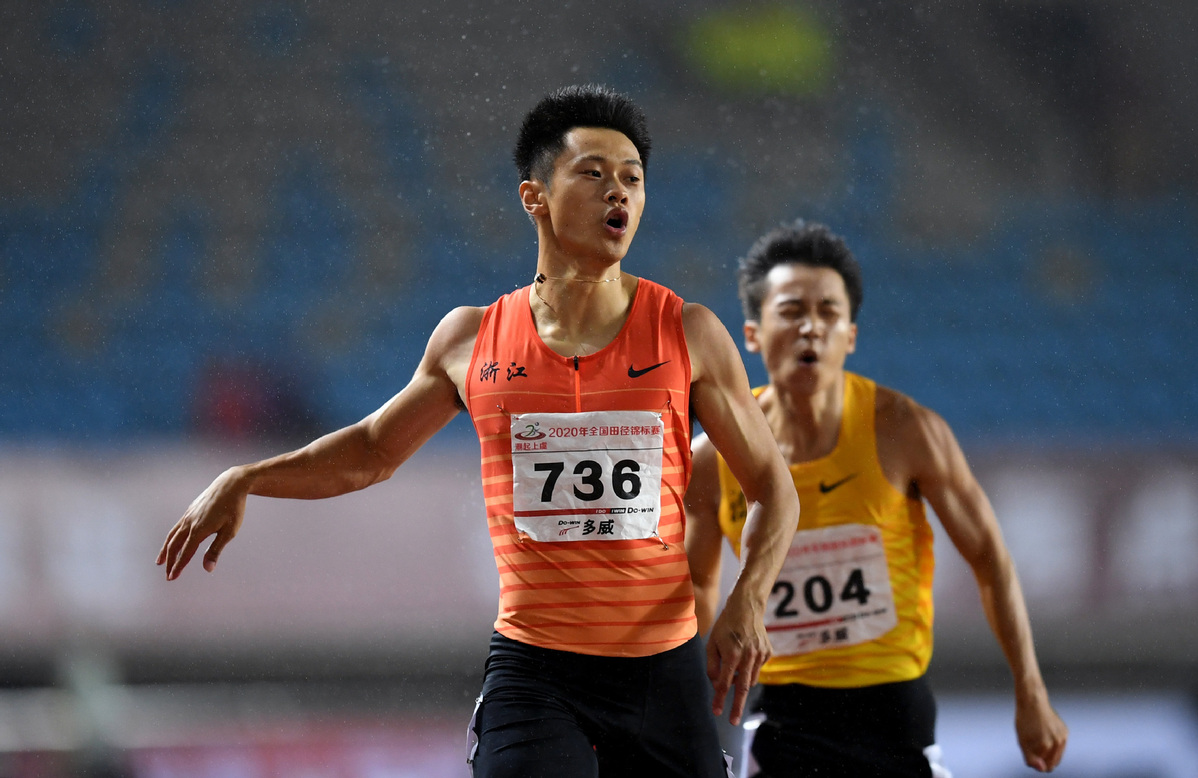 SHAOXING, China -- Chinese sprinter Xie Zhenye dashed to a 20.72 second win in men's 200m at 2020 Chinese National Athletics Championships here on Thursday.
Rain grew heavier at night, causing trouble for every athlete, but Asian record holder Xie still showed his dominance in the men's 200m. The 27-year-old took the lead all the way, rushing to the finish line in 20.72 seconds.
"The result didn't meet my expectations, I was thinking about 20.50s or so," said Xie.
Rising star Yan Haibin finished second with 20.86s. The 17-year-old said he was satisfied with what he achieved. "I feel excited as the gap between brother Xie and I was narrowed."
Speaking of Ge Manqi, who had to quit in women's 200m because of false start, Xie said: "I feel so sorry for her. She made the mistake because she was eager to prove herself so much."
Earlier in the day, women's 200m saw Kong Lingwei win with 23.64s as top favorite Ge failed to finish the race.
"I feel unhappy even though I won. The result is not good, my friend Ge could have done better than me," said Kong.
The 22-year-old Ge set a new personal best of 22.69s this May, aiming to qualify for the postponed Tokyo Olympics final. "I was too hasty to concentrate, when I heard some noise I thought it was the gun," she said.
In the women's pole vault, nobody conquered the height of 4.40 meters because of wet ground. Song Tingting, Niu Chunge and Asian champion Li Ling shared the same height of 4.30m, but Song won the title because she jumped the 4.30m mark in her first attempt.
Feng Zhiqiang and Mo Jiadie came first in the men's and women's 400m hurdles. Xu Shuangshuang won women's 5,000m. In field events, Luo Na won women's hammer throw with 69.19m, while Wu Ruiting ranked first in the men's triple jump.