Post-pandemic travel pokes its head through clouds
Share - WeChat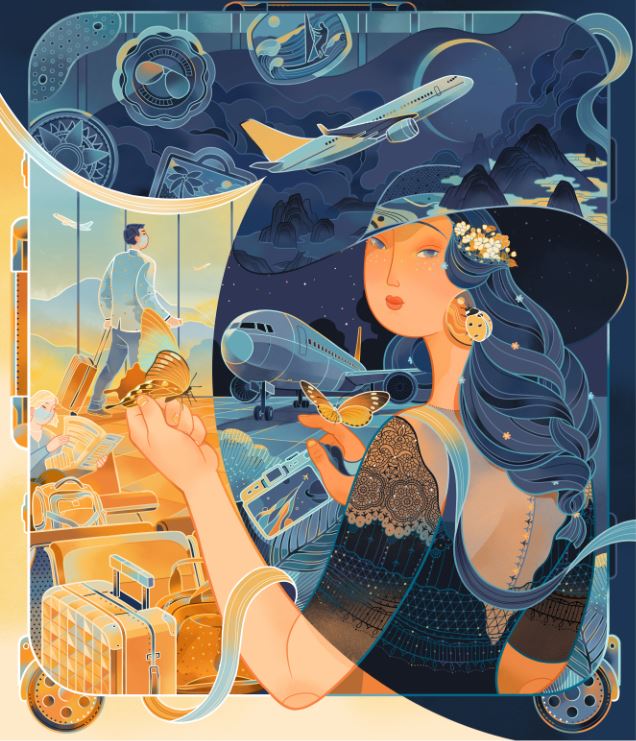 Even if a vaccine is found for COVID-19, it will not alter the fact that our lives have been changed forever.
Nothing will be the same again, especially how we travel the world.
Professor Bruce Thompson, dean of Health Sciences at Swinburne University of Technology in Melbourne, Australia, said: "Everything will change. It has to."
Should a vaccine be found, he doubts people will be eager to board aircraft for long-haul flights-at least not in the foreseeable future.
"From the minute we walk into an airport, things will be different," he said.
Screens will separate staff members from passengers, and it will take longer to check in and clear customs and immigration.
"If you thought the lines were long now, wait until the curtains lift post-pandemic," Thompson said.
Shopping and eating at airports will have to change, as will departure gate waiting areas.
Travelers can forget about buffets in airline lounges, and temperature scans will become the norm, with checks throughout an airport.
To accommodate social distancing, even the way aircraft are boarded will have to change.
One option being considered by some airlines is boarding from the rear of economy class through to business and first class.
In April, United States carrier Delta began boarding flights by row from the back of planes to the front, with passengers asked to stay seated until their row was announced. United Airlines has also stopped boarding by large groups. Instead, passengers are admitted in small groups to minimize crowding, according to a report in May by the Financial Times.
With international aviation largely shut down, airlines are experiencing huge losses. Aircraft have been laid up on desert airstrips around the world, while thousands, if not millions, of workers, from pilots to baggage handlers, have been laid off.
Forecasts for when the aviation sector will return to pre-COVID-19 levels range from a few years to never.
According to the International Air Transport Association, the trade body for world airlines, the sector may not return to last year's levels until at least 2024.
Ian Douglas, honorary senior lecturer with the School of Aviation at the University of New South Wales in Australia, said, "Even this number is on the optimistic side".
Many airlines have already scrapped or mothballed aircraft. For example, he said British Airways has retired its Boeing 747s, Air France its Airbus A380s, and Singapore Airlines, Delta and Air New Zealand their Boeing 777-200s.
"Even if demand starts to come back, there will be less capacity available for long-haul flying …and probably smaller short-haul fleets with order cancellations," he said.
"I sense that point-to-point flying will be preferred to hub connections, and that short-haul trips will be preferred over long-haul, at least in the shorter term."
Douglas said it is clear that in Europe low-cost carriers such as Wizz Air and Ryanair are bouncing back more effectively than hub-based network airlines.
"If there is less capacity and a changed market, we will probably not see the same aggressive drive for market-share growth," he said.
"Airlines (and airports) will need to rebuild their capital base, and will be operating in a market with more-hesitant customers and probably a long-term shift in business travel.
"We have talked for years about video meetings replacing business travel, but now we have really learned how to do that by necessity."