For Suga, choice is between old legacy and new policy
Share - WeChat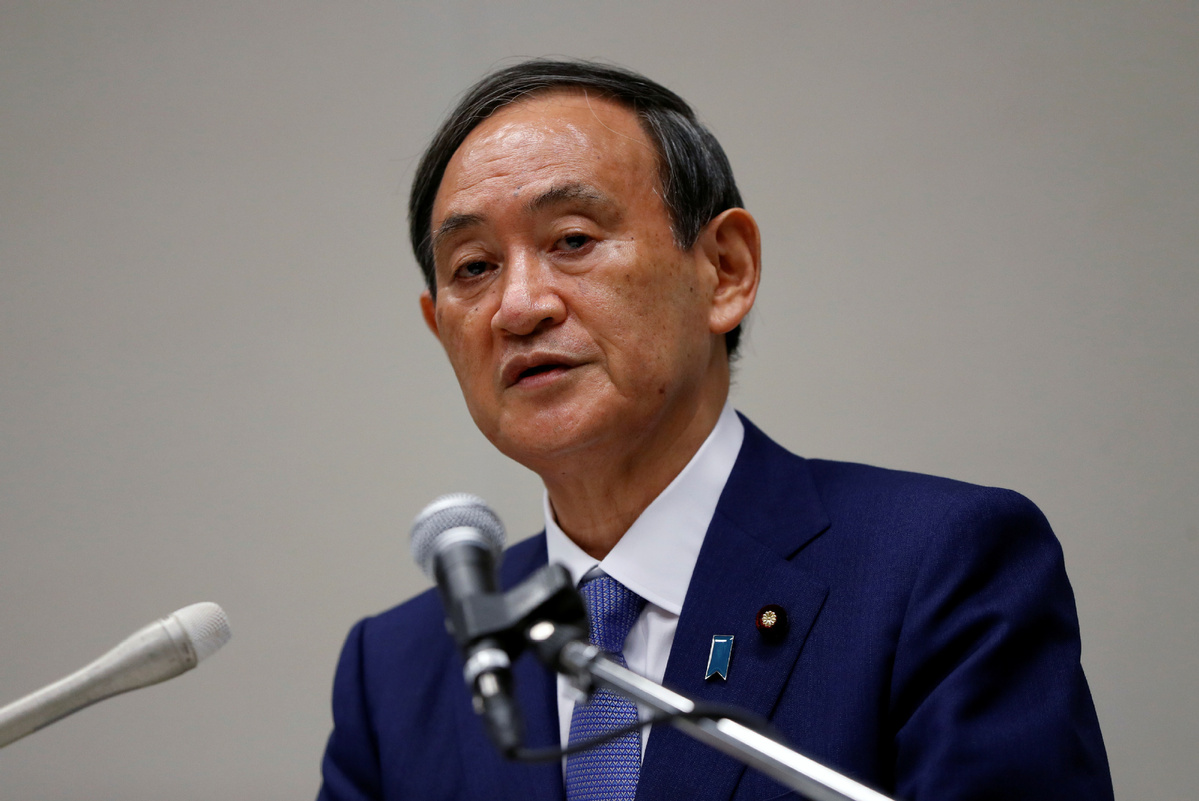 After winning the intra-party election and becoming the head of the ruling Liberal Democratic Party on Monday, Yoshihide Suga, the chief cabinet secretary of Japan, succeeded Shinzo Abe as the country's prime minister on Wednesday.
If Suga succeeds in stabilizing the Japanese economy and politics, and contain the novel coronavirus, as he has vowed to, he may be able to create a different era of development in Japan, rather than continuing to live in the shadow of Abe.
Although Suga has vowed to follow Abe's policies while making new achievements, handling Japan's relations with China will be a big challenge and an opportunity for his administration.
Suga has given clues to the approach he would take vis-à-vis China. During the intra-party election, he said he would follow Abe's domestic and foreign policies. It means he might try to further improve relations with China but at the same time take a tough stance against China in defense and security policies — for example, he may not admit Japan has a dispute with China over the Diaoyu Islands, which could sour Sino-Japanese ties.
Notably, he said Tokyo-Washington relations will act as the axle of Japan's foreign relations, while Japan would maintain a balance between its relations with China and the United States. In other words, Japan will continue to align with the US as far as international relations and security affairs are concerned, and continue to back the US policy of containing China, especially in the East and South China seas and take part in Washington's Indo-Pacific strategy. It is under these preconditions that Japan will seek cooperation with China.

Yet the Suga administration is expected to continue promoting dialogue with China, particularly at the top leadership level.
Nevertheless, after Japan effectively contains the COVID-19 pandemic at home, Suga should continue to consider inviting Chinese leaders to visit Japan, as it would help improve bilateral ties and deepen mutual trust.
Although the pandemic remains a major source of uncertainty for the economic and political situations in Japan, Suga might follow Abe's economic security strategy of encouraging Japanese enterprises operating overseas to "reshore", or shift back to Japan. If that happens, China, as a major investment destination for Japan, may bear the brunt of that change, especially because using the Sino-US trade frictions as a pretext, some Japanese enterprises active in China may relocate their operations to Japan during Suga's administration.
Besides, the LDP and many other major political parties in Japan more or less agree that China's military is becoming a threat. In fact, before Abe's resignation, his administration was trying to arm Japan with defensive ballistic and long-distance missiles. Japan's ties with China are equally important, if not more than, its ties with the US. For the sake of sound development of Sino-Japanese ties, Suga needs to reconsider whether this agenda deserves priority.
That being said, Sino-Japanese ties would face both opportunities and challenges amid the rising uncertainties at home and abroad. And Japan, China and the Republic of Korea should ink their free trade agreement in time, which can help tap the potential of Sino-Japanese relationship.
The author is a professor of Japanese studies at the China Foreign Affairs University.
The views don't necessarily reflect those of China Daily.
If you have a specific expertise and would like to contribute to China Daily, please contact us at opinion@chinadaily.com.cn , and comment@chinadaily.com.cn
Most Viewed in 24 Hours
China Views