Boost high-quality economic development with spatial development concept
Share - WeChat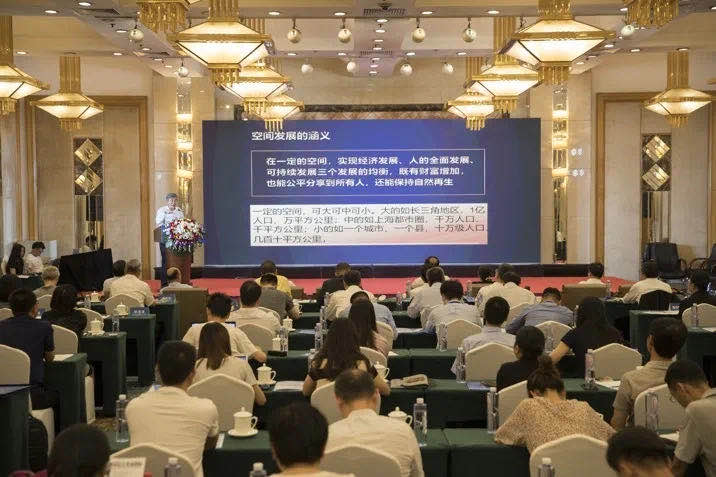 Third, the imbalance between land and population. Urbanization means that the rural population heads to the city, but the nearly 300 million people who enter the city from the countryside have no way to relocate their residential land into the city since the current administration system does not allow so. Coupled with household registration restrictions, although mobile employment is allowed, migrant workers and their family members are not allowed to settle down. So here comes the problem - much land is left vacant in rural areas while urban residential land is in severe shortage. Compared with other overseas cities, there is very little residential land in Chinese cities. And between cities, the allocation of land and population mobility in the first-, second- and third-tier cities are also unreasonable. The first-tier cities welcome a large number of people, but they are not given much residential land. There is also a problem in land-use structure as much more is set aside for industry and business purposes and much less for housing. However, in some third- and fourth-tier cities with net population outflow, the amount of residential land is still increasing. That will certainly lead to housing vacancy in the long run.
Fourth, the imbalance between resources, the environment and economic population. China's development is implemented by many various administrative divisions. So, when we talk about the development of Shanghai or Beijing, we talk about the two cities themselves, not the city clusters. As a result, the urban functions tend to concentrate way too much in downtown areas while there is a huge gap between the main urban areas and the surrounding areas.
How do we achieve high-quality development of urbanization?
First, clearly define what a city is. There are three major concepts for a city. (1) Administrative division, for example Beijing's administrative division is 16,400 square kilometers; (2) Districts, with the three municipalities directly under the Central Government now all have changed its counties into districts, it completely confuses the concepts of administrative divisions and districts, therefore resulting in confusion of urbanization policies; (3) City in the sense of economic development, since in every city we have downtown areas and central districts. Based on these circumstances, we need a clear definition of the city for precise policy making. Say, if we want to stabilize the housing price in Beijing, we need to specify the regions where we want to apply certain regulations. Take Miyun for example, it used to be a county, but now it is a district. Considering the fact that Miyun is not one of the economic centers, there is no need to impose restrictions in housing price, cars, and even household registrations.
Second, loosen control on household registration. For mega-cities like Beijing, household registration restrictions should only be imposed in its central urban districts, not in Miyun, Yanqing and other districts that are far away from the urban center. That is what we call precise policy making. In addition, the point-based household registration system for settling down in the main districts should also be improved, particularly for migrant workers. Without migrant workers, mega-cities simply cannot function at all.
All cities except mega ones should loosen control on household registration. Instead of competing to attract young people, cities should give the priority to those who have been working there for many years, those who have been paying social security fees and taxes, many of whom are migrant workers. Priorities should be given to solve the existing problems before the new problems unless you are trying to attract some top-notch talented people. The city government should be responsible for the public services of the employed population and family members in the city and achieve the equal treatment of citizens with or without household registrations. Many places have introduced policies on low-rent housing and rental housing, but even those two groups of people get totally different treatment, which is a gap that we should break. Fairness and justice must be fully considered in policymaking as we can no longer allow the urban-rural dual system to become a new dual system within the city, which will doubtlessly bring in social injustice.
Third, improve the property rights system of rural construction land. It is possible to keep the ownership of rural collective construction land and rural homestead unchanged while create a new property rights system in line with Chinese characteristics. Only in this way rural land can enter the market and bring benefits to the farmers, thus enlarging their income. China still has a portion of people living with extremely low income. If we can substantially raise the income of farmers, we can expand our middle class and rely less on foreign markets. That will help us take the initiative in dealing with Sino-U.S. trade frictions.