China's alternative meat market heats up
Share - WeChat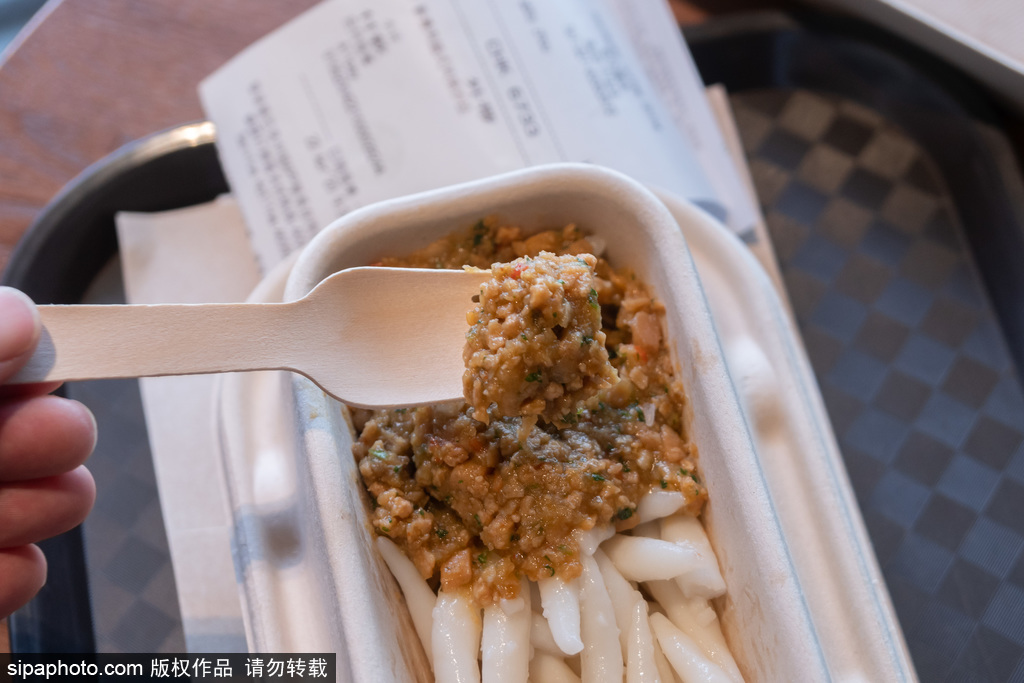 SHANGHAI -- Fungus-based meat may become a new choice for China's meat substitute lovers as more and more Chinese companies are tapping into the growing plant-based meat market amid rising consumer appetites for healthy and nutritious foods.
"Besides soy and pea proteins that have been widely used to produce meat alternatives in China, fungus protein is also a high-quality ingredient, which can improve food taste and nutrition," said Yang Yongping, chairman of Shanghai Xuerong Biotechnology Co, Ltd.
Xuerong, a leading edible fungus supplier in China with a history of over 20 years, has recently invested in the field of plant-based meat to produce fungus-based meat substitutes, making full use of its expertise in fungus production.
In July, Xuerong announced a capital increase of 14 million yuan ($2.04 million) in cash for Vesta Food Lab, a Beijing-based food technology company dedicated to producing plant-based meat.
Xuerong also announced it will found a joint venture with a Chinese snack company with a registered capital of 10 million yuan, which will focus on the research and development (R&D), production, and sales of plant-based protein snacks.
The company is not alone in biting into China's expanding protein-based meat market.
Compared with real meat, plant-based meat is high-protein and has low cholesterol and fat, and contributes to environmental protection and animal welfare, which has triggered a food trend that various food companies and capital markets worldwide have been following.
Since US plant-based food manufacturer Beyond Meat went public last year, competition in the plant-based meat substitutes industry has been heating up worldwide.
In China, many start-ups are rolling out products such as mooncakes, glutinous rice dumplings, and noodles containing meat substitutes to lure consumers.
Ramen Talk, a Chinese noodle brand, has recently cooperated with a domestic meat manufacturer to launch a product featuring a plant-based meat sauce similar to Bolognese sauce in flavor.
The first batch of 20,000 packages sold out in just one minute when the product was released through livestreaming on China's e-commerce platform Tmall, according to company data.
"This is a major trend in the development of China's food industry these days, and it also represents a direction for future food technology," said He Chuchu, product manager of Ramen Talk.
Meat substitutes are nothing new for Chinese consumers, as the country has a long history of eating "mock meat" made from soybeans, usually called "vegetarian meat" in traditional Chinese cuisine.
In recent years, meatless diets have become more popular due to rising concerns over fitness and food quality and safety, driving meat substitute producers to target not only niche vegetarian consumers but also mainstream meat lovers.
The COVID-19 pandemic has further accelerated Chinese consumers' pursuit of healthier diets.
In a McKinsey report on "How COVID-19 is accelerating five key trends shaping the Chinese economy," more than 70 percent of respondents to its COVID-19 consumer survey will continue to spend more time and money purchasing safe and eco-friendly products, while three-quarters want to eat more healthily after the pandemic.
China's plant-based meat market has also attracted many overseas meat substitute producers. Impossible Foods, a US plant-based meat company, brought plant-based meat alternatives from the US to serve about 50,000 meat lovers at the second China International Import Expo in 2019.
Traditional food companies like Xuerong view plant-based meat as an opportunity to expand their existing industry chain.
According to Yang Yongping, Xuerong will explore the meatless meat industry from two aspects. It will use fungus directly in products that taste like real meat, and it will also extract proteins from fungus to produce fungus-based meat substitutes.
"The meatless meat industry for us is a step further into the deep processing of edible fungus. Plant-based meat start-ups have their advantage in R&D, while we have over 20 years of factory management experience. The cooperation is win-win and will contribute to the development of plant-based meat," Yang said.