Opera festival set to hit the high notes
Share - WeChat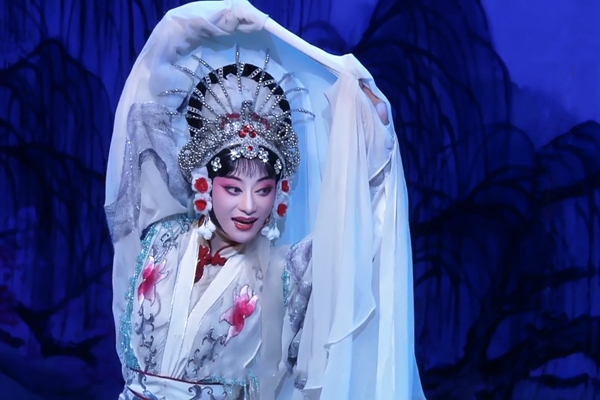 "So after two years of struggle, I decided to land in Kunshan Contemporary Kunqu Opera Co, and after that, I had a more in-depth understanding of the importance of hosting the Chinese Opera Gala," she says.
"As a young actress, I am very lucky that we have entered the best of times for Chinese operas, and we are fortunate to be able to come on the same stage with some of the biggest actors of various opera types to attend the closing ceremony. I will also cooperate with the famous Kunqu Opera master Yu Jiulin for a highlight show of The Peony Pavilion."
Feng, the deputy director, says this year they will further promote the online appreciation event of hundred operas, through recording short videos, new media promotion, live show performances, and creating Chinese flavored music, to attract groups of different ages to Chinese opera culture.
During the festival, the organizing committee will also closely follow the changes in the epidemic situation, evaluate the impact of the epidemic on the festival, optimize prevention and control strategies in time, and implement joint epidemic prevention and control mechanisms, to ensure the safety of performance venues.
Although the festival will take place in Kunshuan, Feng insists the spotlight should not be given to Kunqu Oprea, but an equal opportunity for all Chinese operas. "In the course of the performances, Kunqu Opera is actually 1/348. In this respect, I think it embodies a kind of equality, a kind of responsibility,"Feng says.
The host of the festival has dedicated a plot of land of 348 trees, one for each type of drama. In a state of strolling in a leisurely courtyard, visitors will get to know the strength of the operas, and they are also constructing a museum for the hundred Chinese operas.
Since its inauguration in 2018, the festival has organized 232 opera types, 274 repertoires, and 134 performances in 30 provinces. About 80,000 people watched the performances live and online. The number of viewership exceeded 35 million. This cultural feast is unprecedented in the history of Chinese opera culture.
"It not only demonstrated the unique charm of classic operas, but also brought ethnic operas and endangered operas onto the national stage, stimulating the vitality and potential of Chinese operas," Feng says.
Most Popular