Opera festival set to hit the high notes
Share - WeChat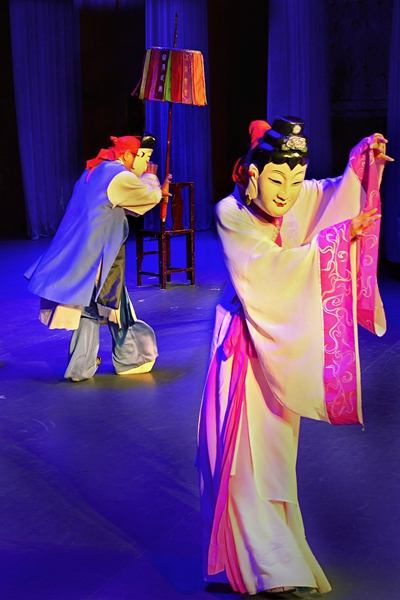 Feng and his team will also bring eight major derivative activities in the hope of "converging the new face of Chinese opera". This year, it will highlight cultural exchanges and travel integration.
To dig out more potentials from the opera culture, the organizing committee will record the oral history of all participating opera types, and promote the development history and artistic characteristics of each opera type. Highlights include activities such as Hong Kong, Macao and Taiwan Opera Culture Week, Hundred Operas, Hundred Artists and Hundred Paintings works collection exhibition, Hundred Operas on Campus, and Opera Evening. The cultural and tourism integration themed event of Watching Hundred Operas and Traveling in Jiangsu will be planned during the festival with six boutique cultural routes covering Suzhou, Wuxi, Changzhou, Huai'an and Yangzhou in Jiangsu province.
"These activities are to enrich the life of our audiences. It is also to promote an opera-loving atmosphere, an opportunity especially to cultivate young audiences, and then discover some young opera talents for the inheritance of operas," says Ye Feng, chief of the art and culture department of Kunshan Culture, Sports, Radio, Television and Tourism Bureau.
The Chinese are familiar with famous Kunqu Operas such as The Peony Pavilion, Peach Blossom Fan and Eternal Life Palace. Kunqu Opera is known for its beautiful, lingering and gentle tune. Originating in the late Yuan Dynasty (1271-1368) in Kunshan and giving birth to some of the most influential vocal dramas in the Ming (1368-1644) and Qing (1644-1911) dynasties, such as Peking Opera, Pu Opera, Xiang Opera and Sichuan Opera, Kunqu nurtured and nourished Chinese opera and earned the reputation as "the ancestor of hundreds of operas" and "the master of all operas".
In May 2001, Kunqu Opera was listed as a masterpiece of human oral and intangible heritage by UNESCO. In March 2003, Kunshan was named the hometown of Chinese folk art Kunqu Opera by the Ministry of Culture.
The city has attached great importance to culture, especially in the protection, inheritance and development of traditional culture.
You Tengteng, a Kunqu artist formerly from Yongjia Kunqu Troupe in Zhejiang province, transferred to Kunshan Contemporary Kunqu Opera Co. She says what attracted her to Kunshan was the city's emphasis on culture and opera. The first time she arrived in Kunshan at the train station, she was captivated by the promotion banners of the opera almost everywhere.
Most Popular