No masking Osaka's ambition after 'flawless' display seals semifinal spot
Share - WeChat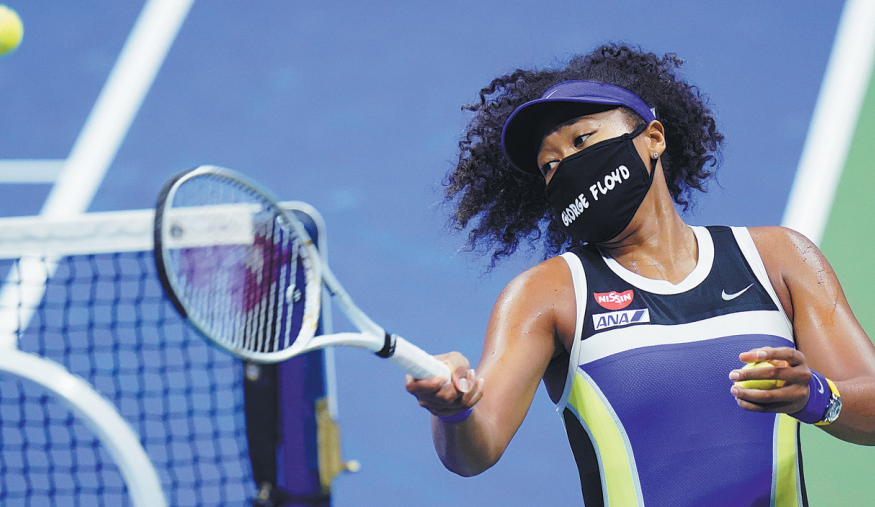 NEW YORK-Naomi Osaka brought seven face masks to the US Open to highlight racial injustice and on the basis of her impressive showing in the quarterfinals on Tuesday, Flushing Meadows looks destined to see them all.
Before the 6-3, 6-4 victory over Shelby Rogers, the former champion unveiled the fifth mask emblazoned with the name of George Floyd, the black American who died in police custody in Minneapolis in May.
Two more remain in Osaka's kit bag for the semifinal against American Jenny Brady and potentially her second US Open final at Arthur Ashe Stadium on Saturday.
"I just have a feeling," she told ESPN, explaining how she decided which mask to wear. "I feel like I am a vessel in order to spread awareness."
The highlighting of the issue has taken a little of the focus away from what has been a highly impressive tournament for the fourth seed as she has made her way to her third Grand Slam semifinal.
On Tuesday, she made just eight unforced errors across two sets against a player with some big shots who she had never beaten before.
"She played pretty flawless," said Rogers. "I think she can go a couple more if she wants. She's more confident in who she is, what her game is, how to play."
Osaka, who at 22 already has two Grand Slam titles after winning the 2018 US Open and backing up at the 2019 Australian Open, said she had spent a lot of time during the coronavirus shutdown thinking about how she wanted to approach her tennis.
"Honestly, the whole of 2019 after I won Australia, I just put too much pressure on myself, I wasn't enjoying it," Osaka said.
"When I (lost) against Coco (Gauff) in Australia this year, I was just so stressed out. So I just thought to myself, I'm just going to take quarantine to mentally evaluate what I want to do when I come back.
"When you come out on Ashe, there's a Billy Jean King quote 'pressure is a privilege', and I feel it's unbelievably true."
Osaka, 22, will play 28th-seeded Brady on Thursday for a place in the final.
Despite going into the last-eight match as favorite, the world No 9 said she was apprehensive about playing the 93rd-ranked Rogers because she had failed to beat her in three previous outings.
"Honestly, I just felt like she had the upper hand because I've never beaten her," Osaka said. "And those memories are stuck in my head so I consider this a little bit of revenge."
Osaka said a defeat to Rogers in 2017 on clay in Charleston had left "a really bad aftertaste in my mouth".
"I'm really glad I was able to have a much better positive attitude today," she explained.
Brady, 25, earlier ousted 23rd seed Yulia Putintseva of Kazakhstan 6-3, 6-2.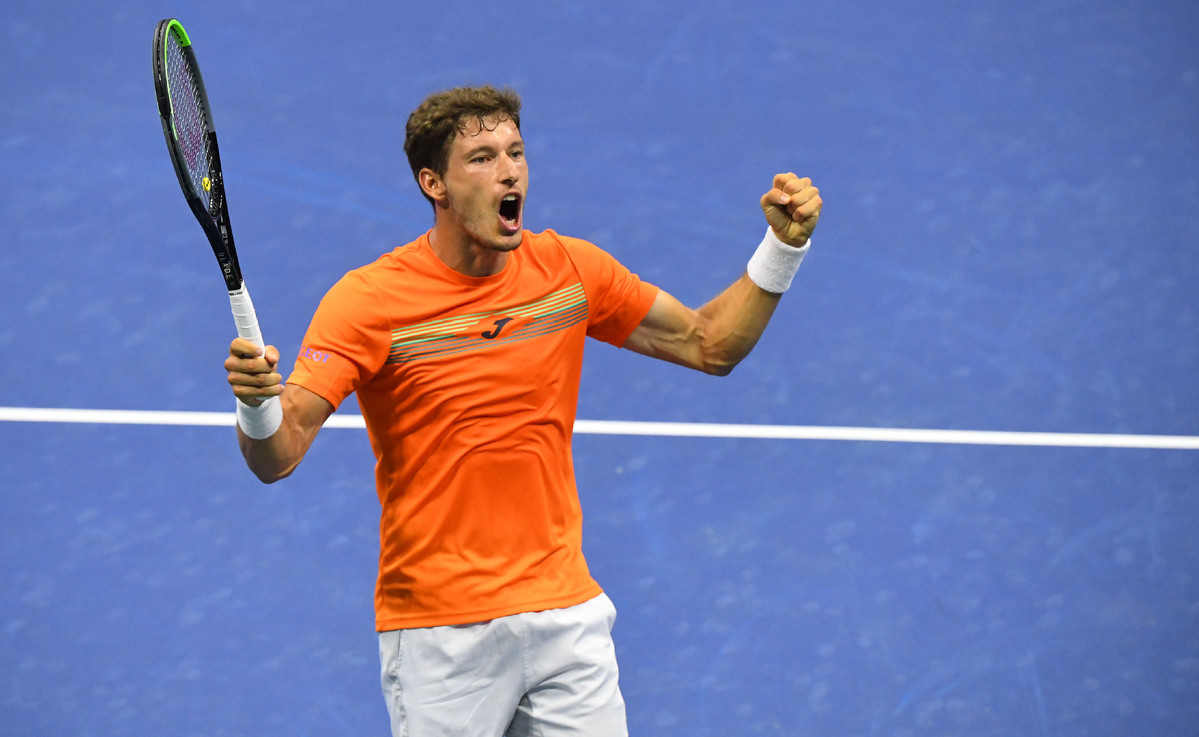 Pablo prevails
In the men's draw, it took five sets and more than four hours, all the way until past 1 am on Wednesday, for Pablo Carreno Busta to reach the semifinals for a second time.
That's a lot more work than he put in a round earlier.
One match after advancing when No 1-ranked Novak Djokovic was disqualified in the first set, the 20th-seeded Carreno Busta expended a lot more energy and outlasted Denis Shapovalov 3-6, 7-6(5), 7-6(4), 0-6, 6-3.
"I'm destroyed," Carreno Busta said, "but I'm very, very happy."
The 29-year-old from Spain also made it to the final four in New York in 2017, losing to eventual runner-up Kevin Anderson at that stage. That was the only previous Grand Slam semifinal appearance for Carreno Busta.
He said it was "incredible" to be back in the last four again after working "very, very hard" during the sport's shutdown.
Now he'll get a chance to rest up before playing Friday against No 5 seed Alexander Zverev.
Zverev moved on by beating Borna Coric 1-6, 7-6(5), 7-6(1), 6-3 in a match that ended nearly eight hours earlier.
Carreno Busta's victory went on so long that Shapovalov's mother, who also coaches him, left her front-row seat behind a baseline to go grab a fresh pair of sneakers for the 21-year-old from Canada to change into after he dropped the third set.
Shapovalov, who frequently looked over at his mom and yelled in her direction after losing points, showed his frustration over ceding that set by taking a white towel and whipping it repeatedly on the ground after sitting on the sideline.
Shapovalov responded by rolling through the fourth set.
Before the fifth began, Carreno Busta was visited by a trainer, who massaged his back. That clearly helped matters, because later he was fresher at the decisive moments, and got the break he needed to lead 4-2 in the fifth when Shapovalov double-faulted.
Carreno Busta had a much shorter outing in the fourth round Sunday. He was the opponent when Djokovic was defaulted for unintentionally hitting a line judge in the throat with a ball after getting broken to trail 6-5 in the early going.
In the quarterfinal, the outcome of most points depended on the 12th-seeded Shapovalov. The left-hander produced more aces, 26-5; more total winners, 76-33; more unforced errors, 77-42; more trips to the net, 70-19.
Shapovalov also won more points overall, 160-153, but Carreno Busta won the most important one: the last.
Agencies