Despite virus setback, investors may chase office realty in Beijing
Share - WeChat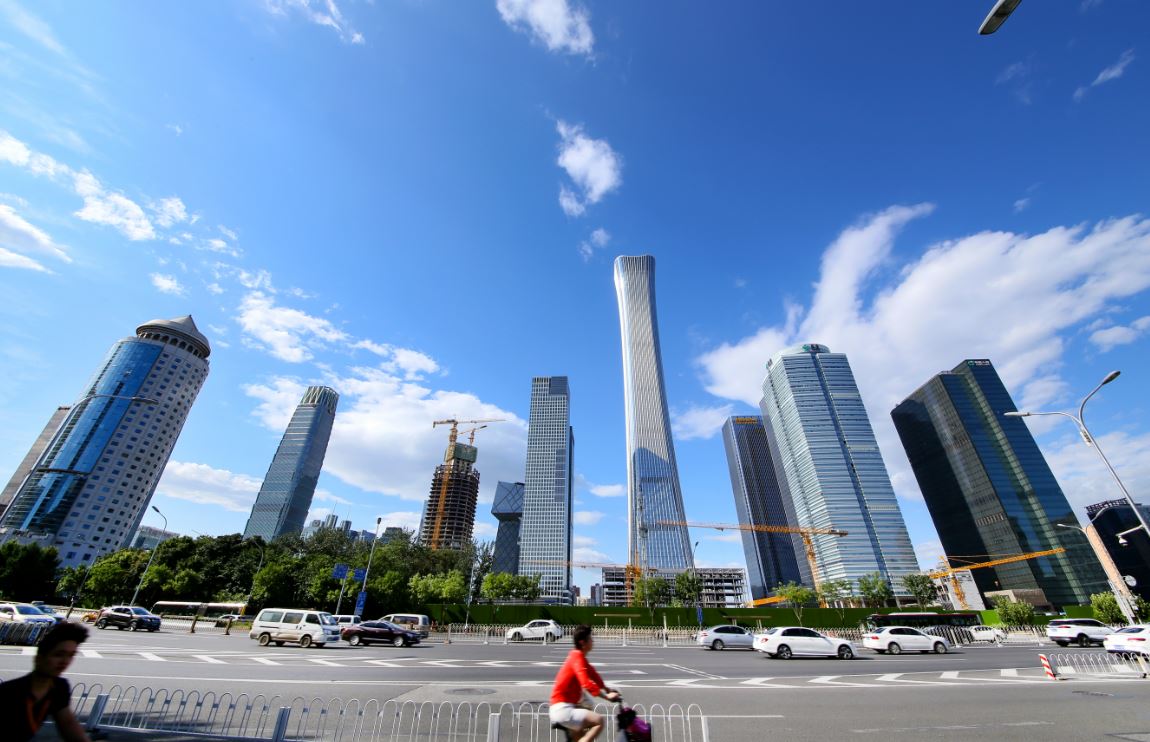 Declining rent levels and increasing investable assets in Beijing's office realty market caused by COVID-19 will offer a window of opportunity for investment in the next three to five years, according to a recent property industry report.
By the end of June, average market rents plunged 6.8 percent to 356 yuan ($51.97) per square meter per month, marking a five-year low. The overall vacancy rose to 14 percent for Beijing's Grade A office realty market, according to a report from Jones Lang LaSalle Inc, a global real estate services firm.
Falling rents and rising investable assets of Beijing's office realty market were a result of mandatory lockdowns and social distancing due to the COVID-19 pandemic, which have forced companies everywhere to ask employees to work from home, to ensure their health and safety as well as to contain the spread of the virus, the JLL report said.
"The current situation in Beijing's office market offers a window of opportunity for investment, but there's also a time frame, as the impact of COVID-19 and the economic slowdown continue to dissipate," said Mi Yang, head of research for North China at JLL.
The report said the rent declines in the Beijing office realty market would last until the end of 2021 or even the beginning of 2022. Following two stable years of growth expected in 2022 and 2023, the influx of more momentum demand is predicted to push rents back to an upward cycle by 2024.
"Impacted by a number of risks and challenges, including the epidemic, Beijing office rents are falling, but this will hardly be the case forever," said Julien Zhang, managing director for JLL North China.
"The market has solid and reliable fundamental demand at its base to hold it up. At the same time, the city's positioning as a key information technology and financial management hub for the country is encouraging more momentum demand to emerge," Zhang said.
"Fundamental demand" of office leasing in Beijing was outlined by the JLL report as the steady and reliable market demand from large enterprises, whereas emerging enterprises that are actively expanding dominate the "momentum demand".
The JLL report said in recent years Beijing's office market has benefited from the rapid growth of enterprises that fueled momentum demand. China's policy to support entrepreneurship and innovation has given birth to a range of new concepts such as fintech, internet-plus (adapting the internet to various industry scenarios), and the sharing economy, which has led internet-based companies such as Alibaba Group Holding Ltd and ByteDance Inc to expand their office footprints in Beijing. Moreover, peer-to-peer or P2P finance companies, bike-sharing businesses, and co-working space operators have also experienced explosive growth in the market with large amounts of financing flowing in.
According to the JLL survey, given the resilient momentum of the technology sector during the epidemic and strong policy support, 90 percent of the respondents agreed that companies in fields such as artificial intelligence, cloud computing, 5G, "new infrastructure", online gaming, and livestreaming, will be key to the recovery of Beijing's office realty market as companies from these arenas grow further and expand.
Meanwhile, COVID-19 has brought major development opportunities for healthcare and insurance industries. Driven by the successful holding of the China International Fair for Trade in Services, and the opening-up of Beijing's financial services industry, robust growth in demand from professional and financial services industries will continue. These industries are expected to become bright spots for future growth in Beijing's office realty market.
"As Beijing further opens up to foreign participation and improves its business environment, supported by key projects like Universal Studios and major events like the (2022) Winter Olympic Games, its commercial real estate market, office buildings included, is bound to overcome the current difficulties and achieve a higher level of sustainable development," Zhang said.
"Fueled by increasing demand from emerging industries, such as technology, healthcare, and finance, we anticipate the Beijing office market to be well on the road to recovery as early as the end of 2021."
The JLL report said two policy-driven submarkets, Zhongguancun and Financial Street, will lead the future rebound in rents.
According to JLL data, benefiting from stable and rigid demand, rents in Financial Street fell only once, during the Global Financial Crisis in 2009. Even at that time, the decline was just less than 5 percent.
Similarly, backed by strong policy, Zhongguancun has not experienced many dips. By contrast, in market-driven submarkets such as the Central Business District, landlords have often found themselves forced to lower rents-by as much as 15 percent-under rising vacancy pressures. Therefore, under the current conditions, rents in market-driven submarkets may face even greater downward pressure ahead, the JLL report stated.