Investors bullish on Beijing's office realty market
Share - WeChat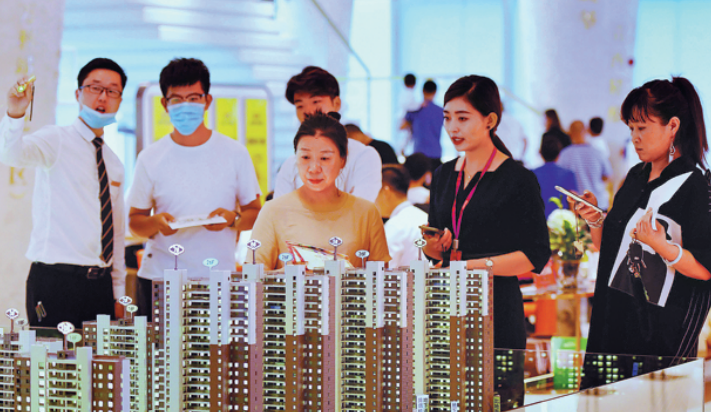 Investment activity in Beijing's office market stayed strong in the second quarter despite the COVID-19 challenge, according to property industry data.
Buoyed by the second-quarter activity, total first-half investment rose to more than 27 billion yuan ($3.86 billion), according to JLL Beijing's Second Quarter Property Market Review report by Jones Lang LaSalle Inc.
Although lower than the year-ago figure, the investment volume was still relatively high and included a few high-profile deals, the report said.
"We see that investors continue to be highly interested in core areas, particularly when it comes to assets with real upgrade and growth potential; other deals transacted in the quarter included the emerging and suburban areas, demonstrating investors' growing confidence in decentralized areas," said Michael Wang, head of capital markets for North China at JLL in Beijing.
Among the high-profile deals was Baring Private Equity Asia's foray into the Beijing property market in April. The investment firm purchased Arca Building in Zhongguancun Software Park from Singaporean Mapletree Group for 750 million yuan.
Meanwhile, Zhonghong Building, an unfinished commercial tower in Chaoyang district, was sold through an online auction to China Orient Asset for 3.3 billion yuan, the report said.
While the recent resurgence of COVID-19 cases in Beijing will further weigh on the market, it can also be expected that this difficult period will make way for future opportunities in the market, according to the report.
As fallout from the virus outbreak results in project delays, property buyers may find new opportunities as sellers with a preference for completing transactions sooner than later, consider more competitive prices.
Despite lingering uncertainty, investor confidence in the long-term outlook remains strong, as indicated by robust first-half sales volume.
Uncertainty and worries in the property market intensified due to the coronavirus pandemic and government measures like social distancing in response, and their overall likely impact on the industry's future.
"While the fallout from COVID-19 is presenting a challenging time in the market, forward-looking investors continue to focus on the longer-term outlook as they pursue opportunities in Beijing," Wang of JLL said.
According to the Global Real Estate Transparency Index report produced jointly by JLL and LaSalle Investment Management Inc, Beijing has become the major destination for cross-border real estate investment, with institutional money helping to improve transparency, increase professionalism and expand access to market data.
The real estate industry in major cities on the Chinese mainland is categorized into "transparent" tier, among the top global improvers, based on quantification of 210 elements of transparency.
A recent report by global real estate service provider Savills showed Beijing's office realty market is now recovering.
According to the Savills report, a new project, Samsung Tower, was launched in the second quarter. The project is in the national capital's central business district core plot area and will bring 100,000 square meters of office space to the market, the report said.
The fresh outbreak of COVID-19 cases in June was quickly contained, it had limited impact on Beijing's office realty market in general. The market coped well in the second quarter and activity resumed during the quarter, the Savills report stated.
Launch times of planned projects are expected to be delayed to the second half of this year or the first half of 2021. Beijing's office realty market is set to see more severe challenges for absorption when the supply influx appears.
"Beijing's office market is expected to go through more tough times in the second half due to a slowing macroeconomy, softening market demand and a significant supply influx," said Vincent Li, associate director of North China at Savills.