Giving culture fair play
Share - WeChat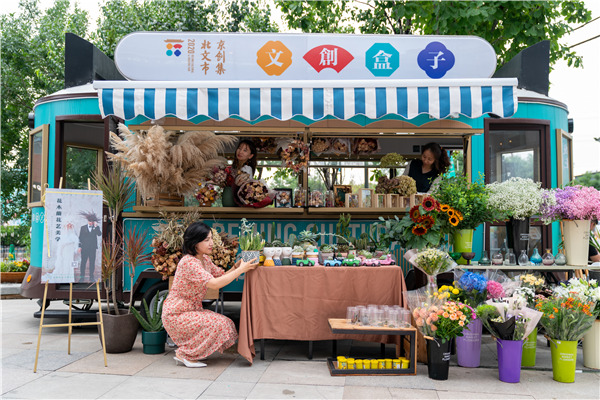 Authorities are organizing celebratory events to enable the public to engage traditional heritage and creative innovations in such areas as art, design and music.
Cultural and creative fairs have gained popularity across the country. Modern and fashionable gift boxes containing delicate artworks, cabins that look like spaceships and vibrant urban houses decorated with flowers were scattered along the European-style streets of Shine Hills in early August.
The commercial zone in Beijing's northeastern Shunyi district was packed with visitors during a cultural and creative fair from July 31 to Aug 2.
"We received more than 100,000 visitors during the three days," says Li Hui, a senior officer with Shine Hills' marketing department.
Many were drawn to the intangible cultural heritage and traditional Beijing snacks, such as tie-dye and sugared haws, Li says.
Visitors could choose from various cultural and creative goods, make art and play interactive games.
New art-product releases and online broadcasts were also organized.
"The fair offers a place for cultural creators and companies to display and sell what they offer," Li says.
Over 70 businesses attended the fair, which was initiated by the Beijing government.
They promoted products ranging from home decorations to mobile games, picture books, educational puzzles, jewelry and accessories, film and television products, and food and beverages.
Some are winners of past sessions of the Beijing Creative Culture Competition, which was first staged in 2016.
"The results (of the fair) were good. This thematic event seemed to appeal more to the public,"Li says.