Serena chasing history in strange times
Share - WeChat Williams resumes bid for Grand Slam record in unusual circumstances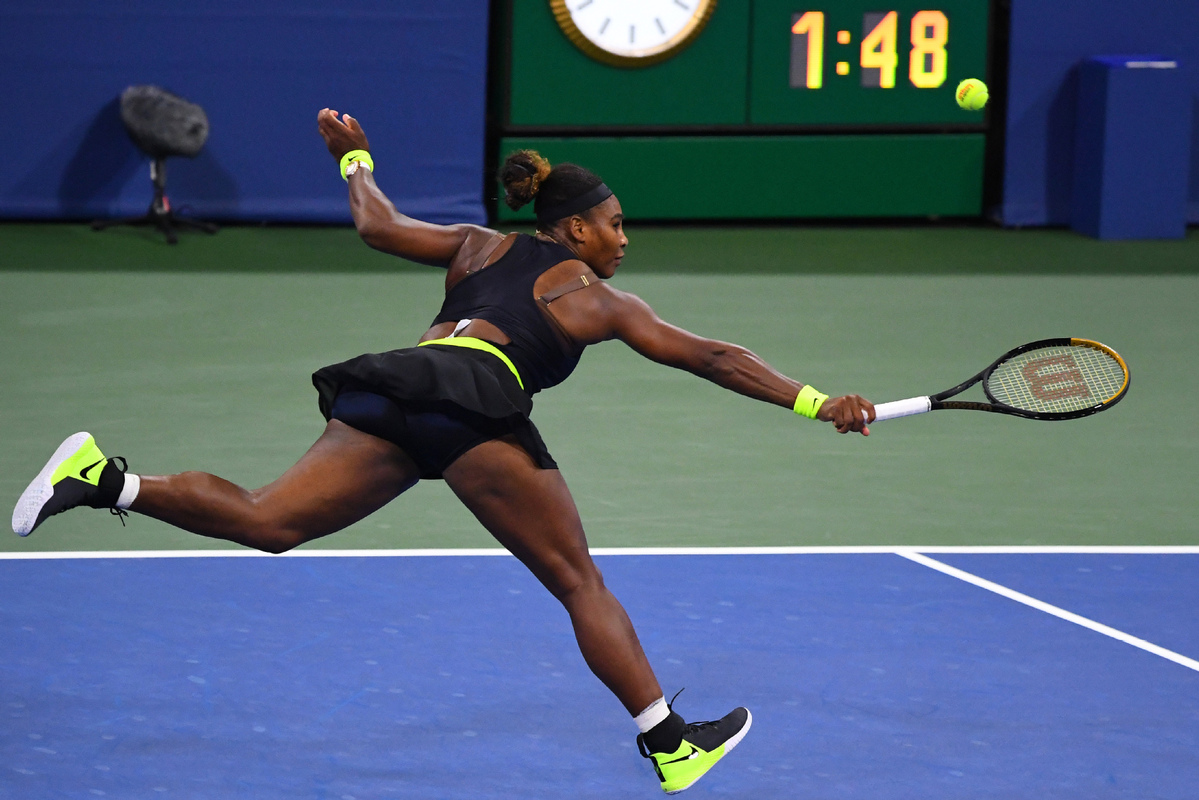 NEW YORK-Serena Williams' protracted pursuit of Margaret Court's record of 24 Grand Slam titles resumes at a 2020 US Open that promises to be unlike any other.
The absence of fans because of coronavirus concerns means the buzz and hubbub that define the tournament will be missing.
Williams, whose 23 major victories are an Open-era record, will have nothing but her own skill and will to rely on as she seeks a record-breaking seventh title on the hard courts at Flushing Meadows.
"I don't dislike it and that's weird because I am a player that is so emotional and so, like, a crowd player," Williams said upon returning to action after the WTA's coronavirus shutdown.
"Kind of reminds me of the junior days. There is something nostalgic about that."
Playing in a virtually empty Arthur Ashe stadium, which seats more than 23,000, could be another story.
"Playing in New York is going to be interesting, because the stadium is huge," Williams said. "But I do practice in empty stadiums, so I have played in New York on Arthur Ashe Stadium when it was empty and it was great. I guess I have to kind of lean on that."
It has been more than three years since Williams won her 23rd Grand Slam at the 2017 Australian Open-when she was already pregnant with daughter Olympia. She's come close since, reaching four major finals.
"I've definitely been stuck," said Williams, who seems to have grown weary of the questions about Court's record if not the chase itself. Even if she reaches the milestone, she said, it would provide no sort of punctuation mark.
"I'm never satisfied, that's the story of my career," Williams said. "I'll never be satisfied until I retire, that's just my personality."
Absent rivals
Her chances of matching Court, and breaking out of a tie with Chris Evert for most US Open women's titles (six), would seem to be improved by the absence of six of the top eight women because of coronavirus concerns or injury. They include world No 1 Ashleigh Barty, No 2 Simona Halep and 2019 champion Bianca Andreescu.
The top seed is, therefore, Karolina Pliskova, who will play Anhelina Kalinina in the opening match in Arthur Ashe Stadium-where many seats are covered by pieces of cloth with messages like "New York Tough" and "Black Lives Matter".
However, Williams has looked vulnerable in two tournaments since the tour returned, laboring through long matches before earlier than expected exits at Lexington and the Western & Southern Open.
She fell to 116th-ranked Shelby Rogers in Lexington, and squandered a commanding lead in a loss to 21st-ranked Maria Sakkari at the Western& Southern.
"I've just got to start learning how to win big points," Williams said after she was unable to serve out a straight-sets win against Sakkari. "If I could just focus on how to win that one point, that would be better."
Defeats like those have seen Williams lose the aura of invincibility she once carried. And upstart challengers this year won't find themselves up against the will of thousands of pro-Williams fans.
Hot favorite
If the women's event seems unpredictable as can be, the overwhelming favorite for the men's championship is Novak Djokovic.
Rafael Nadal, last year's champion, didn't want to travel, while Roger Federer ended his 2020 season after two knee operations.
The absence of Federer and Nadal gives Djokovic a prime opportunity to gain ground on his rivals in the chase for the all-time men's Grand Slam singles title record.
Three-time US Open winner Djokovic has 17 majors, behind Nadal on 19 and Federer on 20.
Players are being kept in a tightly controlled environment, with most staying at specific hotels and not allowed to travel anywhere other than to and from the tournament site and their accommodation.
Some players, including Djokovic, have rented private houses that must be guarded 24 hours by security to safeguard the quarantine bubble.
Intense cleaning and safety protocols were put in place before the US Open allowed players into the bubble. And the number of support personnel for each competitor is limited, as is the number of players allowed into the locker room at any one time.
"You can sense that around the site there is a certain tension ...because everyone is obviously being careful," said Djokovic, who tested positive for the coronavirus in June after taking part in a controversial tennis exhibition series he organized in Serbia and Croatia.
"But at the same time, everyone needs to pay attention and follow the protocols and restrictions that are in place."
AFP/AP