Startups urged to focus on products after IPOs
Share - WeChat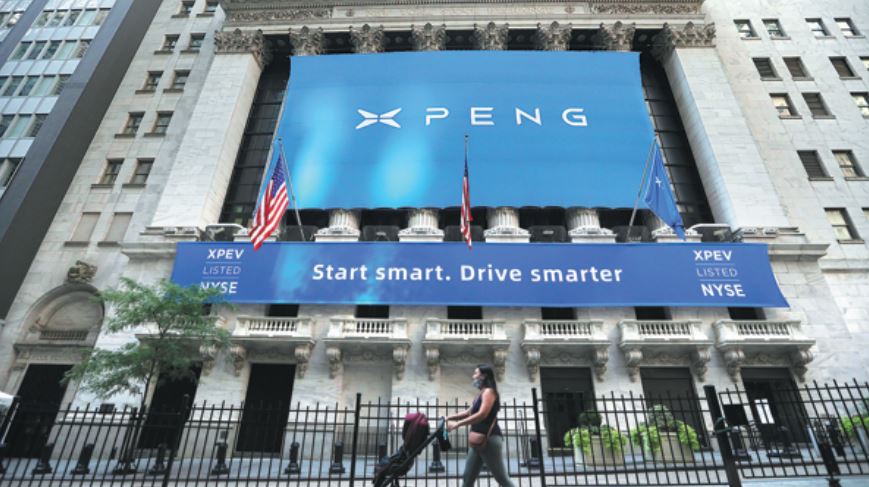 Going public is a significant milestone for electric startups. Even so, their futures hinge on their products instead of their IPOs, analysts said.
Xpeng's listing last week marked the latest Chinese electric startup's effort to raise capital in the United States, following Li Auto last month and Nio in September 2018.
Shares of Xpeng, backed by China's e-commerce giant Alibaba, rose as much as 67 percent on their debut at the New York Stock Exchange on Thursday, before dropping some of those gains to close at $22 per share.
Xpeng said Thursday that it sold more than 99.7 million shares for $15 each in its Wall Street debut, raising about $1.5 billion. It had originally planned to sell 85 million shares priced between $11 and $13.
Analysts, however, warned that electric startups shouldn't overestimate the importance of their IPOs.
"For carmakers, sales matter, but IPOs do not help sales," said Yale Zhang, managing director of Shanghai-based consultancy firm Automotive Foresight.
"Products and marketing are most crucial to sales." He said Nio made its market debut in September 2018 at a lower-than-expected offering price but its sales started to grow when it launched the ES6 SUV three months later.
Nio's share prices plunged in 2019, but began rebounding after its deal earlier this year with major Chinese investors.
Xpeng said in its prospectus that around 50 percent of the net proceeds of this offering will be used for research and development of smart electric vehicles and technologies, while 30 percent will be used for marketing and expansion of sales channels.
The company invested over 2 billion yuan in technology development last year, with around one third on intelligent functions such as autonomous driving.
Xpeng's CEO He Xiaopeng said the company will focus on cars priced between 150,000 yuan ($21,804) to 300,000 yuan, a big mass-market segment in China, the world's biggest auto market.
Xpeng began production of its first vehicle, the G3 compact SUV, in late 2018. Last year, the company launched a four-door sports sedan, the P7, with features comparable to Tesla's Model 3.
About 2,000 P7s have been sold so far, and the automaker expects the new model to be its main source of future revenue.
Xpeng has sold over 20,000 vehicles, including P7 sedans and G3 SUVs. It builds cars in two factories in China. The company said a third model would also be a sedan.
Analysts say the IPOs will help the three startups, Nio, Li Auto and Xpeng, to get a better foothold as competition in the Chinese market is heats up.
Tesla is growing its market share, as its Shanghai factory started to deliver Model 3 sedans earlier this year. Traditional Chinese and international carmakers are moving quickly to speed up electrification.
Tesla delivered 45,754 vehicles in the first half of the year. BYD, China's biggest domestic EV producer, sold 57,449 passenger electric vehicles. In comparison, Xpeng shipped 5,499 vehicles during the same period, compared to 9,666 for Li Auto 14,169 for Nio.
Zhang at Auto Foresight said chances to gain market share will be slim for startups that have not yet started mass production. Chinese authorities are slowly withdrawing subsidies, and subsidies will be canceled completely after 2022.