China's electric startups look to US listings thanks to investor confidence
Share - WeChat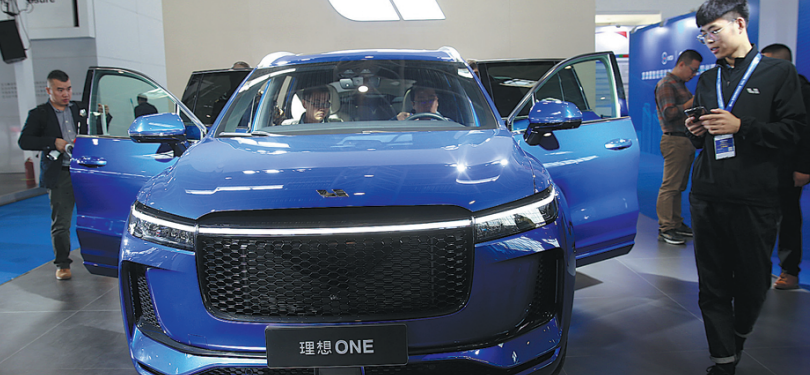 Chinese electric car startups are racing to go public in the United States, a gauge of American investors' confidence in the new energy vehicle sector.
Li Auto, formerly known as CHJ Automotive, has launched an initial public offering of up to $950 million, in one of the biggest US listings by a Chinese company this year, according to Reuters.
The five-year-old automaker is selling 95 million US depositary shares at an indicative range of $8 to $10 per share, according to its updated prospectus filed with the US Securities and Exchange Commission on Friday.
Goldman Sachs and Morgan Stanley are among the underwriters for the IPO.
Private equity firm Hillhouse Capital plans to invest $300 million in the float, the company said in the filing.
At $950 million, Li Auto's IPO would surpass the $510 million float by cloud service provider Kingsoft Cloud which has been the biggest US listing by a Chinese firm this year, said Reuters.
Alongside the IPO, Li Auto will raise $380 million from a concurrent private placement of shares to investors including Meituan Dianping and TikTok owner ByteDance.
The automaker plans to use most of the proceeds raised for capital expenditure, and research and development of new products. It is producing an extended-range SUV called Li One in China.
Another Chinese startup Xpeng plans to go public in New York later this year, said Reuters citing sources with knowledge of the matter.
While some domestic electric car makers are struggling, Xpeng managed to raise $500 million earlier this month, according to the company. The new round of financing came after raising $400 million in December 2019.
Founded in 2014, Xpeng counts IDG Capital, Alibaba Group Holding and Xiaomi among its major backers.
Nio became the first Chinese electric car startup listed in the US, when it held its IPO in 2018.
China has been the world's largest market for new energy vehicles since 2015. Their sales last year stood at around 1.2 million.
Although sales have not rebounded since the first monthly fall was spotted in July 2019, authorities have reiterated their confidence and support for the sector.
Last week, Xin Guobin, vice-minister of industry and information technology, said China is speeding up to promulgate the sector's development plan from 2020 to 2035.
He said the plan has been submitted to the State Council for approval.
According to a draft plan released in 2019, China aims to be a globally leading country in terms of new energy vehicle-related technologies.
New energy vehicles are expected to account for 25 percent of vehicle sales by 2025.
Xin said the ministry encourages new modes and technological solutions in developing the sector.
One example is the battery swap mode, which will be piloted in regions including Beijing and Hainan.
China has built 38,000 battery charging stations, 449 battery swap stations, and 1.3 million charging poles, data shows.
Customers are developing a rising acceptance of new energy vehicles.
Sales data in 2019 shows that mid-to-low-tier cities without purchase restrictions on vehicle sales have overtaken high-tier cities with purchase limitations in the share of new energy vehicle sales, according to Boston Consulting Group.