Global AI leader pioneers latest practices
Share - WeChat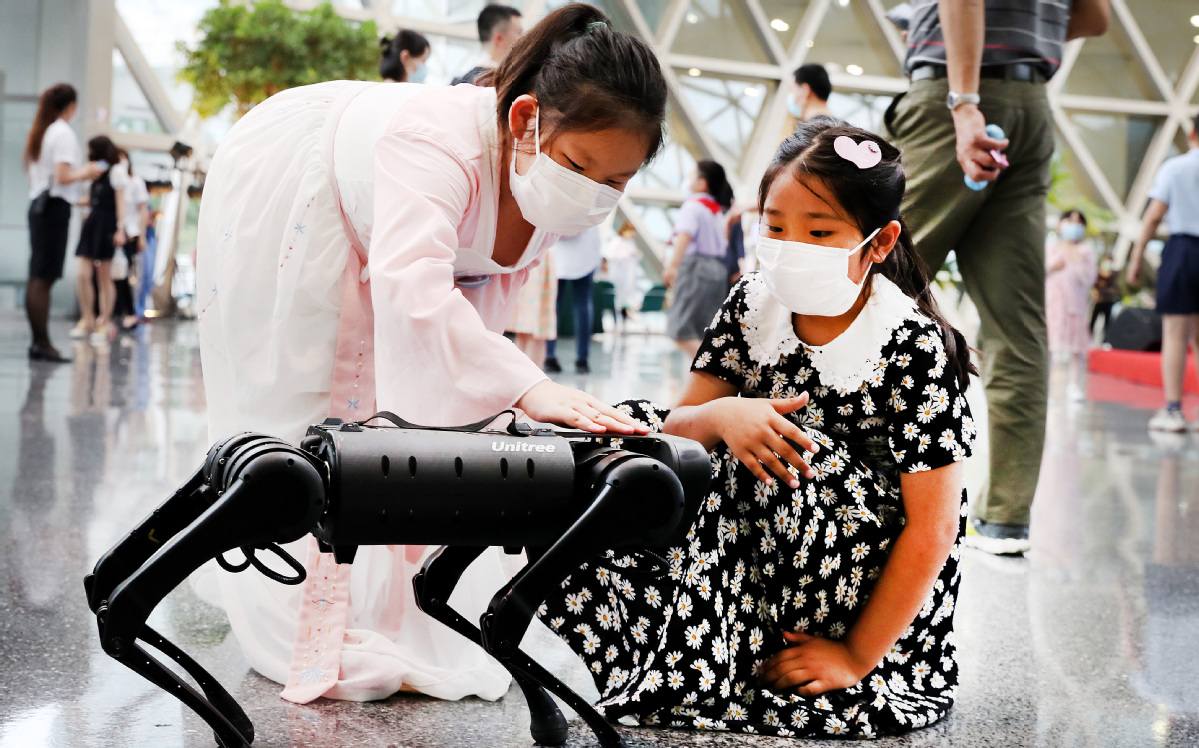 Shanghai emerges as the cradle of cutting-edge tech as imaginative policy pays off
Training a doctor normally takes years of grueling work at medical schools and hospitals. But "building" a "physician" powered by artificial intelligence could be as easy as teaching it how to read.
Zhao Liebin, vice-chairman of the Shanghai Children's Medical Center, is pioneering the use of AI to make children's wards smarter and smoother, by sharpening diagnostic skills to make the hospital experience less of a headache.
At the heart of Zhao's mega plan is to develop an intelligent identification system based on digital stethoscopes to classify physiological sound in children. Algorithms identify vital sign alerts and classify them as either real or artificial.
"Congenital heart disease remains the most common birth defect in China," said Zhao. "But its timely detection has been difficult for many county-level doctors, who lack proficient training in this area."
The AI project derived from the call for action on "AI Application Scenarios", an initiative in Shanghai since 2018 to proliferate the adoption of AI. Last year, the project won the "SAIL" award, which is affiliated to the World Artificial Intelligence Conference, an industry event that held its third iteration in July.
The WAIC is a flagship event representing the city's AI ambition, and is known for attracting Turing awardees, top-tier computer science experts and AI luminaries to discuss some of the most frontier issues around the technology and what it means for humankind.
More importantly, it is an epitome of Shanghai's bid to build itself into a budding AI highland.
"This is one of the highest-level events worldwide, with a complete range of industries and a gathering of high-end talent, which meets the basic elements required for the development of the artificial intelligence industry," said Xu Li, co-founder and CEO of SenseTime, an AI unicorn.
The company applies AI to everything, from healthcare and transportation to education and entertainment. It kicked off the construction of the "New Generation Supercomputing Center" in Shanghai in July, hoping to leverage the city's ambition of becoming a global science and technology innovation center.
The investment offers a sneak peek into how industries embrace Shanghai as the AI cradle. Although constrained by COVID-19, some 37 key AI companies tracked by the Shanghai Commission of Commerce saw their firsthalf revenue surge 31.6 percent year-on-year.
CloudMinds, an intelligent robot maker, also doubled down in Shanghai, breaking ground for its industrial base at the end of March.
"We see Shanghai as a fertile land for AI, because it boasts high-end manufacturing prowess, attracts top-tier talent from home and abroad, and lures capital critical to the industry," said Wang Bing, chairman of CloudMinds.