Bayer's $60m investment to boost capacity, reaffirm its commitment to China
Share - WeChat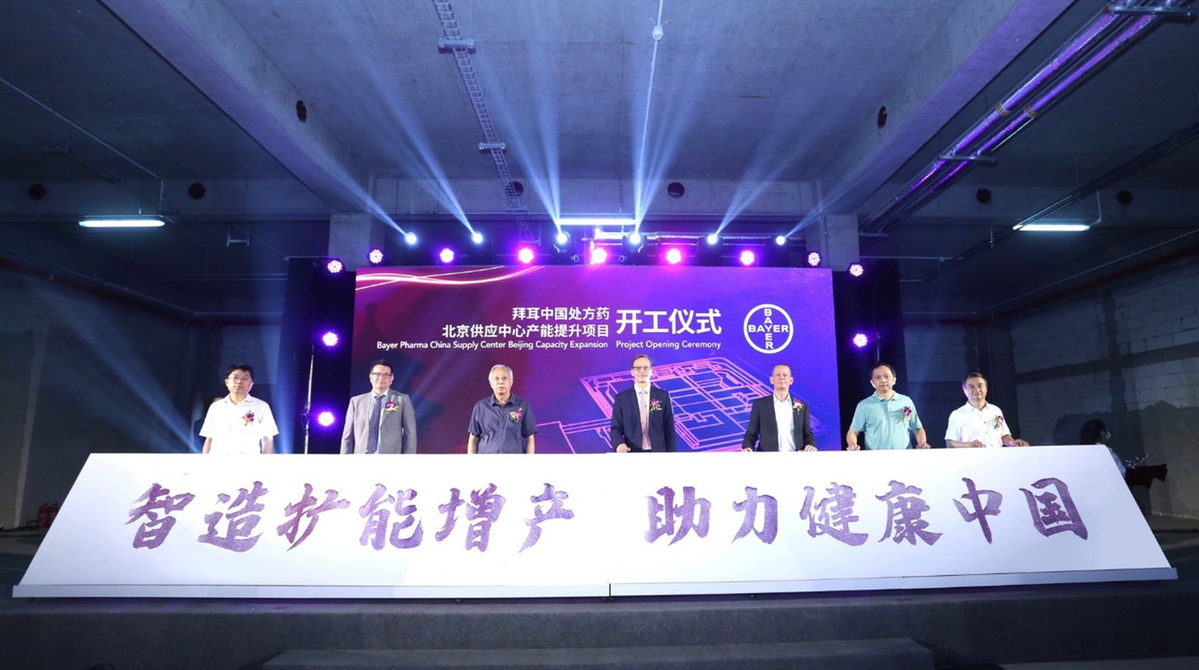 Bayer today announces to launch the capacity expansion project of its Pharmaceuticals Product Supply Beijing site for addressing further demand of its drug products in China. With an investment of more than 50 million euros ($59.52 million), the planned project is designated to increase the production capacity and accelerate the implementation of innovative digital solutions at the Beijing site, aiming to ensure a reliable supply of high-quality prescription drugs for more Chinese patients. Representatives from China's Ministry of Commerce, Germany Embassy, Beijing Municipal Government and the Beijing Economic-Technological Development Area attended the ceremony.
"We are very pleased to see that this project marks the latest milestone of Bayer's development journey in China, which is also a new start for us to consistently deliver our high-quality products and benefit more Chinese patients in need," said Wei Jiang, executive vice-president and president of Bayer Pharmaceuticals Region China & APAC and president of Bayer Group Greater China. "In the face of huge challenges caused by the COVID-19 pandemic, the initiative fully demonstrates Bayer's unswerving confidence and commitment to China, and again shows our aspiration of serving more Chinese patients and determination to contribute to building a healthy China."
The new production lines are expected to become operational at the end of 2022. Then the estimated annual output of the Beijing Site can be increased by about 40 percent, which will again reinforce its position among the most advanced production sites of Bayer Pharmaceuticals' global network.
Cardiovascular diseases and diabetes remain among major chronic diseases which are prioritized by the Chinese central government in its Healthy China Action Plan in efforts to address major health challenges caused by the prevalence of chronic diseases. In addition, the COVID-19 pandemic reinforces the significance of a reliable, resilient drug supply chain to the country's public health as well as well-beings of Chinese people.
The expansion project covers production area and related technical area, which is designed as a world-class manufacturing facility. It includes new high-speed production lines in combination with a sophisticated logistics system.