No country can ride out the pandemic until there is a vaccine, says WHO chief
Share - WeChat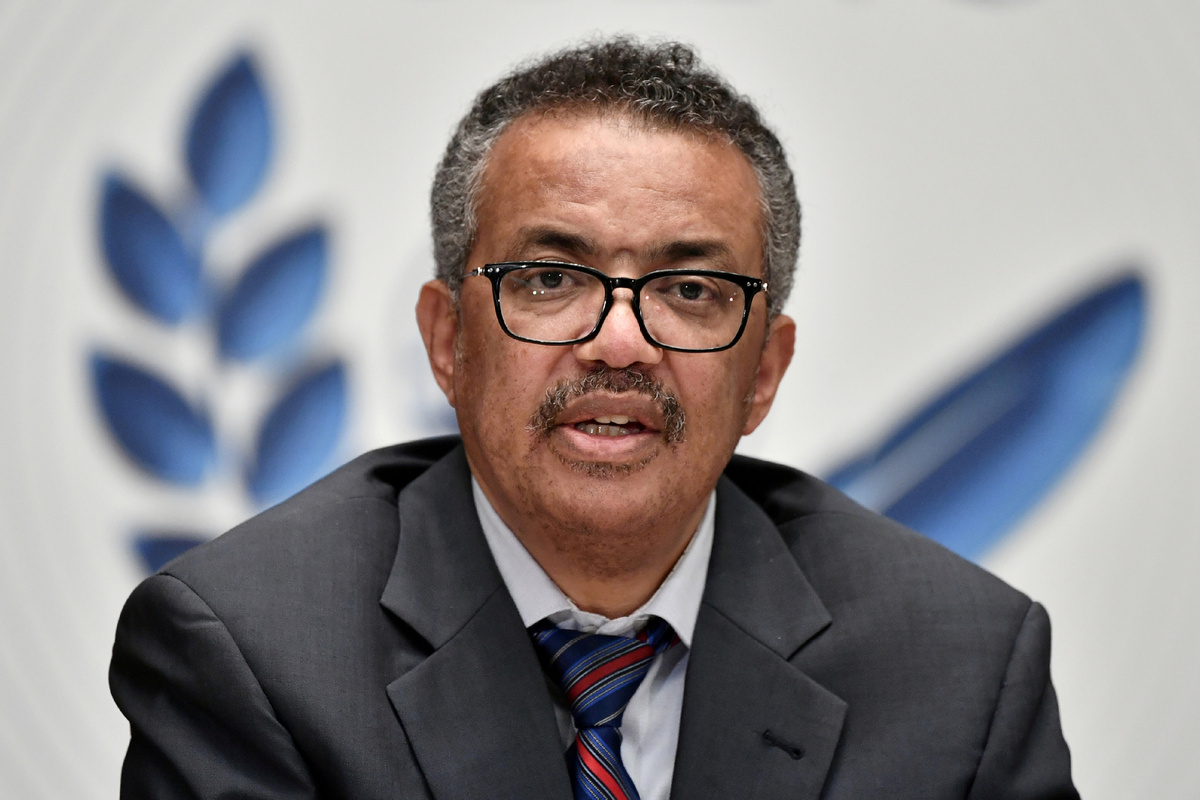 The World Health Organization says the COVID-19 pandemic can be ended within two years but has warned that no country can just ride it out until there is a vaccine.
The organization's Director-General, Tedros Adhanom Ghebreyesus, said it took two years to end the 1918 flu pandemic, and technology today will help end the present pandemic more quickly, even though globalization brings connectivity that helps viruses to spread.
"So we hope to finish this pandemic in less than two years, especially if we can pull efforts together and with national unity and global solidarity," he told a virtual news conference that he hosted in Geneva on Friday.
In opening remarks, Tedros said that no country can ride out the pandemic until there is a vaccine. A vaccine will be vital in fighting the pandemic, he said.
"But there's no guarantee that we will (find a vaccine soon), and even if we do … it won't end the pandemic on its own. We must all learn to control and manage this virus using the tools we have now, and to make the adjustments to our daily lives that are needed to keep ourselves and each other safe."
New milestone
The world reached a milestone of 800,000 COVID-19 deaths on Saturday and close to 23 million confirmed cases, according to a tally kept by Johns Hopkins University.
In the United States, the country with the most infections, health officials said there may be 10 times more cases than the more than 5.6 million confirmed ones. The US has recorded more than 175,000 deaths from the virus, also more than any other country.
India reported a record daily jump of infections on Saturday, bringing the total to near 3 million and piling pressure on authorities to curb huge gatherings as a major religious festival began.
The 69,878 new infections, the fourth straight day above 60,000, took India's total cases to 2.98 million, behind only the US and Brazil. COVID-19 deaths increased by 945 to 55,794, the federal health ministry said.
South Korea added 397 new cases to its coronavirus caseload in a 10th day of triple-digit increases, as the speed of viral spread neared levels last seen during the worst of the outbreak in spring.
The resurgence, which began in densely populated Seoul before spreading to practically every major city and provincial town over the past week, is a major setback for the country, which had been eager to tout its hard-won gains against the virus.
In Italy, the health ministry on Saturday reported 1,071 new coronavirus infections in the previous 24 hours, exceeding 1,000 cases in a day for the first time since May, when the government eased rigid lockdown measures.
Speaking of ways to contain the virus, Tedros said that the lockdowns enabled many countries to suppress transmission and take the pressure off their health systems, but noted that lockdowns are not a long-term solution anywhere.
"We do not need to choose between lives and livelihoods, or between health and the economy. That's a false choice. On the contrary, the pandemic is a reminder that health and the economy are inseparable."
WHO is committed to working with all countries to move into a new stage of opening their economies, societies, schools and businesses safely, he said.
Every individual must be involved, he said.
"Every single person can make a difference. Every person, family, community and nation must make their own decisions, based on the level of risk where they live. We will not-we cannot-go back to the way things were."
Agencies contributed to this story.