Livestreaming is becoming mainstream
Share - WeChat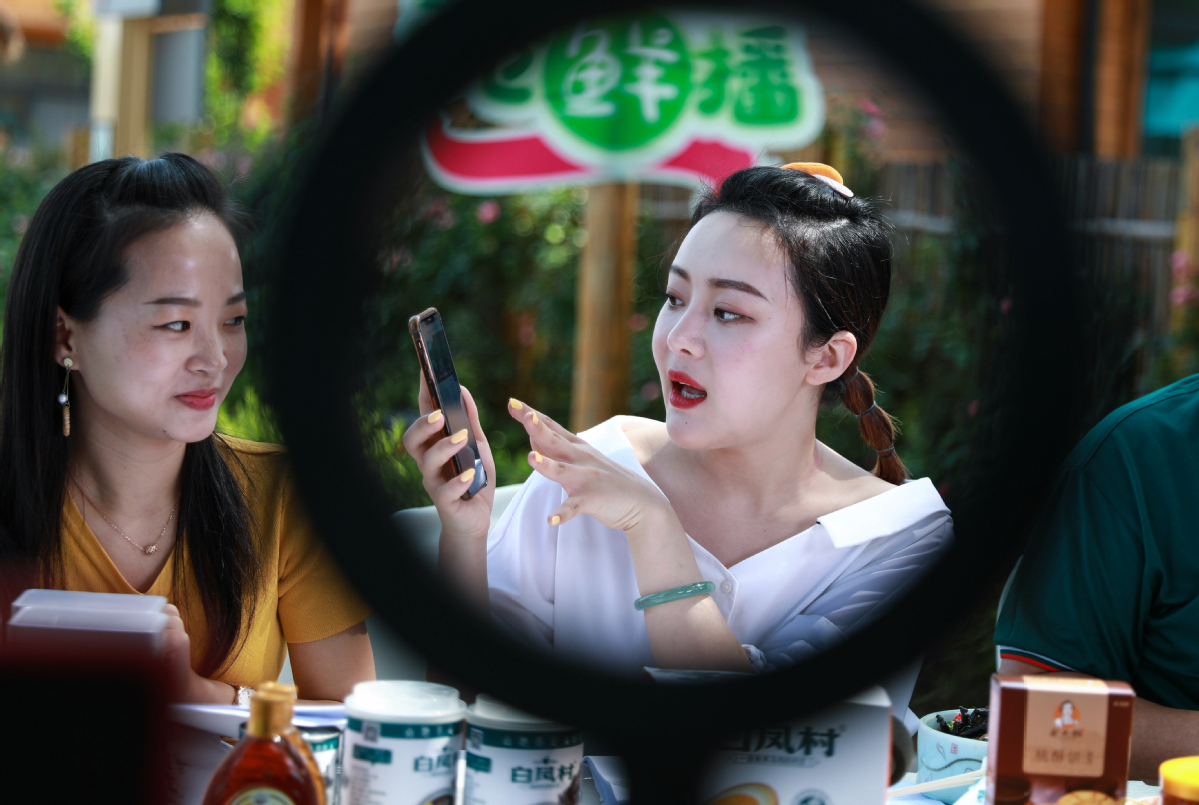 Kuaishou, Douyin among platforms banking on country's rapidly growing e-commerce segment for greater reach
Tapping into livestreaming has become a hot trend in China. Short video platforms including Kuaishou and Douyin are banking on the country's rapidly growing livestreaming e-commerce segment, which has become a powerful sales channel for traditional industries as more consumers switched to online shopping amid the COVID-19 pandemic.
Kuaishou announced that it will invest 3 billion yuan ($428 million) to set up its livestreaming e-commerce headquarters in Chengdu, Sichuan province, as part of its broader attempt to expand its presence in the booming e-commerce industry and speed up monetization efforts.
Located in the Chengdu Hi-Tech Industrial Development Zone, Kuaishou wants to build a livestreaming ecosystem in the city, with the nation's first 5G-powered short video industry base, a short video incubator, a public technology service platform for video creation and a training institute.
"We will give full play to the advantages of technology, products and platforms to attract multichannel network institutions, well-known internet celebrities and brand owners to jointly build a good livestreaming e-commerce ecosystem," said Yu Haibo, senior vice-president of Kuaishou.
MCNs are third-party service providers that affiliate with short video platforms to offer services that may include audience development, content programming, creator collaborations, digital rights management and sales.
According to an action plan from Sichuan province released in April, the local government is aiming to make the province a regional center for live broadcasting e-commerce with annual sales volume reaching 10 billion yuan by the end of 2022.
Livestreaming e-commerce has been gaining traction in China since the outbreak of COVID-19, as tens of millions of Chinese were confined indoors and moved shopping online due to restrictions on large gatherings and travel.
The announcement comes a month after Kuaishou and Chinese e-commerce giant JD signed a strategic partnership with a focus on supply chains in June. Kuaishou users will be able to purchase JD's products without leaving the app, and enjoy fast delivery and after-sales service offered by JD.
That agreement also enabled Kuaishou's key opinion leaders to choose and promote products to their audiences through livestreaming during this year's 618 Midyear Shopping Festival. Some 1.42 billion yuan worth of products was sold via live broadcasting during a 24-hour special online shopping campaign on June 16.
Since the coronavirus outbreak began, many physical store operators have turned to short video platforms to sell their products via livestreaming. The number of daily active users on Kuaishou surged 40 percent year-on-year during the Spring Festival holiday (Jan 24 to Feb 2). Douyin also saw a 26 percent rise in DAUs, according to QuestMobile, a mobile internet big data company.
Dong Mingzhu, chairwoman of Chinese home appliance manufacturer Gree Electric Appliances, sold over 310 million yuan worth of products during a three-hour livestreaming event via Kuaishou on May 10.
Ding Lei, founder and CEO of games giant NetEase Inc, generated over 72 million yuan in sales after a livestreaming debut on Kuaishou on June 11. Five days later, Zhang Yuqi, a Chinese actress, set a record of 223 million yuan in sales during her livestreaming debut on Kuaishou. Xinba, an online celebrity, attracted over 25 million viewers in four hours' time.
Livestreaming shopping is a brand-new way of thinking and doing business, a win-win solution for brands, manufacturers and consumers, said Dong.
"The COVID-19 pandemic had a significant negative impact on traditional industries and offline retail. Companies including Gree suffered from sudden drops in revenue in the first quarter of 2020," said Yu Shuang, vice-president of Kuaishou's e-commerce business.
"E-commerce livestreaming can help to unleash more spending. It will become the 'new normal' for more brands and provide a new kind of brand marketing scenario. We are dedicated to creating new marketing channels for business owners and making shopping easy, affordable and secure for consumers," Yu said.
Kuaishou first tapped into the already competitive e-commerce market in China in 2018 with the launch of Kuaishou Shop, a sales platform within the short video app. And now there are more than 100 million daily active users engaged in its e-commerce business.
The Beijing-based company said in a report that the number of daily active users of its featured livestreaming function reached 170 million during the first half, a 70 million surge since the end of 2019.